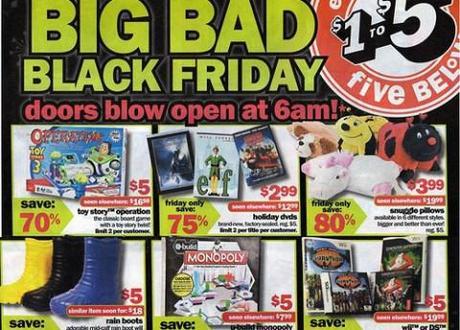 Black Friday has been marred by a spate of retail-related violence. The traditional post-Thanksgiving shopping rush saw a record-breaking number of customers battling for bargains: according to CNN, Black Friday retail sales reached an estimated $11.4 billion, with a quarter of shoppers taking advantage of the extra-long opening hours and turning up at stores at midnight. But some bargain-hunters, it seems, let their desire for a discount override common sense.
Pepper spray. One over-enthusiastic female shopper hosed down fellow customers at a Wal-Mart store with pepper spray, apparently in an attempt to buy a discounted Xbox. "She was competitive shopping," Fire Captain James Carson told The Los Angeles Times. The woman later turned herself in to police. Injuries: around twenty.
Shooting. Pepper spray may be effective, but nobody argues with a loaded weapon. Gunshots were fired at a mall in North Carolina on Black Friday. According to Nancy McCleary at local paper The Fayetteville Observer, shots rang out at around 2 am in the parking lot and outside Macy's, sending shoppers into a panic. Injuries: none.
Mugging. Embattled shoppers also found themselves under threat from opportunistic street robbers. Chris Hawley reported for The Associated Press that extended opening hours meant Black Friday bargain-hunters were arriving at stores in darkness, which was ideal for parking-lot muggers. Injuries: at least two.
Burglary. Impatient shoppers grew tired of queuing for a New York Hollister store to open and simply broke in, according to The New York Observer. Sometimes casual wear just can't wait. Injuries: unknown.
See below for video apparently showing a riot over waffle makers at Wal-Mart in Arkansas on Black Friday.
Brawls. Fights broke out at – where else? – Wal-Mart in Rome, New York. According to The Syracuse Post-Standard, shoppers were "pushed to the floor" after the electronics department opened. Similar incidents were reported at stores in Culver City and Buckeye, Arizona. Injuries: at least four.
Cyber Monday. Savvy shoppers stayed away from the Black Friday violence in favour of "Cyber Monday", which sees large discounts from online retailers – and no chance of getting pepper sprayed. CBS News published a handy guide to navigating the world of online bargains, which includes the advice to shop discreetly at work to avoid getting fired. Injuries: none, unless RSI counts.