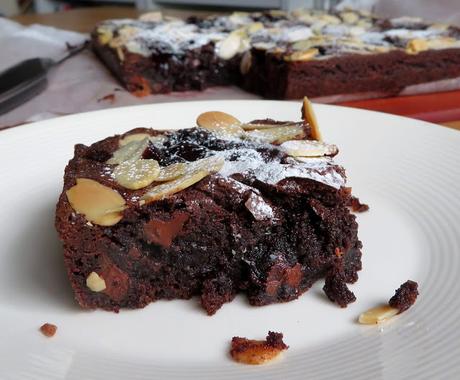 I have always loved Brownies. When it comes to baked chocolate goodies, brownies are probably one of my favorite ones. Having said that however, in thinking about chocolate cake, I think brownies are second to chocolate cake.
I do have several very good from scratch brownie recipes on here. I think as I get older I am a lot less into things like this than I was when I was younger. I think perhaps when you get older you get a bit choosier about how often you indulge and what you choose to indulge in.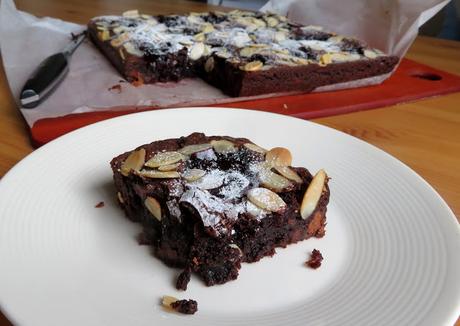 I do not think however that I would ever say not to either a small sliver of chocolate cake, or a small piece of a brownie. No matter how rich they were.  It is true, your appetite does decrease as you get older. You just don't need as many calories. I have really noticed it over this past year myself.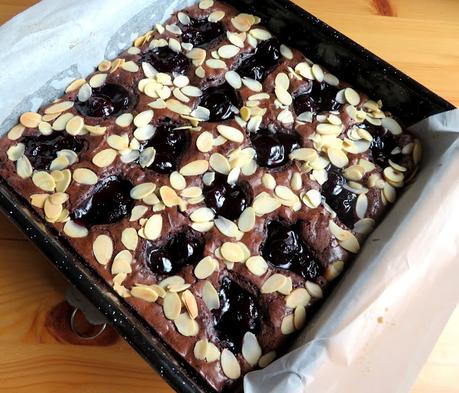 I have used a brownie mix for these brownies today. I used the Ghiradelli Triple Chocolate Brownie mix that you can buy in Costco. It comes with three bags of mix in the box.
They are incredibly rich and moist. My friend Tina buys them all the time so her wee grandson Freddie can help her bake. He just stirs the mix up and he thinks he has done something really special!

I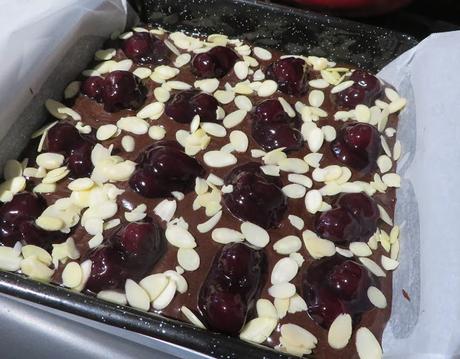 You will also need a tin of cherry pie filling. This is a photograph of the brownies before  they go into the oven so that I could show you the placement of the pie filling in the pre-bake.
You won't use the whole tin.  I picked out the cherries as best as I could and only used a bit of the sauce as you can see.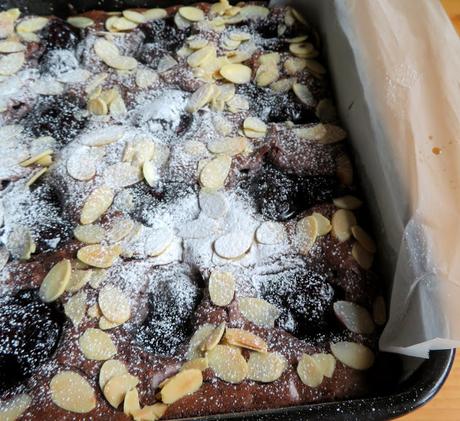 You will also need some flaked almonds. They get scattered around each dollop of the pie filling prior to baking as well. 
That's it in a nutshell really. Other than that all you will need is what the boxed Brownie mix calls for. In this case it was oil, water and an egg.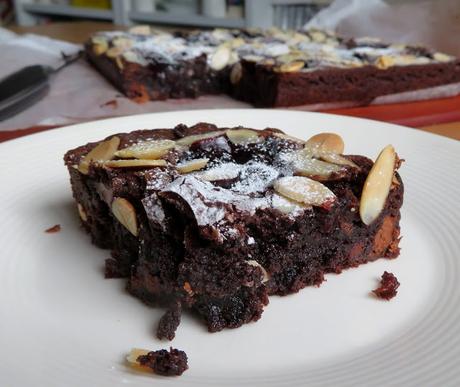 I tried to mark the brownie batter into rough squares before I added the pie filling.  This helped me to position it properly.
To do that you will need to use a sharp knife and divide the batter into four sections running one way, and then another four running the other way.  16 segments altogether.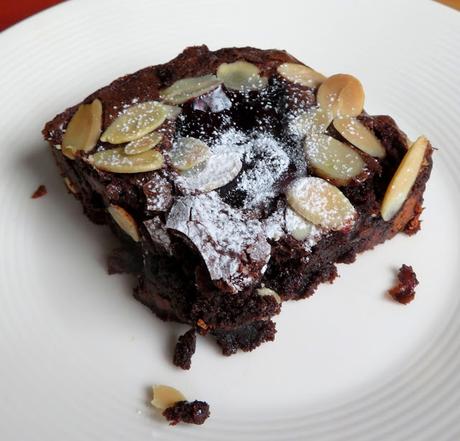 Don't worry the lines you mark will fill in almost as soon as you have marked them. But at least you will have a rough idea of where to put the cherries. Job done! 
One of my favourie brownie recipes has to be the one for my
Peppermint Brownies.
For that recipe you blitz a peppermint tea bag in a spice grinder and add it to the batter, along with some peppermint extract for a double whammy.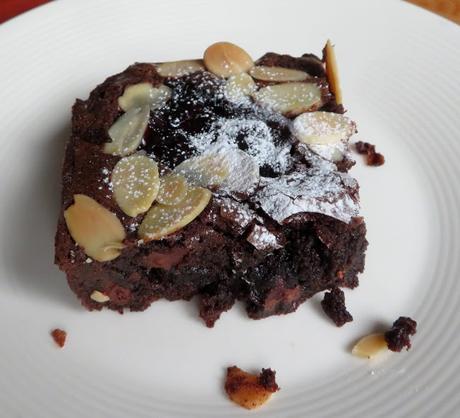 They are extraordinarily delicious!  They go wonderfully on your christmas baking trays if you make them. Its always nice to gift people with holiday baking! 
I have never had anyone refuse one. Never!  Another favorite brownie recipe is my
Triple Chocolate  Fudge Brownies
.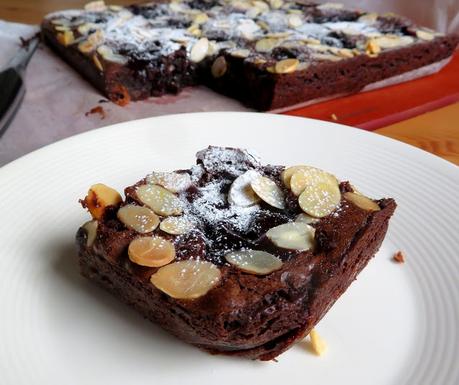 Anyhow, these are really quite delicious. Fudgy and moist. Quite rich actually. I would be most surprised if you could eat more than one in one sitting.
They would be excellent served slightly warm, with the addition of a scoop of ice cream or some whippd cream.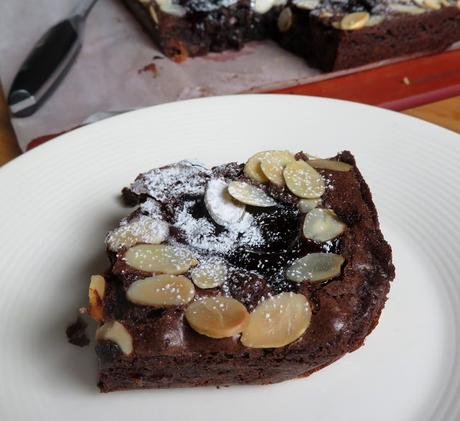 If you wanted to really make it authentic to the Black Forest, you could stir some Kirsch into the pie filling. Or, once baked, poke some holes into the brownies here and there and drizzle in some Kirsch. 
About 18 years ago we took one of our first holidays together into the Black Forest and I treated myself to a slice of Black Forest Cake one day when we were out and about.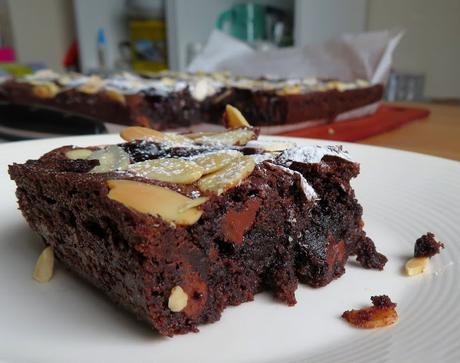 It is a cake that the Black Forest is very famous for.   Can I be honest here? 
Why not! I always am!  Either it was a very bad cake or Black Forest Cake is not all it is cracked up to be. I just didn't get the appeal.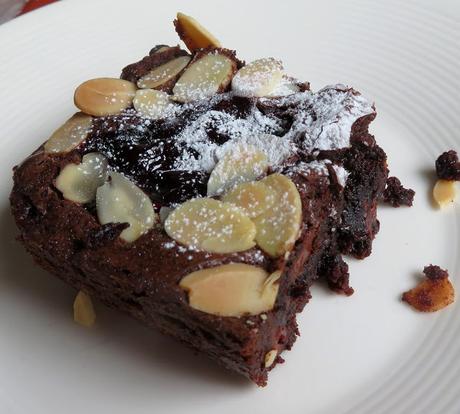 The lovely hot chocolate I enjoyed along side of it more than made up for it however. All was not lost! 
Have any of you had the experience of enjoying a slice of Black Forest Cake in Germany? I had really hyped myself up to enjoy this cake and it was really quite a disappointment!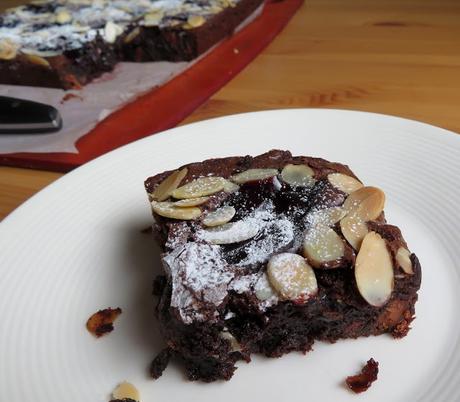 Maybe homemade ones are infinitely better. Perhaps one day I need to make one of my own just to see. 
In the meantime I hope you will try these Black Forest Brownies and that you will enjoy them. Rich, decadent, moist and delicious.  These were meant for sharing!
Black Forest Brownies
Print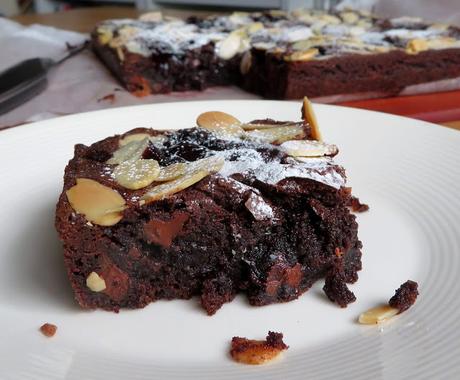 Yield:
16 squares
Author:
Marie Rayner
prep time: 10 Min
cook time: 35 Min
total time: 45 Min
You couldn't get much easier than this. These rich and delcious bars use a boxed brownie mix and a tin of cherry pie filling.
Ingredients
1 box of brownie mix (I used the Costco Ghiradelli triple chocolate brownie mix)
Ingredients needed according to the brownie mix
1 tin of cherry fruit pie filling
flaked almonds
icing sugar to dust (optional)
Instructions
Prepare your brownie mix according to the package directions, preheating the oven to the correct temperature and buttering and lining a 9 inch square baking pan.
Spread the brownie batter into the baking dish. Mark it into 16 squares as best as you can. Pop a TBS of the cherry pie filling into the center of each square. Sprinkle the almonds around the edges of each square.
Bake according to the package directions.
Cool completely.  Dust lightly with icing sugar, remove from the pan and cut into squares to serve.
notes:
These are delicious served warm with ice cream or whipped cream.
Did you make this recipe?
Tag @marierayner5530 on instagram and hashtag it #EnglishKitchenCreated using
The Recipes Generator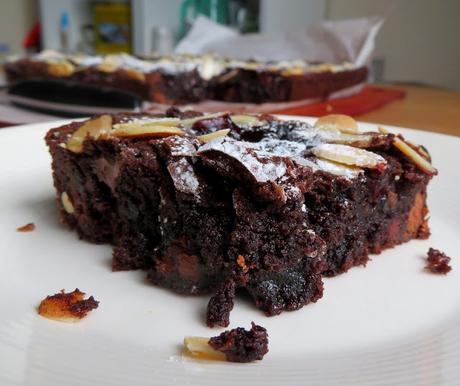 So what are you favorite kinds of brownies? Do you use a Brownie mix ever? Do you like it? What is your favorite brand?  I normally make them from scratch and I am sure this would also work with a scratch brownie recipe. Here is my favourite Brownie Recipe.
This content (written and photography) is the sole property of The English Kitchen. Any reposting or misuse is not permitted. If you are reading this elsewhere, please know that it is stolen content and you may report it to me at: mariealicejoan at aol dot com Thanks so much for visiting. Do come again!