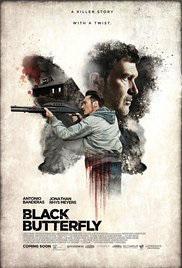 Director: Brian Goodman
Writer: Marc Frydman, Justin Stanley (Screenplay)
Starring: Jonathan Rhys Meyers, Piper Perabo, Antonio Banderas, Abel Ferrara, Nicholas Aaron
Plot: Outside a mountain town grappling with a series of abductions and murders, Paul (Antonio Banderas), a reclusive writer, struggles to start what he hopes will be a career-saving screenplay. After a tense encounter at a diner with a drifter named Jack (Jonathan Rhys Meyers), Paul offers Jack a place to stay-and soon the edgy, demanding Jack muscles his way into Paul's work. As a storm cuts off power to the isolated cabin, the two men begin a jagged game of one-upmanship that will bring at least one tale to an end.
There may be spoilers the rest of the review
Verdict: Thriller Trying to be Different
Story: Black Butterfly starts as we meet Paul (Banderas) a struggling writer that needs money, he is trying to sell his home with rookie estate agent Laura (Perabo) trying to make the sale. After an altercation in a diner drifter Jack (Meyers) comes to the aid of Paul, who in return offers him a place to stay. All this takes place with the background of women going missing in this small town.
When Jack starts to treat Paul like a prisoner inside his own home it becomes a battle between the two men, as Jack wants Paul to tell their story. With no communication and no escape Jack pushes Paul to the limits as their story is written.
Thoughts on Black Butterfly
Characters/Performance – Paul is a writer living as a recluse away from the world trying to find the perfect story but must fight to survive the drifter he invites into his home. Jack is a lone drifter who ends up in Paul's house, he just wants his story told and will go to any lengths to get Paul to write it. Laura is the rookie real estate agent trying to sale Paul's house, she becomes part of the battle between the two men.
Performance wise, Banderas is always good in films and this is no different, Jonathan Rhys Meyers is good as the crazed drifter but you can clearly say Dan Stevens is better in the Guest. Piper Perabo is fine without having too much to do.

Story – This is a film that has a story you know there will be a twist and if there isn't one you will feel let down by the outcome of the film. It does fall into the idea of one man trapped in a cabin while another keeps him there nicely but it would be fair to say you can see what will happen by the end of the film.
Thriller – This does keep us on edge through the film as you want to know what is going to happen next.
Settings – The isolated location works like always a trapped figure with nowhere to run.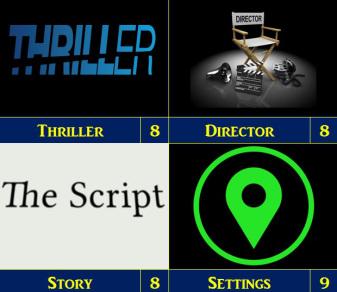 Final Thoughts – This is a good thriller and does offer something slightly different when it comes to twists and turns but it would be fair to say it would have failed without the twists.
Overall: Easy to watch thriller that never lets up.
Rating

Advertisements