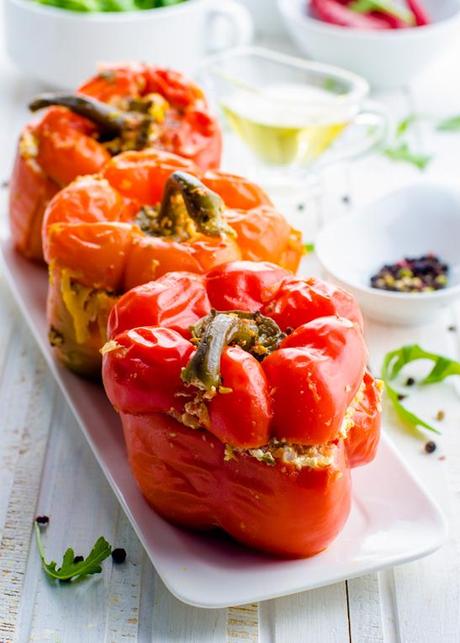 I absolutely love roasted red peppers. There's something about charring them on the grill that just amps up their flavor and juiciness. This recipe celebrates the roasted red pepper in the best way — by stuffing it with equally delicious ingredients!
The first time I made this recipe was also the first time I had ever made stuffed peppers. The concept of stuffing anything sounded super fancy to me, like something beyond my reach as a newbie cook. But to my surprise, it was so easy to make! Peppers hold their shape fairly well even when they are cooked, so stuffing them is no problem at all.
The black beans, quinoa, veggies and cheese give the filling a wonderful texture, and the creamy avocado lime sauce adds a satisfying decadence when you dig into these peppers. The best part: you can enjoy one entire stuffed pepper for under 500 calories! It's so delicious, you won't believe it's actually good for you.
Print

Black Bean and Quinoa Stuffed Red Peppers with Avocado Lime Sauce
Total Time: 60 minutes
Yield: 4 servings
Serving Size: 1 whole stuffed pepper
Calories per serving: 480
Fat per serving: 16g
Nutritional Info Per Serving: 480 Calories, 16g Fat (4.6g Saturated), 659.9mg Sodium, 71.4g Carbs, 17.9g Fiber, 8.3g Sugar, 20.1g Protein
Ingredients
Stuffed Peppers
4 large Red Bell Peppers, roasted
2 cups Quinoa, cooked
1 15 oz can Black beans rinsed and drained
1 8 oz can corn rinsed and drained
1/4 cup Tomatoes, diced
1/4 cup Cilantro, chopped
1/3 cup Cheddar Cheese, shredded
1/3 cup fat free Sour Cream
1 tsp Salt (add more to taste if needed)
1/2 - 1 tsp Black Pepper (add more to taste if needed - depending on how spicy you want the filling to be)
Avocado Lime Sauce
1 Avocado, ripe
2 Limes, juiced
1 heaping tbsp Fat Free Sour Cream
dash of salt
1 tsp Black Pepper
Directions
Stuffed Peppers
Roast bell peppers: you can roast them on the grill or in the oven. I roasted mine in my oven under the broiler. I pre-heated the oven to 375 degrees, and then broiled the peppers on high for a few minutes until the skin was blistery/starting to blacken, and then I turned them over and broiled them on high for another few minutes until the other side was done.
Cut off the top of the pepper (save for garnish) and scoop out the insides, and the seeds and discard.
Combine all other ingredients in a large mixing bowl. Spoon into bell peppers.
Bake in oven for 30 minutes. Remove from the oven and let rest 3 minutes. Enjoy with avocado lime sauce.
Avocado Lime Sauce
Chop Avocado, juice limes: combine all ingredients in blender or food processor and puree until smooth.
2.4
http://pickyeaterblog.com/black-bean-and-quinoa-stuffed-red-peppers-with-avocado-lime-sauce/
Recipe by: The Picky Eater, pickyeaterblog.com