The best part of my day has to be when we walk inside our apartment after a long day at work.  The immediate sense of relief and relaxation is unparalleled.  But that calm is quickly erased when I realize that I still have to make dinner.
I have to say it's one of the worst things about being an adult and no one ever talks about it.  Not that making dinner is particularly trying of the soul but it definitely requires a lot more energy and effort than my post-working body and mind are ready to handle.
Remember the days when all you had to do was wait for Mom or Dad to call you to the dinner table?  I swear kids have it made

Clearly making dinner after a long day is not my favorite task.  But I try to make it easier on myself by cooking simple, easy meals that require minimal effort.
These stuffed peppers definitely fall into that category.  You could make them even easier by making the peppers ahead of time.  Then all you have to do is stick them in the oven.
Black Bean and Quinoa Stuffed Peppers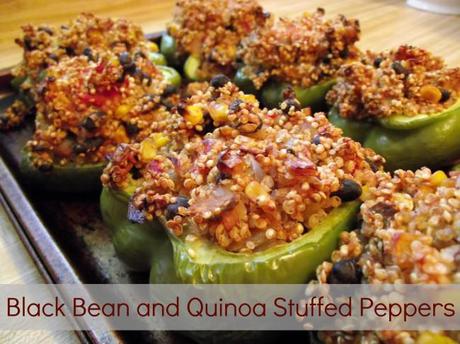 Ingredients:
4 large peppers
1 cup quinoa
¼ cup parsley
¼ cup oregano
15 ounce can diced tomatoes
15 ounce can black beans, drained and rinsed
1 cup vegetable broth
1 large onion
1 cup corn (fresh or frozen)
2 teaspoons cumin
Method:
Preheat your oven to 350 degrees.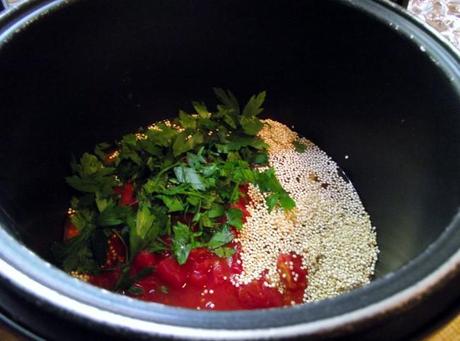 Add quinoa, diced tomatoes, vegetable broth, and diced parsley and oregano to a rice cooker.  Set on the boil/simmer setting for 15 minutes.  If you don't have a rice cooker, you can always add these ingredients to a covered sauté pan, bring it to a boil, and allow it to simmer for 15 minutes.
While the rice cooker does its magic, dice your onion and then add the onion and corn to a sauté pan to cook for 5 minutes.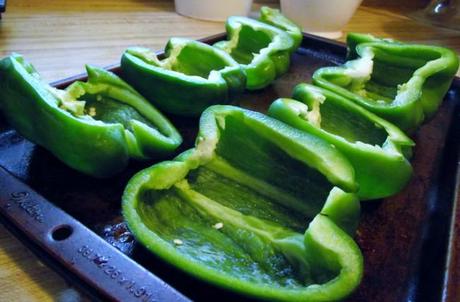 While the onion and corn are sautéing, cut the peppers in half vertically and remove the seeds.  Then place the peppers with the inside facing up on a baking sheet.
Once the onions and corn have some color, add cumin, black beans, and any salt and pepper.  Cook for 2 minutes.
At this point, the quinoa should be done.  Add you onion/corn mixture to the quinoa and mix until combined.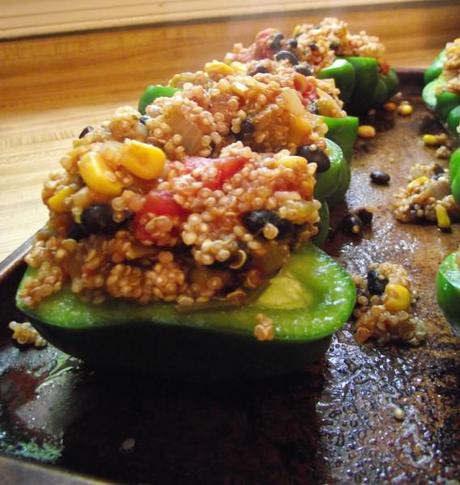 Spoon the quinoa mixture onto the peppers until the mixture is gone.  You are going to end up with heaping piles of quinoa—this is a good thing.
Place the peppers in the oven and allow them to cook for 30 minutes.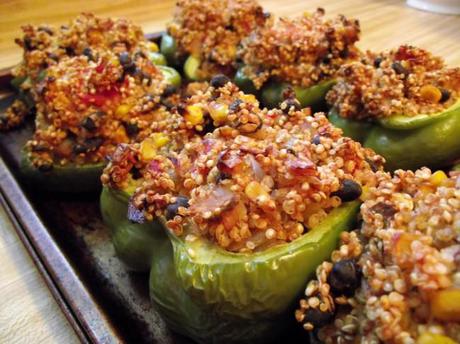 Remove the peppers from the oven and allow them to cool before serving.
The best part about this dish is that it only requires 20 minutes of active cooking.
You can spend the other 30 minutes annoying your husband (my choice) or doing something productive (occasionally this involves cleaning).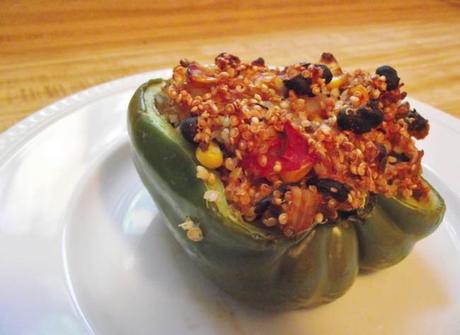 At the end of those productive 30 minutes, you'll have a succulent dinner that required minimal effort but produced amazing results.
Because honestly who doesn't love oven roasted peppers?
What are your go-to quick dinners?