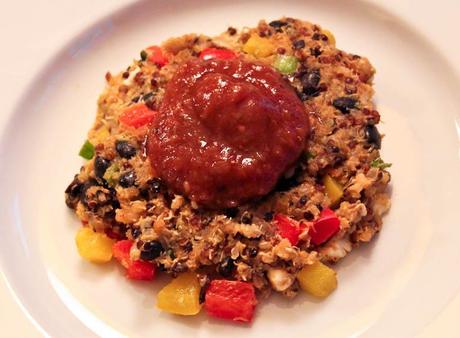 It was one of those nights.
Tons of random items in the fridge, cheese on the verge of its expiration date, and a pantry to clean out – with no idea what to make for dinner.
So what ended up happening?
These griddle cakes.
They're the "everything but the kitchen sink" griddle cakes, but for short – we'll call them Black Bean and Quinoa Cakes since those were the main ingredients.
They were originally supposed to be a salad, but after realizing the consistency was too sticky for a salad but perfect for a pan-fried or baked griddle cake, the destiny of these ingredients changed.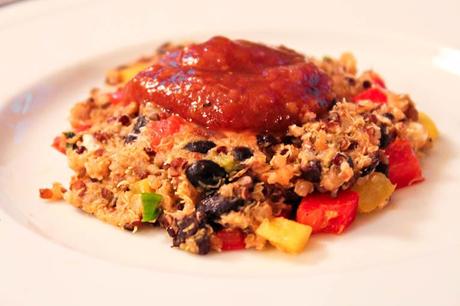 They are sort of Mexican-inspired, with a little bit of Greek flourish thanks to the leftover Feta cheese I had. They're spicy and creamy, with just the slightest bit of crunch from the bell peppers and the crust of these cakes.
Oh and the best part? They take less than 30 minutes to make, and you end up with a super healthy, light and flavorful meal.
The Ingredients
1 cup cooked quinoa
1 15 oz can black beans, rinsed and drained
6 green onions, chopped
1 yellow bell pepper, diced
1 red bell pepper, diced
3-5 oz of feta cheese, crumbled (can use low fat if desired)
2-3 tsp cumin (or more to taste)
2-3 tsp chili powder (or more to taste)
1/4 tsp cayenne pepper
A few squeezes of lemon juice
Salt and pepper to taste
Salsa (for serving)
The DirectionsStep 1: 
Cook the quinoa according to package directions and chop your veggies. Set aside.This is the quinoa I used…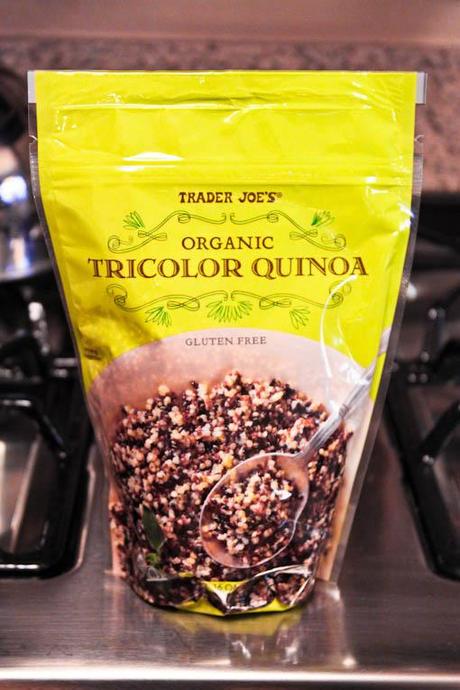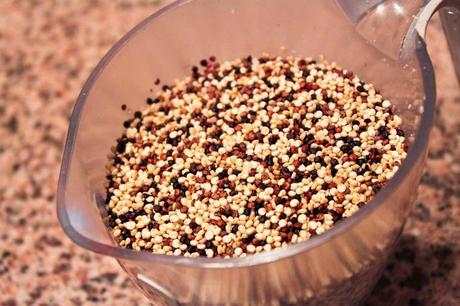 And the veggies all nice and colorful…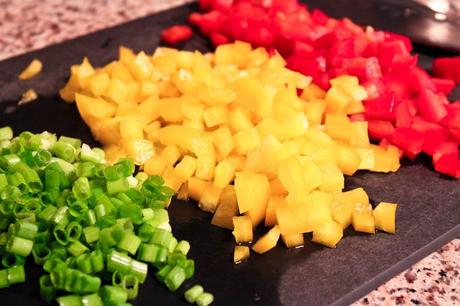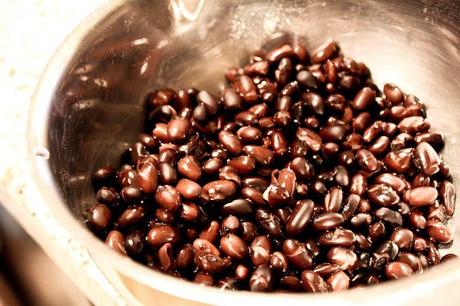 Step 2: Once the quinoa is done cooking, add all of the rest of the ingredients (black beans through salt & pepper) into the pot and mix well. Heat through on low until all of the ingredients and spices have combined.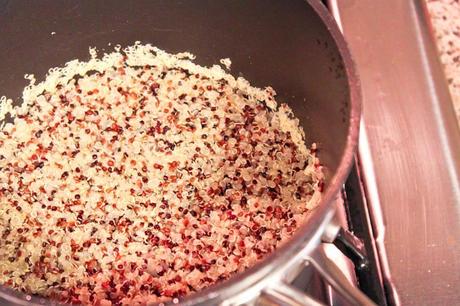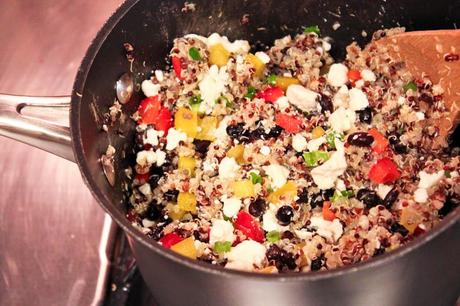 Step 3: Using your hands, form small patties using all of the quinoa mixture. Each patty should be about the size of your palm. Heat a pan over medium heat, spray with cooking spray, and pan fry each patty until both sides are slightly crispy and golden brown.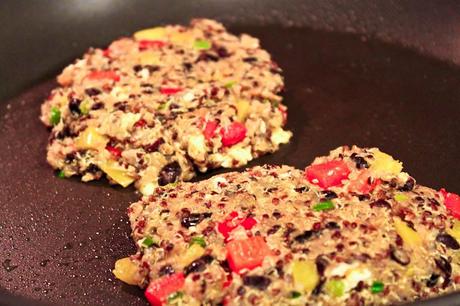 When they are almost done, they'll look like this: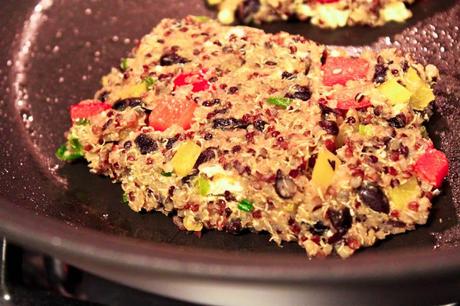 Note: These patties are not the texture of veggie burgers. They're loosely bound and fall apart slightly in your mouth. But if you want them to be super tightly bound, then add an egg to the mixture before you create patties and cook it.
Step 4: Once the griddle cakes are browned on either side, take them off the pan and serve with a bit of salsa, guacamole, or even enjoy them plain. We chose to have ours with a bit of salsa.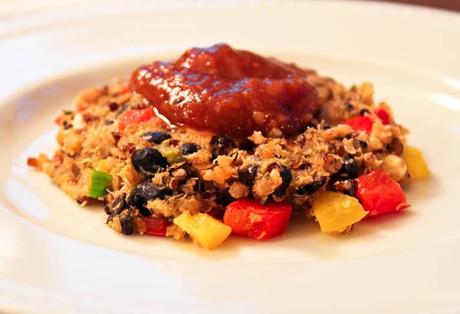 It was pretty good for a random, last minute, thrown together meal! It definitely didn't taste like it was thrown together, and somehow the combination of black beans, feta, quinoa and the Mexican inspired spices really worked well.
Next time I might experiment with making my own sauce to go with it, or serving it on top of a green salad. I think I might go grocery shopping in my fridge more often!