Today in the 30th match of IPL at  Sardar Patel Stadium, Motera, Ahmedabad ~ between Sunrisers Hyderabad and Rajasthan Royals – the 20th over of SRH innings was too funny.  Often, we have seen batsmen getting run out. The Law states : (a)   Either batsman is out Run out,  if at any time while the ball is in play......(i) he is out of his ground  and (ii) his wicket is fairly put down by the opposing side.  Here is something on the bizarre run-out of today and some of the past.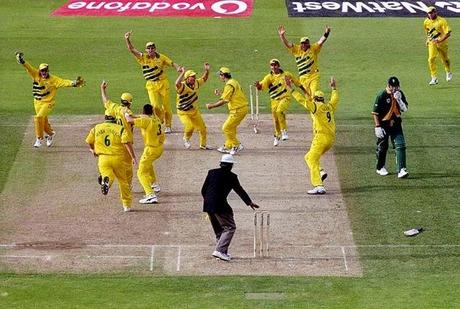 photo credit : cricinfo.com
SA continue to be haunted by that incident that occurred at  Edgbaston in 1999 which earned them the choker tag;  the bizarre last over, two boundaries hammered by Lance Klusener, missed catch, missed runout chance and then that  inexplicable mix-up with Allan Donald leaving  the scores tied.
In that infamous 1999 Kolkata Test – Javagal Srinath's 8 for 86 (13/132) had Indians chasing a target of 279 with all time in the World.  On mid day 4, India were comfortably placed on 143/2.  Sachin Tendulkar was in the middle on 7 and clipped Wasim Akram to deep mid wicket.  That couple of runs saw him completing 5000 test runs ~ was running for a third – collided with Shoaib Akhtar who ran in his path – the throw from deep hit the stumps and Tendulkar was adjudged run out though he was clearly impeded.  Sachin was trudging back in his characteristic style shaking head in disbelief.... crowd erupted  feeling injustice .... match was delayed for more than an hour- later the match had to be played in front of empty stands.   
In the 4th ODI against Sri Lanka at Visakhapatnam on 17th Feb 2007,  Indians won by 7 wickets with 36 balls remaining which naturally brought cheer to the die hard Indian Fan. Swashbuckler Sehwag had made 46 and was run out sleep-walking when wicket keeper collected a throw from third man, saw Sehwag ambling and his gentle bowl-throw caught Sehwag out of crease.
In July 2011, Ian Bell was run out but was made contentious due to crowd behavior in England threatening to snowball into a controversy, averted by Dhoni's statesmanship. At the stroke of tea, Bell on 137 left the crease before the ball  but Englishmen made a hash of that. . During the break, England captain Andrew Strauss and coach Andy Flower went to the Indian dressing room to ask MS Dhoni if the run-out decision could be overturned. The Indians agreed to withdraw the appeal.  At the resumption after tea, Bell and Eoin Morgan walked out to cheers from a surprised and appreciative crowd, which just a few minutes earlier had booed the two umpires - a small section of the crowd even chanting, the word 'cheat' - and then the Indian team as it made its way out, with Strauss and his men standing on the balcony of their pavilion clapping the Indians onto the field.
Now today at Motera, SRH were not in any great position – James Faulkner bowled the  last over.  Of the 2nd Irfan Pathan threw his bat, failed to make contact ....  3rd ball was a wide ...Irfan had stretched out and Steyn ran towards the danger end.  Keeper Sanju's lob was spot on. Next ball Mishra missed completely, saw diving keeper also beaten and it was 4 byes.  19.4 - Faulkner to Mishra-  batsman misses the shot and  ran out of the crease.  Sanju threw at the stumps, missed – Faulkner saw Mishra so much out of the crease; with all three stumps in view – from a short distance misses – Sanju Samson gathers it again – takes a shy at the stumps ... Mishra was unaware of all the happenings was walking and was still out of the crease .... run out

Amit Mishra run out and Coach Moody's reaction
Was that a meek surrender of a Team down and out – low on morale and lacking any attitude !
With regards – S. Sampathkumar.
8th May 2014 @ 10 pm.