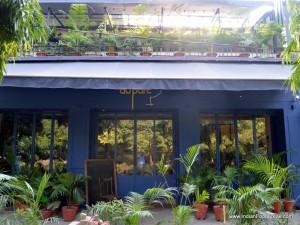 Bistro du Parc at Moolchand Flyover market, New Delhi is a pleasant and typical mix of French bistro and auberge style restaurant serving French  "glocal" (global dish with locally sourced ingredients) food. The owner Naina de Bois- Juzan has lovingly and successfully recreated a typical bistro ambience, the teal coloured, huge windows overlooking lush greenery, the simple bistro chairs, the navy blue serviettes, the sparkling wine glasses, the concise chalkboard menu that changes every month, the yellow fresh flowers on each table, all lending a credible "air du temp" (atmosphere) to the place. The restaurant aims to serve simple, authentic and quality French food in a convivial atmosphere, at reasonable prices and sufficient portion sizes, belying the trend of a few NCR restaurants that appear to make a deliberate effort to reduce the calorie intake of the patrons by serving small, insufficient portions and calling it French style.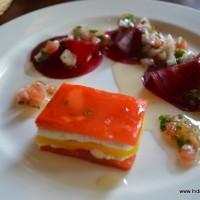 The friendly Naina offered to serve us a degustation (tasting) menu so that we may taste most of what was on offer and my companion and I gladly agreed. My companion found the Two Oceans dry white @ Rs. 700/- per glass, on the expensive side. The sliced Baguette was typical and tasted great with French butter while the brown bread felt dry, perhaps had been cut and left to air for sometime. The Goat Cheese Mille Feuille, a novel take with the creamy cheese layered with Red and Yellow Capsicum was simple and tasty but the pleasant surprise was the Beetroot Ravioli. Stuffed with creamy, aged Brie packing a tasteful punch and enveloped with wafer thin slices of perfectly round beet, the dish was enchanting. The Pork Rillete was a pale coloured pate, made of pork meat, poached and mashed in its own fat to get a soft textured, rustic paste eaten smeared on crusty bread. We found the Rillete, quite bland in taste with the over toasted bread unhelpful to its cause. It tasted better with the untoasted baguette served earlier.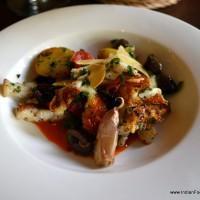 The outstanding appetizer however, was the Pan Fried Calamari. Tiny bits of soft calamari, tossed with spring onions, garlic, cherry tomatoes, black olives and baby potatoes was a gastronomic delight, with the taste buds tickled by a sharp, red chilli coulis. A must try.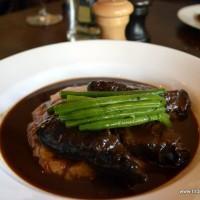 The main of Braised Ox Cheek, a tough and lean cut of meat, slow cooked to tenderness and flavoured by its own sauce, was served with French beans. It would have tasted great if it were served with a baked parmesan flavoured polenta, for eg. Alone, it was an also ran. The one that won the race, however, was the Lamb Saddle. The lean slices of meat cooked rare-medium was exquisite with a simple buttery flavor and served with parsley braised black-eyed peas and deep-fried cherry tomatoes. Don't miss this one.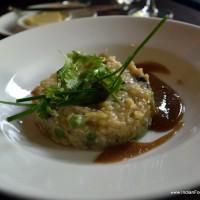 I was hugely disappointed with the Cauliflower Risotto. Having heard many good things written about it, I did not hesitate in ordering it for my main. The finely shredded cruciferous vegetable in a morel flavoured, foamy sauce, was under flavoured and listless. Had it been cooked with white wine and some Parmesan or even some Roquefort, added just before taking it off the fire, the dish would have been very promising.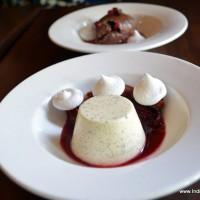 The desserts were flawless. The soft and silken Pannacotta was light and creamy, the chilled pudding flavoured with freshly crushed vanilla pods and served with strawberry coulis and poached plums. My favorite was the Dark Chocolate Mousse with strawberry coulis. Made of pure and intense tasting, red mahogany coloured, Valrhona chocolate sourced from the Carribean, it was sheer sensory bliss. An invigourating Café Noisette ended our Gallic meal. Cheese platter was conspicuous by its absence. What is a French meal without some sharp cheeses paired with dry reds?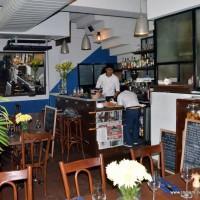 Bistro du Parc boasts of tasteful décor and pleasant ambience downstairs but the loveliness of the "en plein air" (open air) dining area upstairs was spoilt with gas cylinders and cardboard boxes lined in one corner and a delivery of French baguette resting on a table. The service was personal and intimate with the owner herself, explaining, taking and serving the orders. But the food was kind of a mixed bag, some outstanding; some definitely could do with a bit of tinkering in the flavours department (as suggested above in the case of the Cauliflower Risotto).
It is not about deferring to local tastes and sensibilities, as the restaurant is not offering creole or fusion cuisine, but a bit more vigour in flavours would make Bistro du Parc the "de riguer" place for wining and dining in NCR.
Disclosure: This review was done on the invitation of the restaurant.
Ratings (Out of 5):
Food: 3.5 | Ambience: 3.5 | Service: 3.5 | Overall: 3.5
Meal for two: Rs. 1500/++  | Credit cards: Accepted | Alcohol: Yes
Address: Bistro du Parc, 57, 58, 59, Moolchand Market, Defence Colony, New Delhi | Tel: 011-46780080