Bisi Bele Huli Anna, is a
Karnataka
speciality.
Bisi
- hot;
Bele
-lentis/dal;
Huli
- tamarind;
Anna
- rice. We lived in Bangalore for abt 15 yrs and this one of the dishes that we made often and enjoyed it with potato chips:) This dish is also served in many Indian marriages. Its a mixture of rice, pulses and some aromatic Indian spices!!!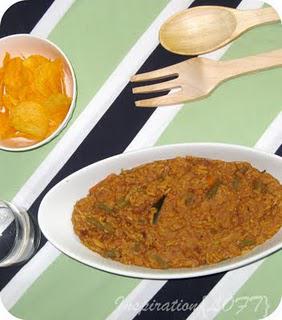 Ingredients:
Basmati Rice - 11/2  cups
Toor dal / pigeon peas - 3/4 cup
Tamarind - a marble-sized ball
Chopped vegetables - 11/2 cups
(French beans, carrots, potatoes, peas).
Onion - 1
Green chillies - 2
Hing / Asafoetida / Perungayam - 1/2 tsp
Turmeric powder - a pinch
 Seasoning:
Oil - 1 tbsp
Mustard seeds - 1 tsp
Curry leaves - a few
Few Curry Leaves
2 Dry Red Chilies, Broken
Grind:
Fenugreek seeds 1 tsp
Coriander seeds 1tsp
 Red chillies 6
Grated coconut
Cardamoms 4
 Cloves 4
Aniseed 1
Poppy seeds 1 tsp
Cinnamon-A small piece
Procedure:
Peel onions and chop them lengthwise, cut vegetables into 1 inch pieces.
Wash rice and dal thoroughly, add 21/2 cups of water, a pinch of turmeric powder and chopped vegetable and keep it aside.
Heat a little oil in a frying pan and fry the mixtures needed to be ground until you get the sweet aroma of the spices, grind it and keep aside.
Soak tamarind in a little water and extract the juice and keep aside.
Heat oil, add red and green chillies, mustard and curry leaves. When mustard crackles, add to rice and mix well. Add tamarind juice, salt to taste and mix thoroughly.
Heat a little ghee and fry cashew nuts until golden brown in color.
Add all the ground mixture,to the rice and dal mixture and pressure cook untill well done.
Garnish with chopped coriander leaves, fried cashew nuts and add some ghee just before serving.
Serve hot with vadaam / chips / appalam and raita / curd.