Bisibele Bhath- Healthy delicious rice,lentil and vegetable medley/ Kedgeree
Bisbele bhath is a very delicious ,flavorful spicy preparation from Karnataka. It is traditional comfort food of Karnataka .This is a version of North Indian Khichdi made with tuvar daal, rice and assorted vegetables.
Bisi means Hot and bele means lentils. so its a spicy hot rice ,lentil and vegetable medley. A perfect delicious one pot meal and is also ideal to carry in lunch box. This dish is easily available in all South Indian eateries .This dish is also popular as Bisi bele huli anna in some parts of Karnataka.
A very flavorful spice blend bisibele bhath masala is added in it which gives a typical flavour to this aromatic dish. The spice blend can be made fresh or a good brand ready made bisibele bhath masala can also be used . Ipersonally like MTR brand masala but you can use any brand of your choice.
Sambhar Sadam is also a popular delicious rice and lentil dish from Southern India but is quite different then Bisibele bhath.
How To make Perfect and Delicious Bisibele Bhath-
To make bisibele bhath first you have to cook the soaked rice with chopped vegetables.(cook till rice become soft but don't make it mushy)
Soak and pressure cook soaked tuvar daal /pigeon pea lentil with chopped tomatoes and peanuts till soft and mushy.
You do need Bisibele bhath masala for making this bhath. So either make the masala yourself or use good quality of ready made one.
The common vegetables used are - carrots ,capsicum ,green peas ,tomato, french beans, can also add knol khol ,chow chow , cauliflower or any vegetable of your choice or availability.
Tamarind and jaggary are added to give a nice tangy taste so don't skip both.
After pressure cooking daal and rice separately, then bisibele bhath masala ,jaggary ,tamarind, water and rest of the spices are added and it is simmered for about 20-30 minutes till mixed well. Then teh tempering is added and again simmer for about 5 minutes.
You can also pressure cook lentil, rice and vegetables together if you are short of time but traditionally both are cooked separately because daal is cooked quite smooth and creamy and the rice is cooked till soft and done but not creamy or mushy.
Bisibele bhath should be served hot as it tend to thicken as it cools down .To adjust the consistency add some hot boiling water and give a boil before serving.
Serve with a dollop of ghee, potato chips,fried papad ,dahi ,khari boondi and some salad with it.
You may also like these delicious recipes-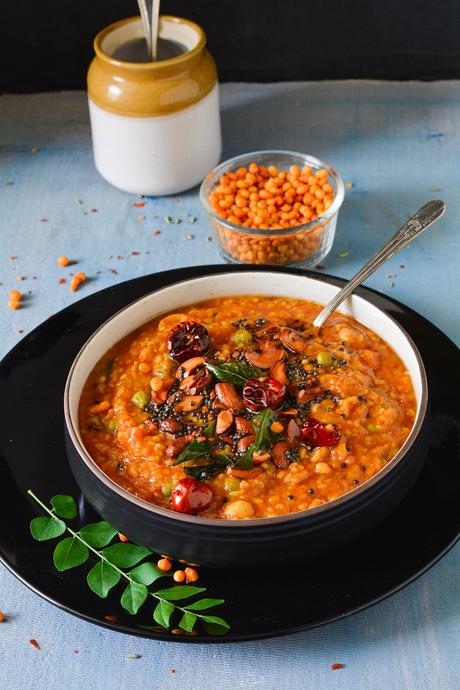 ★ Have you tried this recipe? Click on the stars ★ in the recipe card to let us know your feedback! If you tried it then You can also click the recipe pic and share on Instagram with hashtag #maayeka
Bisibele Bhath Recipe