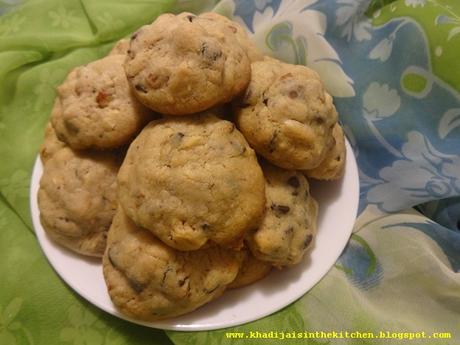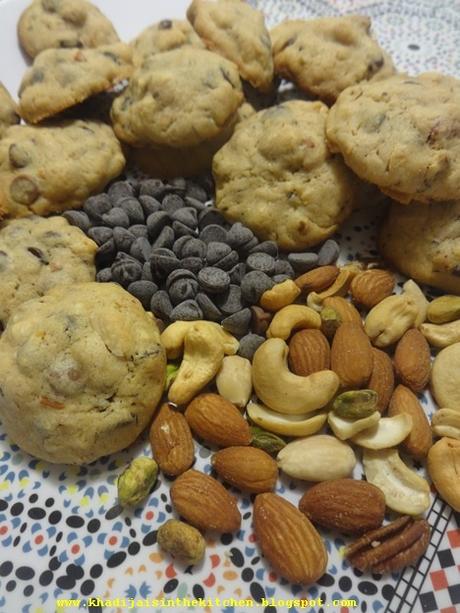 Today's recipe inspiration comes from: Cookies (Les Bredele)
RECETTE / RECIPE / RECETA /  الوصفة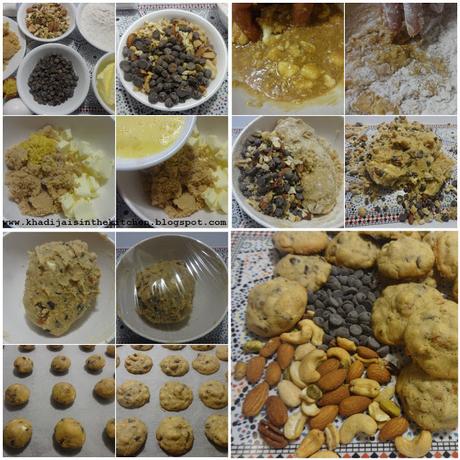 BISCUITS AUX NOIX MÉLANGÉES ET AUX PÉPITES DE CHOCOLAT
INGRÉDIENTS:
100 g de noix mélangées
100 g de pépites de chocolat
110 g de beurre non salé, froid
150 g de cassonade
Une pincée de sel
1 œuf
180 g de farine tout usage
1 cuillère à soupe de zeste de citron
MÉTHODE DE PRÉPARATION :
1- Hacher grossièrement les noix mélangées. Dans un bol, mettre les noix mélangées hachées et les pépites de chocolat. Mettre de côté.
2- Dans un bol, couper le beurre en petits morceaux, ajouter la cassonade, le sel et l'œuf légèrement battu, puis mélanger du bout des doigts pendant 3-4 minutes. Ajouter la farine et pétrir un peu. Ajouter les noix mélangées et les pépites de chocolat et rapidement avec les mains donner à la pâte la forme d'une boule. La pâte est un peu collante! La mettre dans un bol, couvrir celui-ci de plastique alimentaire et le placer dans le réfrigérateur pendant 1 à 1,5 heures.
3- Préchauffer le four à 350°F. Sortir le bol du réfrigérateur.
4- Façonner la pâte en petites boules et les placer sur une plaque à pâtisserie chemisée de papier parchemin. Cuire les biscuits pendant 13-15 minutes puis les transférer sur une grille à biscuits et les laisser refroidir.
*************************************
MIXED NUTS AND CHOCOLATE CHIPS COOKIES
INGREDIENTS:
100 g mixed nuts
100 g chocolate chips
110 g unsalted butter, cold
150 g brown sugar
A pinch of salt
1 egg
180 g all-purpose flour
1 Tbsp lemon zest
HOW TO:
1- Chop roughly the mixed nuts. In a bowl, put the mixed nuts and chocolate chips. Set aside.
2- In a bowl, cut the butter into small pieces, add the brown sugar, salt and egg, lightly beaten, and then mix with fingertips for 3-4 minutes. Add the flour and knead a little bit. Add the mixed nuts and chocolate chips and quickly with the hands shape the dough into a small ball. The dough is a little bit sticky! Put it in a bowl, cover the bowl with plastic wrap and place it in the fridge for 1 to 1.5 hours.
3- Preheat the oven to 350°F. Remove the bowl from the fridge.
4- Shape the dough into small balls and place them on a baking sheet lined with parchment paper. Bake the cookies for 13-15 minutes then transfer them to a wire rack to cool.
*********************************************
GALLETAS DE NUECES MIXTAS Y CHISPAS DE CHOCOLATE
INGREDIENTES:
100 g de nueces mixtas
100 g de chispas de chocolate
110 g de mantequilla sin sal, fría
150 g de azúcar morena
Una pizca de sal
1 huevo
180 g de harina común
1 cucharada de ralladura de limón
ELABORACIÓN:
1- Picar ligeramente las nueces. En un bol, colocar las nueces mixtas y las chispas de chocolate. Dejar de lado.
2- En un tazón, cortar la mantequilla en trozos pequeños, agregar el azúcar morena, la sal y el huevo ligeramente batido, luego mezclar con las yemas de los dedos durante 3-4 minutos. Agregar la harina y amasar un poco. Agregar las nueces mixtas y las chispas de chocolate y rápidamente con las manos dar a la masa la forma de una bola. ¡La masa es un poco pegajosa! Ponerla en un tazón, cubrir el tazón con una plástico para uso alimentario y colocarlo en la nevera durante 1 a 1.5 horas.
3- Precalentar el horno a 350°F. Sacar el tazón de la nevera.
4- Formar la masa en bolitas y colocarlas sobre una bandeja para hornear forrada con papel pergamino. Hornear las galletas durante 13-15 minutos y luego transferirlas a una rejilla para que se enfríen. 
*******************************************
بسكوي بالمكسرات المختلطة وحبيبات الشوكولاتة
المكونات:
100 غرام مكسرات مختلطة
100 غرام من حبيبات الشوكولاتة
110 غرام زبدة غير مملحة ، باردة
150 غرام سكر بني
قبصة من الملح
1 بيضة
180 غرام دقيق ابيض
ملعقة كبيرة قشرة ليمون مبشورة
طريقة التحضير:
1- تقطع المكسرات المختلطة بواسطة سكين.
في اناء توضع المكسرات المختلطة
و حبيبات الشوكولاته ثم تترك جانبا.
2- في وعاء ، تقطع الزبدة إلى اجزاء صغيرة ، يضاف السكر البني والملح والبيض مطرب قليلا ثم يخلط الكل بأطراف الأصابع لمدة 3-4 دقائق. يضاف الدقيق و يدلك العجين قليلا. تضاف المكسرات و حبيبات الشوكولاتة وبسرعة يعطى للعجين شكل كرة.العجين لزج قليلا! يوضع العجين في وعاء ، ويغطى هذا الاخير ببلاستيك غذائي ، ثم يوضع في الثلاجة لمدة تتراوح ما بين ساعة إلى ساعة ونصف.
3- يسخن الفرن على درجة 350 فهرنهايت. يخرج الوعاء من الثلاجة.
4- يقسم العجين الى كرات صغيرة تصف فوق صفيحة للبيسكوي مغطاة بورق الزبدة. يخبز البيسكوي لمدة 13-15 دقيقة ثم ينقل الى شبكة بيسكوي الى ان يبرد.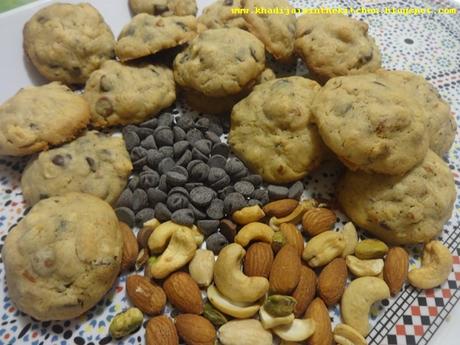 *********************
Hope you'll enjoy!!
*********************
Merci de votre visite / Thank you for your visit / Gracias por
su visita/

شكرا على زيارتكم
Pour d'autres idées de cuisine / For other cooking ideas / Para otras ideas de cocina / من اجل افكار اخرى للطبخ :
Facebook
,
Instagram
,
Pinterest