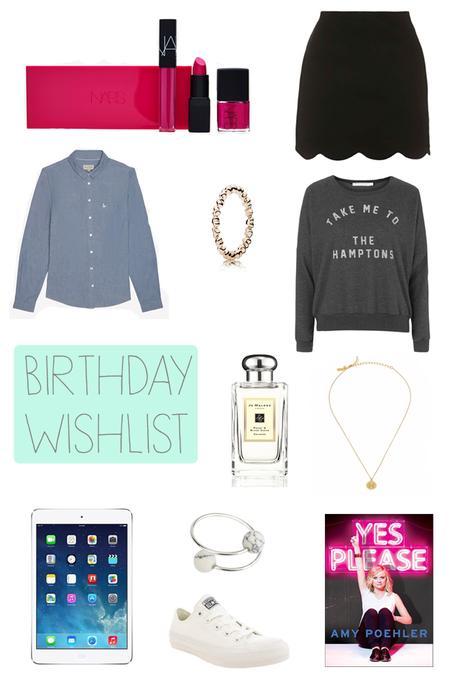 For some reason, I've found it more difficult to think of ideas for my birthday this year. It's probably because I've already bought things I've wanted as and when I've felt like it, like my Radley bag, Kate Spade purse and of course, my car but that was a very well thought out purchase. Anyway, here's a few things I'd quite like just in case you need ideas for presents for yourself, or even Christmas (yep, I said it)
This NARS set appeared on ASOS a while ago and if you've been reading my blog for a while, you probably know I'm a pretty big fan of the brand, particularly their lip pencils and limited edition sets. This set, while not including any lip pencils, feature Schiap - the bright pink lipstick I've been umming and ahhing over buying for a while, along with the matching lipgloss and nail varnish and a really useful pink box. 
Topshop can be a bit hit of miss with me but this Scallop skirt and grey sweatshirt really appealed to me. There's a striped version of the skirt too, but I'd get a lot more wear out of the black one. 
I actually spotted this Jack Wills shirt in Edinburgh, tried it on and decided to walk away from it despite it fitting really well. There's a white one too that I quite like the look of if anyone's feeling particularly generous.
Onto jewelry and there's this rose gold Pandora ring, Kate Spade initial necklace and Whistles Howlite ring. I don't really wear initial jewelry but this necklace looks quite dainty and could be a nice alternative to wearing my Tiffany ones everyday. I'm tempted to treat myself to it on payday actually! Who says you can't buy yourself birthday presents? 
I guess I don't really need any more fragrances but Jo Malone scents have this air of luxury about them don't they? This one, Peony and Blush Suede smells lovely, but then again don't they all!
There's an iPad Mini on the wishlist too, since I no longer have one for work purposes and I miss having one. They're just so useful when you're on the go and equally, for lazing in bed watching Netflix on an evening. 
It wouldn't be me without some shoes on the list and I've worn Converse for years so it's interesting to see a refreshed style. I guarantee if I get a pair, they won't stay pristine for long, but I do like the idea of fresh white trainers to dress down the shirt and skirt, or the sweatshirt and skirt.
I'd also like a GoPro Hero 4 Adventure if anyone would like to be so kind? Though I would have to take up snowboarding again for it to be even remotely worthwhile buying...or vlogging and travel more.
If it's your birthday soon, what're you hoping for?