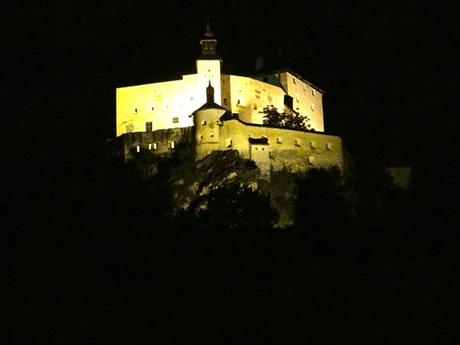 It seems as though my friends like to throw big birthday bashes in foreign lands, lasting several days. Another friend of mine, Olivier Renaud-Clement, who turned the big 5-0 two weeks ago pulled out all the stops in a celebration to end all celebrations.
Before you jump to conclusions and think, "Oh, that Richard, all he ever does is travel and go to glamorous birthday parties that last days on end, rubbing elbows with VIP's", please know that in between the so called glamour, I work almost 7/7, writing my blog, taking photos, and doing my tours.
The invitation went out in January and we were invited to celebrate in the Engadine area of Switzerland, three hours from Zurich and about 90 minutes from St. Moritz. We took a plane to Zurich on Wednesday and then a three-hour scenic train ride through the green mountains, gasping at the incredible pristine beauty. We arrived in Scuol, a village in a valley and checked in to our hotel with a comfy, spacious room. The first thing I did was go on to the terrace to breath in the fresh air while again marveling at the mountain range sprawled in front of me, all the while humming Climb Every Mountain.
That night was the first series of three events over three days. It was a formal seated dinner at a newly converted hotel in nearby tiny hilltop village, Sent. Most of the large houses in the village were from the early 1600s and the town was found in 930 AD.
The chicly deigned Pensiun Aldier Sent Hotel was a cool blend of the Swiss modern minimalist design with a backdrop of aged handsome wood paneling.  The owners were a very pleasant Italian couple Suzanne and Carlos Gross, who I spoke to at length. They recently sold their family owned business and renovated the hotel. Carlos has privately collected Alberto Giacometti drawings for decades and wanted a venue to publicly display them. He turned the lower level into a museum, now showing the extensive collection. There is also a Diego Giacometti sculpture and black and white photos by Ernst Scheidegger.
Olivier is a well-respected international art dealer and exhibition organizer and he invited an impressive and varied guest list with many people from the art world including artists, art collectors, curators, museum directors, and gallery owners.  Over the course of the evening I met people from Paris, Rio, New York, San Francisco, London, Beijing, Berlin, and Los Angeles. There was even a member of one of the biggest rock bands of the 90s, who shall remain nameless, but let's say he is a household name. A lively cocktail hour was followed by a speech by Olivier, graciously thanking everybody for coming far and wide for his birthday and he proceeded to inform guests of how they would be seated. He said two young girls would be going around to the room with two baskets filled with numbers, one for the men and the other for the women. Each person would pick a number, and that's where he or she would be seated. I sat in a different room than Vincent on the other side of the hotel and had a great conversation and bonded with a couple originally from Israel, now living in London. Each guest was given a gift of a specially designed pendant made of Plexiglas by my partner Vincent with Olivier's initials on it.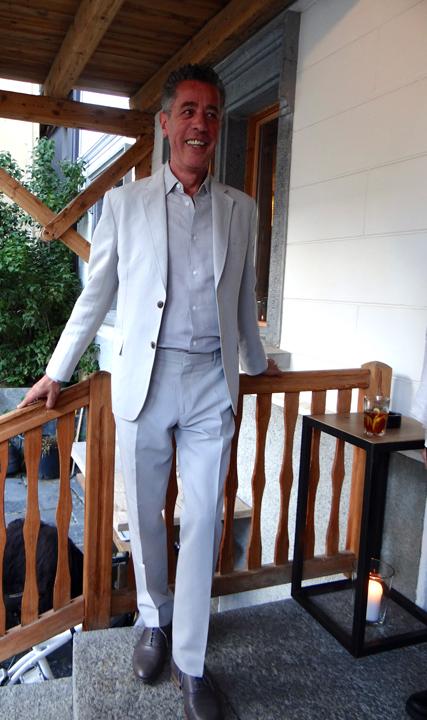 Olivier Renaud-Clement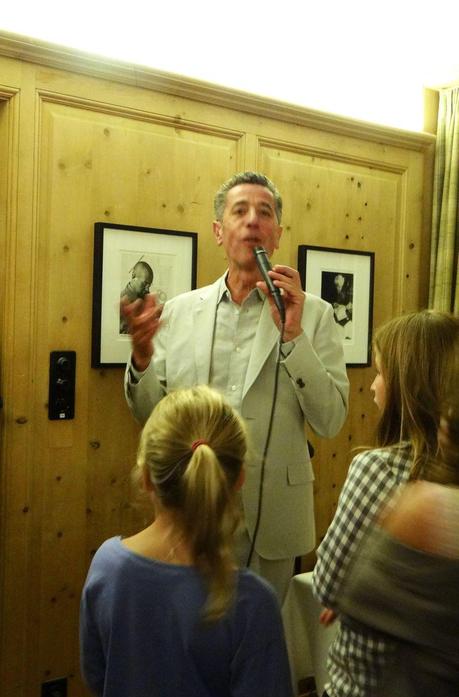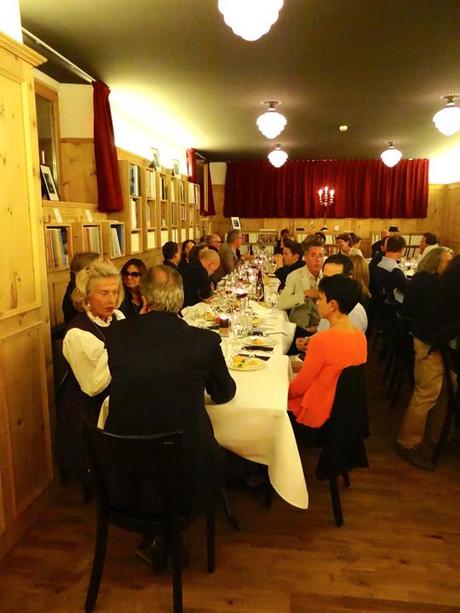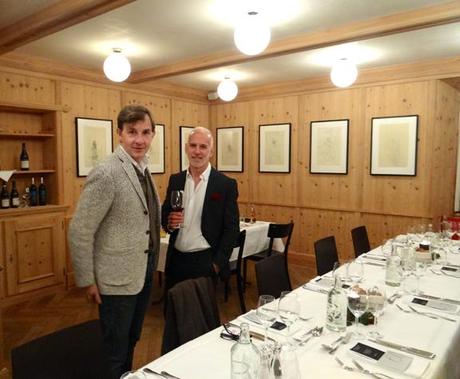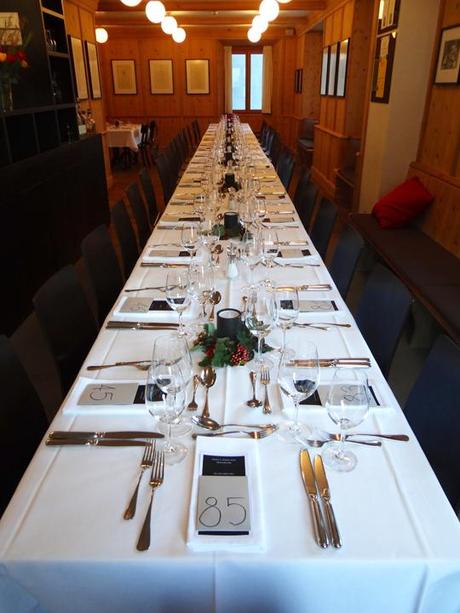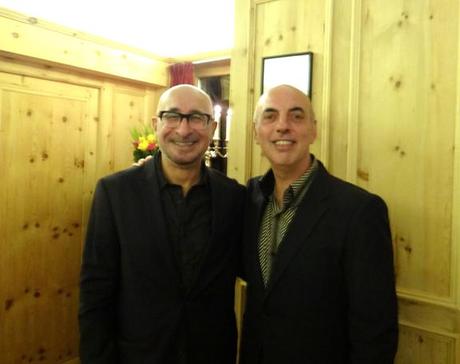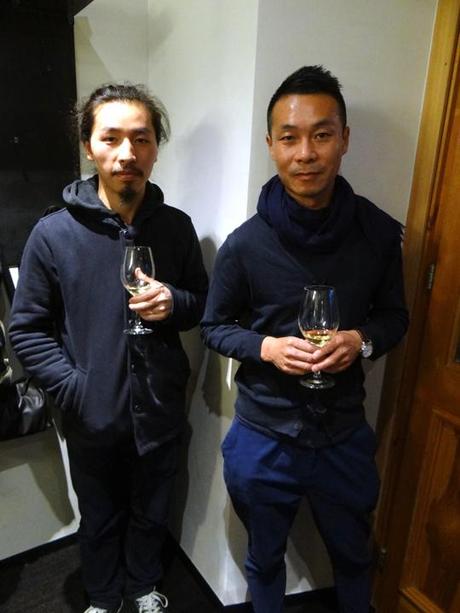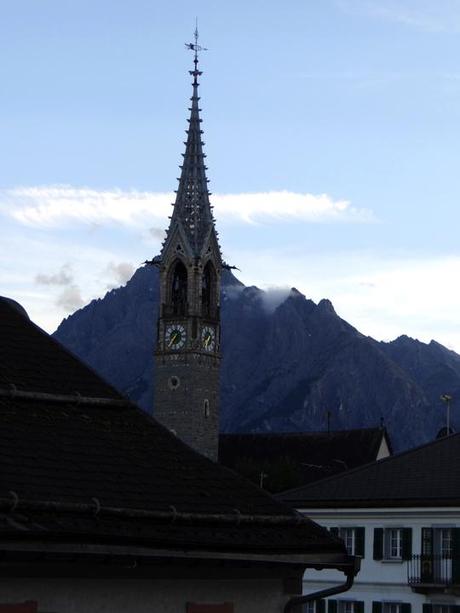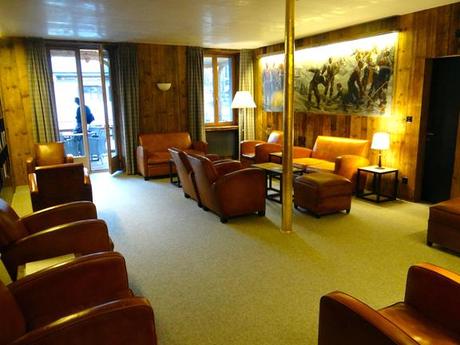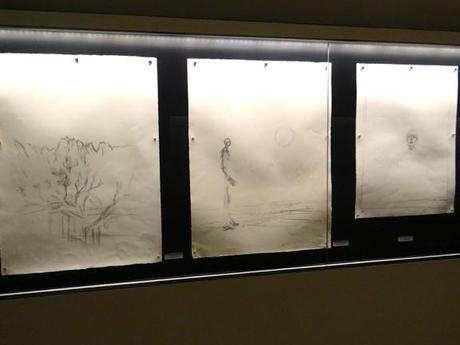 Giacometti museum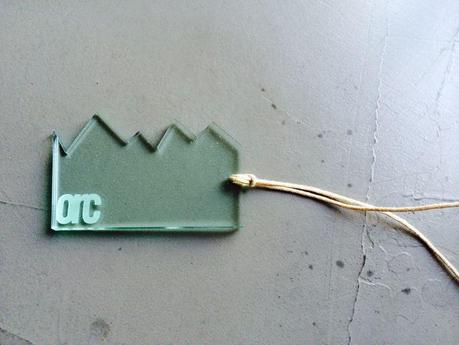 The pendant designed by Vincent- terribly chic!
The next day was part two, a picnic. Not Vital, a close friend of Olivier's, born and raised in the area, is a well-known sculptor and artist, showing his work internationally. He has his studio in the town of Sent and we were given the grand tour before the picnic. The studio was filled with his sleek mostly metal sculptures along with his personal art collection and he also showed us the building where his new studio would be, a cement structure with no windows, just skylights to let in daylight. Not explained that since he was always so distracted by the beautiful views of mountains when he was working, the only solution was to make a windowless studio.
At the outside of the village, Not developed a private sculpture garden, where the picnic was held. It was the most perfect weather you could ask for: sunny, crystal blue cloudless skies, and temps in the low 70s. Before lunch, guests were invited to walk through and explore all the wonders of the park including Not's eccentric sculptures or swim in a fresh water pool.
Along the first path was a floating metal staircase, followed by an amusing bridge entirely covered in hair, and the most daring and intriguing sculpture was a footbridge made of metal poles and the footholds were metal donkey heads. I watched a few people attempt crossing the bridge with much fear and trepidation, and what looked like a fun adventure had people scared sh-tless. I, needless to say, didn't try it.
Working up an appetite climbing through the park, I was hungry for a big lunch. Two long buffet tables were lined with grass and set with local condiments and produce. A nice assortment of salads and fresh vegetables were laid out and a few cooks grilled local made sausages and meats. Guests were given a plastic crate to put everything in and walk down to a tented covered area with picnic tables. It was free for all seating that day and I sat across from another nice couple from San Francisco, who owned an advertising agency and collected art.
After lunch we drove to the nearby town of Ardez, where Not has a foundation. The original house was erected in 1641 and Not bought in 2003 looking to preserve the original form, with his brother Duri restoring it. The foundation houses Not's private art collection and the current show features works by Buckminster Fuller, Simon Rodia, and Gordon Matta-Clark. The collection also includes works buy Jasper Johns, Jean Michel Basquiat, Tintoretto, Louise Bourgeois, Florio Puenter, and Daniel Spoerri along with a Rhaeto-Romanic library featuring 555 books from 1560-1850.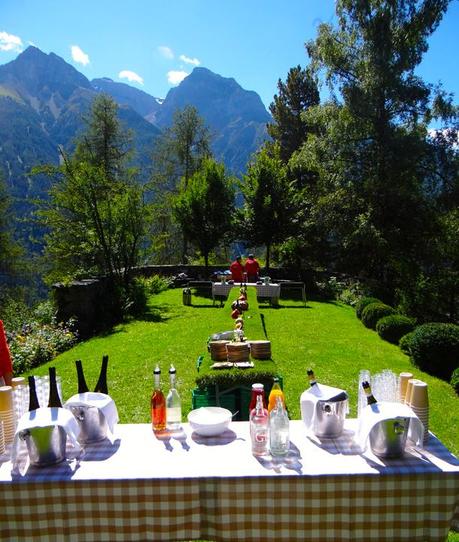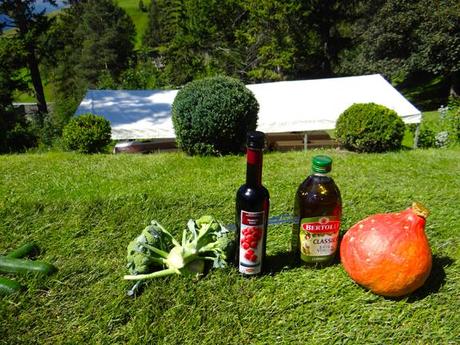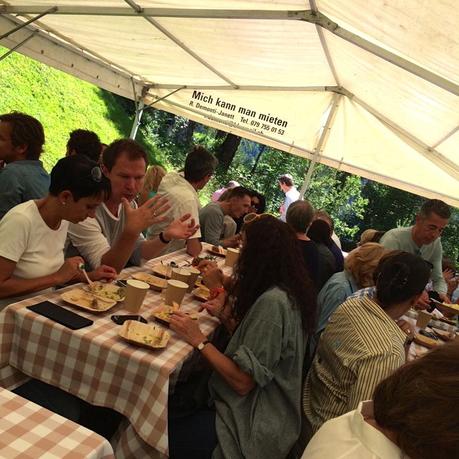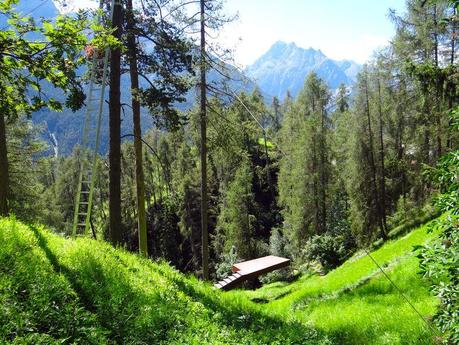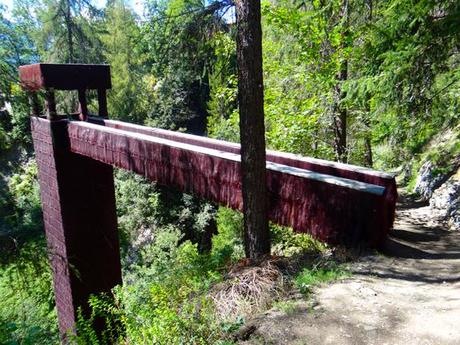 Bridge made of hair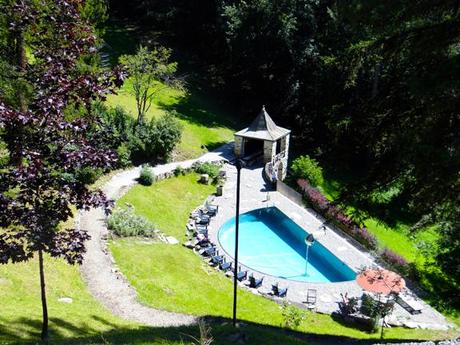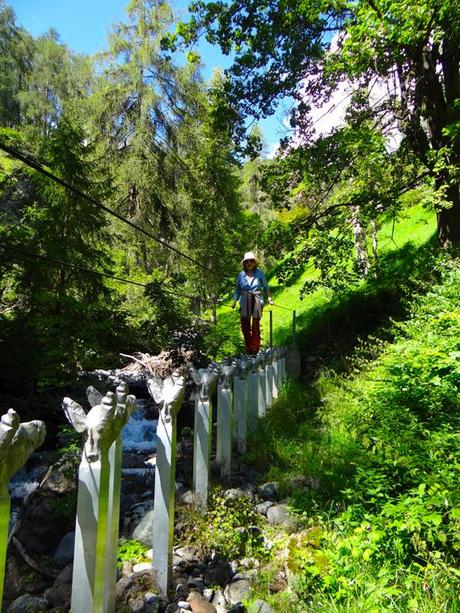 The footbridge- do you want to try this? I dare you!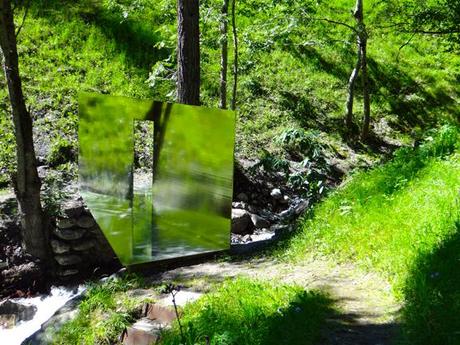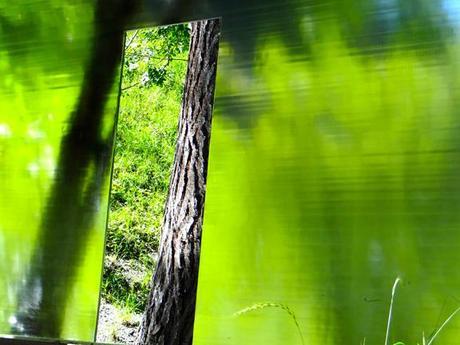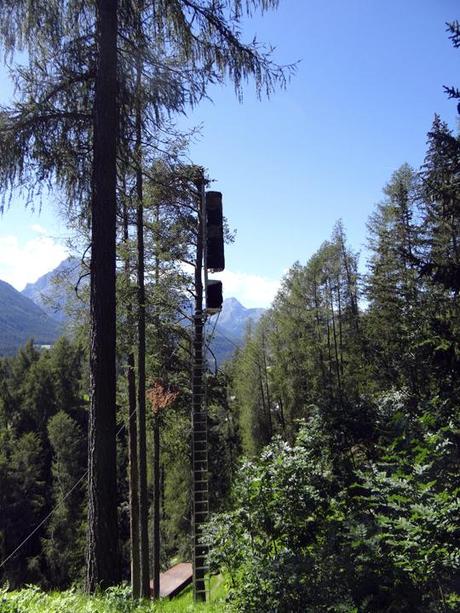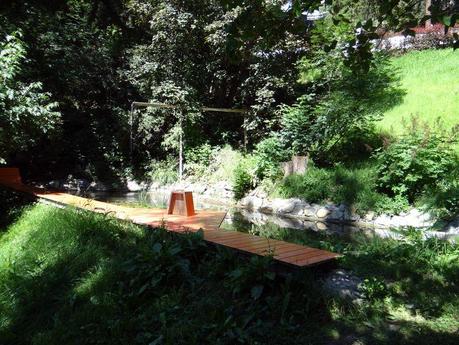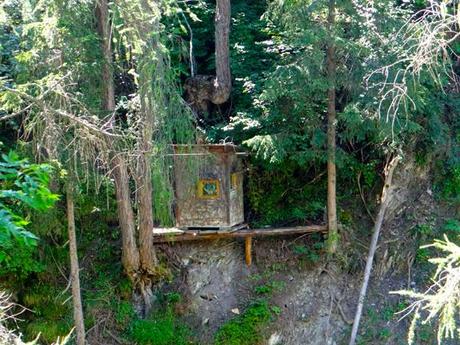 Last but not least, was the Friday night extravaganza, truly out of a Grimms Fairy Tale. At the top of the village of Tarasp, is the Tarasp Castle, originally built as a fortress in the 11th century by the lords of Tarasp and enlarged the 16th century to its present structure. Industrialist Dr Karl August Lingner bought the rundown castle for 20,000 francs in 1900 and had it completely renovated. In 2008 the Hesse family gave the castle to the Tarasp township in exchange for maintaining it.
Cocktails were served in the courtyard of the castle along with a local Oom-Pah style band playing. Everyone was in festive dress and one guest went as far as wearing a medieval century accessory over his head. We were invited to tour the rooms of the castle.
The highlight of the evening was a special organ concert. The castle features a masterpiece concert organ built in Dresden by Jemlich and Olivier flew in organist Benjamin Righetti from the The Lausanne Cathedral to play. Everyone was invited into a large magnificent wood paneled room with the most extravagant gilded gold Baroque mirror I have ever seen. While the organist was playing haunting classic pieces, it suddenly started to thunderstorm with lightning bolts. I thought Count Dracula would arrive at any moment to suck our blood.
After the concert, dinner and Champagne were served and we enjoyed an unusual Thai dinner buffet cooked by a Finnish chef from London.
On Saturday, we drove back to Zurich with some new friends from New York, taking in every last drop of the green mountains.
Our four-day fairy tale came to a close and I am back in Paris hard at work.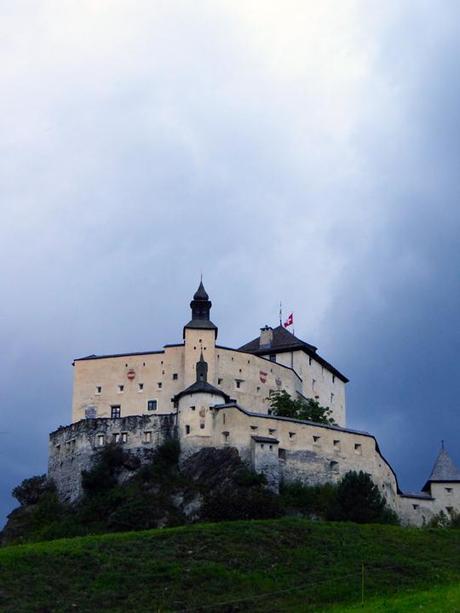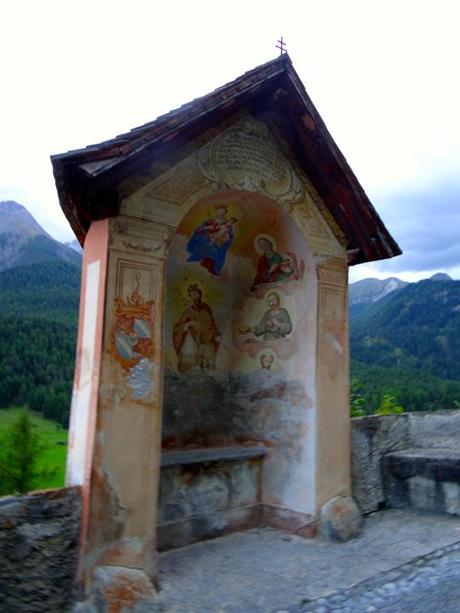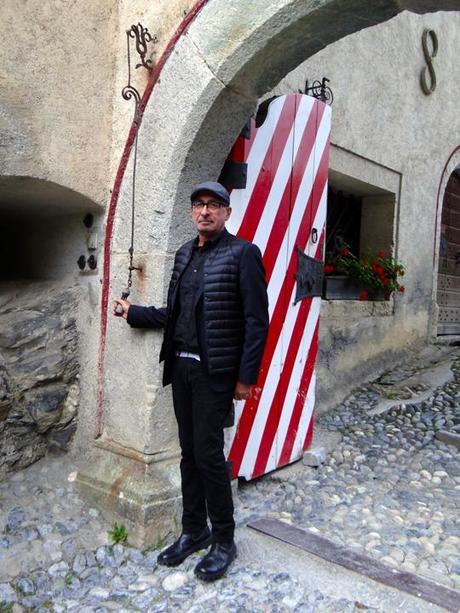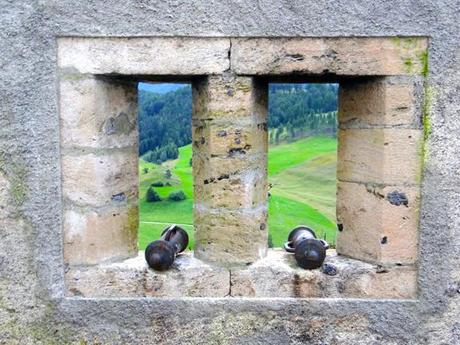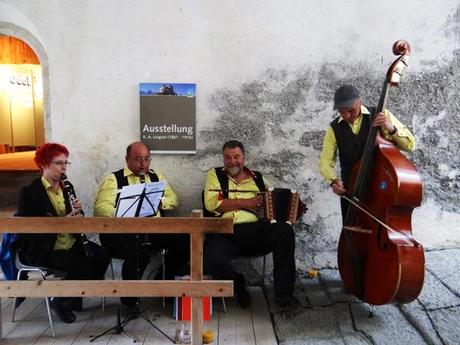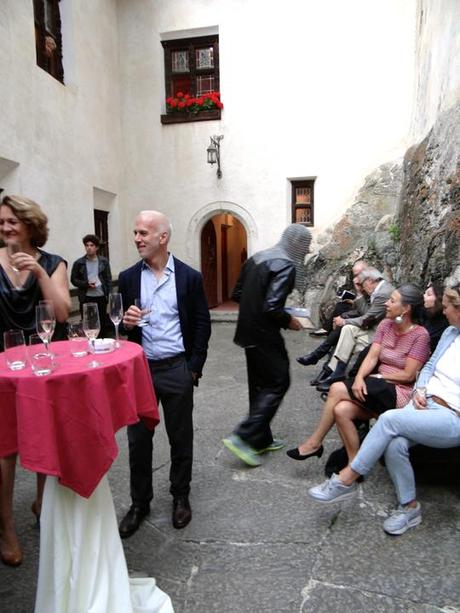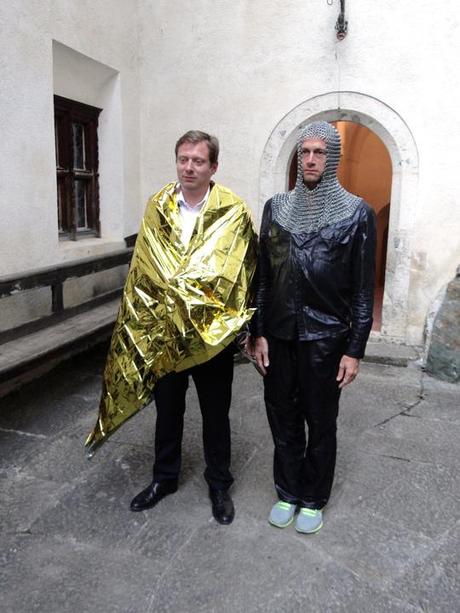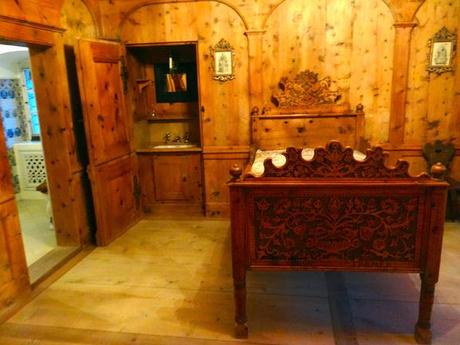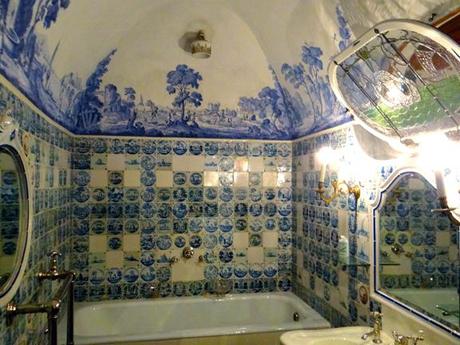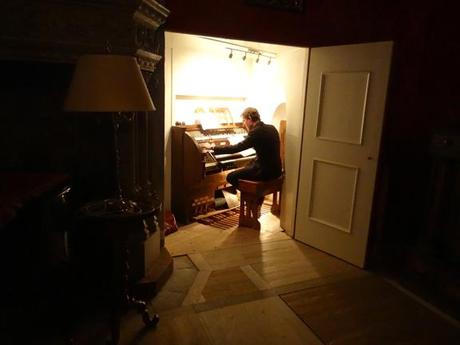 My Paris Apartment for Rent
I am renting my fabulous Paris apartment in the heart of the Marais near St. Paul metro, from November 30 to December 16, a total of 17 nights. It's a spacious one-bedroom 750 sq. ft. loft style apartment with 12 ft. ceilings, decorated in chic Mid-Century Modern furniture and sleeps two people in a Queen size bed. Amenities include washer/dryer, 16" flat screen TV, dishwasher, internet connection/Wifi and free long distance calls to the U.S.  The apartment is located on the second floor with a large elevator.
The price is 2800 euros/165 per night for 17 nights, 1500 euros for 7 nights, and anything in between 7 & 15 nights, 175 euros per night. Minimum rental 7 nights or 1500 euros. Photos upon request.

Please email me at [email protected] if you are interested.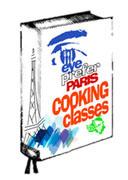 New! Eye Prefer Paris Cooking Classes
I am happy to announce the launch of Eye Prefer Paris Cooking Classes. Come take an ethnic culinary journey with me and chef and caterer Charlotte Puckette, co-author of the bestseller The Ethnic Paris Cookbook (with Olivia Kiang-Snaije). First we will shop at a Paris green-market for the freshest ingredients and then return to Charlotte's professional kitchen near the Eiffel Tower to cook a three-course lunch. After, we will indulge in the delicious feast we prepared along with hand-selected wines.
Cost: 185 euros per person (about $240)
Time: 9:30AM- 2PM (approximately 4 1/2 hours)
Location: We will meet by a metro station close to the market
Class days: Tuesday,Wednesday, Thursday,Friday, Saturday, and Sunday
Minimum of 2 students, maximum 6 students.
Click here to sign up for the next class or for more info.
 

I am pleased as punch to announce the launch of Eye Prefer Paris Tours, which are 3-hour walking tours I will personally be leading. The Eye Prefer Paris Tour includes many of the places I have written about such as small museums & galleries, restaurants, cafes & food markets, secret addresses, fashion & home boutiques, parks, and much more.
Tours cost 210 euros for up to 3 people, and 70 euros for each additional person. I look forward to meeting you on my tours and it will be my pleasure and delight to show you my insiders Paris.
 Check it out at www.eyepreferparistours.com 
Click here to watch a video of our famous Marais tour