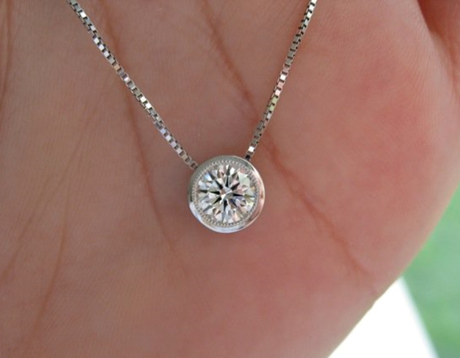 K9 originally posted this gorgeous solitaire bezel pendant on the Show Me the Bling forum at PriceScope. I love this, the milgrain is lovely and the bezel setting should keep the pendant from flipping. Fabulous.
This pendant was a marker of K9's 35 th birthday, here we are 10 years later and it's every bit as wonderful! I do wonder what 45 brought K9 though! Maybe we can get an update? This was crafted by Quest Jewelers, and K9 reports that it was a great experience.
The Stats:
It's crafted in 14k white gold and the bezel slides on the chain
.71ct
Color: J
Clarity: SI2 (totally eye clean - just a white feather under the table)
Visit the original post with more pics, and join me in congratulating K9
On Throwback Thursdays, we celebrate beautiful pieces that have been shared over the years!
Thank you so much for sharing your jewelry experiences with us. Keep revisiting PriceScope's past with us each Thursday!
#TBT
Come show off YOUR fantastic bling with fellow jewelry lovers and trade professionals Learn more about what diamond to buy from PriceScope
By Kayti Kawachi