Going back to Birmingham is always something for me, it's where I studied for three years during my time at University College Birmingham. Wanting to swerve those Boxing Day shoppers I saved my Birmingham for the the nighttime. Spending my well earned coins from China, I stayed at a nice hotel for the night. Enjoying my Caribbean food before the night took full effect!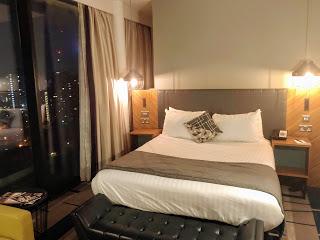 After spending a lovely evening with my brother, sister-in-law, niece and nephew it was time for me to return to Birmingham. I had been conservative during my hometown visit, the drinks consumed during Christmas Day hadn't given me any hangover. Checking into my Hotel Indigo room, I felt like I had graduated all over again! My room faced my previous halls of residence, looking over that student halls gave me the truth that my life had progressed and then some! I don't want to sound arrogant but I have worked hard to get to where I am. Enjoying my room, I already had breakfast ordered for the next day! In my minds eye I was going to keep it cute, planning a walk into town for some food at Turtle Bay then maybe a few drinks at the Loft Lounge? Getting ready I did some surfing on a certain social app that I use in China, some individuals were rather ungracious but I don't suppose 我不再是英国人了吗? 我不知道? No!
Why did I stay at the Hotel Indigo? The appeal of Broad Street wore off pretty quick during my university stint after my first semester, it just wasn't safe during those twilight hours. Since I returned from China to spend a night out in Birmingham's city center during August 2017, I saw some stark changes that were not for the best! Having lived across from the Cube, it had always been somewhere nicer to look towards, but as a student I could never afford that kind of price tag. Making my reservations before I flew out to New York, I knew I had made a good choice to be away from Broad Street for the night. The Travelodge might be for some but not for me, I don't want to sound like a hotel snob but since I saw security on the door during that 2017 overnight trip to Birmingham after time in China, I was shocked to the core! Nevertheless, I got ready for the night ahead with much anticipation for the night. Keep it together, it's just truth, the Hotel Indigo served something better!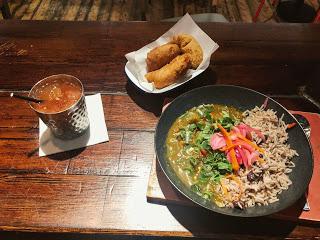 我在北京吗? 不,我当时在英国伯明翰! Let me translate for those who don't speak or can't read Chinese. Was I in Beijing? No, I was in Birmingham, England! I had reserve culture shock because the amount of Chinese students who passed me as I made my way to Turtle Bay had me feeling as if I was back in China already! Feeling hungry I knew where my tea was coming from that Boxing Day evening! Having already tweeted Turtle Bay to see if they were open the day after Christmas, they replied with an answer that suited my plans fully. Ordering the mutton curry with rice with dumplings on the side, I opted for a deliciously refreshing rum punch cocktail. Turtle Bay, Birmingham was subdued during that Boxing Day evening time, that suited me just fine. Snatching Wi-Fi within Turtle Bay was much appreciated because my China Mobile sim wouldn't be any use for 4G in Birmingham that night! I enjoyed my food, all good!
Experiencing serious reverse culture shock whilst back in Birmingham, I had such a complex about my safety because everywhere I have been to in China has been safer than safe compared with the UK. I tried to keep it in my head that I knew this city well but somewhere inside my psyche I didn't know the Birmingham that existed in the present day moment. Aside from those side thoughts I carried on with my meal, the flavours impressed much because I had never been able to find Caribbean food in China, something that I wasn't going to compare or feel any reserve culture shock because I still had my rice! Casting my back to 2014, I had been invited to the opening of Turtle Bay's Birmingham location. A lot had happened in my life since 2014, Birmingham life was no more for me but four years on I still make it my best to return when I come back to England. So, Turtle Bay, thanks for the food and it's great to see your Caribbean food still being served in Birmingham! Irie B!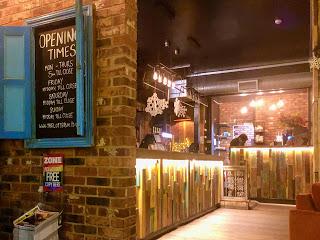 Going off grid, I went Southside to be within Birmingham's Gay Village and Chinese Quarter. Listening to those conversations I sensed a strong Hong Kong contingent had continued to call Birmingham their home, along with the growing Chinese, HK, Taiwanese and Macanese student population calling Birmingham their student home! Recognising the snacks from the window of the many Oriental convenience stores definitely gave me a sense of China! Heading for the Loft Lounge for the first drinks of the night I embraced not having any mobile data or Wi-Fi, I was going to observe and enjoy the night with enough money on my person it was fine! Enjoying my first few pints of Corona, little did I know at that point would a virus with the same name be ready to kick off once I would get back to China! No, I no idea that my Corona beverage had any link to an epidemic! No longer keeping it cute, I migrated to the Village!
After downing a few pints of cider, I felt as if I was in an almighty time warp that transported me back to my university weekend nights out! Things were quiet to start off with, as the night progressed it was time for the cabaret show by Miss Marty and Miss Penny, from the corner of my eye I was not mistaken, I saw that Rupaul's Drag Race UK star Sum Ting Wong had snuck into the Village Inn next to the DJ booth! Bringing yet another Birmingham Chinese connection that night, would there be another one before the morning? Amongst the music and the growing partygoers, I saw a rather handsome Oriental looking guy, he happened to be from Harbin, China! I couldn't imagine how it would fell to be in a club in a foreign country where people actually interact with each other, putting their phones away! Truth! Enjoying a few more pints, I got into the groove a little more before I got a taxi back to my hotel. My life has progressed, I have moved on, I wouldn't want to go back! Done B! 
Graduated, Never Forgotten!
Joseph Harrison