In my last post, I bragged about my new canvas carry-all, which is imprinted with an Hermes Birkin bag. There were a few comments from folks who were disappointed that the bag is no longer available online. Well ladies, call me your fairy grandmother because the bag has been found in Boston! As luck would have it, while heading to a bar method class, one of the those gorgeous skinny girls that I mentioned before started chatting with me about the bag. Her mother is co-owner of The Studio, a boutique in Brookline and they have the bag in stock in red and blue!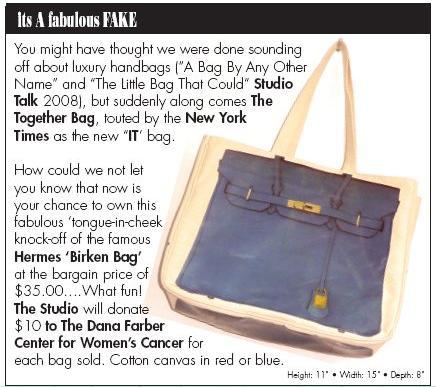 It's available for $35 and even better, The Studio donates $10 of every sale to The Dana Farber Center for Women's Cancer. Their website is under construction but if you're town pop by and grab one, or call 617-738-5091 or email them at [email protected] if you aren't lucky enough to live in Boston. If you mention you heard about them on this blog, you won't get a discount or anything, but I'll get a warm feeling inside and a kitten will get its wings. Or a live mouse, whatever it prefers.
Now go forth and shop!
Share/Bookmark