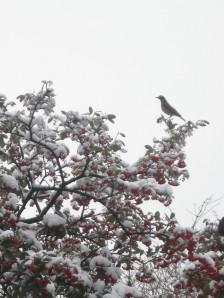 Thrush Foraging Winter
The intention of this article is to outline the protection given to nesting birds by the Law and this affects development sites.
All actively nesting or roosting birds in the wild are protected in the UK by the Wildlife and Countryside Act (WCA) 1981 (as amended). Section 1 of the WCA makes it an offence to kill, injure or take any wild bird, and to intentionally take, damage or destroy the nest of any wild bird while a nest is being built. The maximum penalty for each offence in the Magistrates Court is a £5,000 fine and/ or six months imprisonment (2 years imprisonment in a Crown Court). In 2001 the Countryside and Rights of Way Act 2000 (CRoW) included amendments which strengthened the law in England and Wales.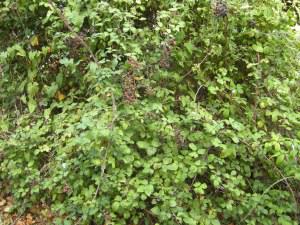 Ideal Bird Habitat
An authorised person may fell or prune a dangerous tree containing a nest if the public's safety is put at risk. A license is required from DEFRA if tree works are deemed necessary to a tree containing a nest for reasons other than health and safety or if Schedule 1 birds would be affected by tree works.
Intentional damage would be deemed to have been committed if vegetation cutting commenced with prior knowledge of nesting bird being present or if works continued after the discovery of a nest. As soon as the bird lays the fist twig of a nest it is legally considered to be a nest. If a nest is discovered a no cutting buffer zone should be implemented around the nest.
The typical bird nesting season commences at the beginning of March and is complete at the end of July. However, the nesting season may start earlier and finish later than these dates, these dates are given only as a guide.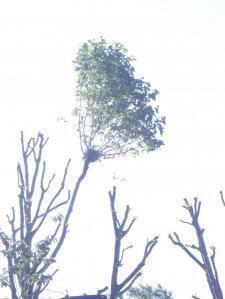 Tree Pruning Leaving Bird Nest
A development site that is to be cleared of vegetation (this could include self seeded scrubby vegetation, self sown trees, reeds, ditch side vegetation or planted trees and shrubs) should ideally be cleared outside of the nesting season. If this is not possible a breeding bird survey should be carried out by a suitably qualified person to establish whether nesting birds are present, this would usually be an ecologist. Any nests identified should be protected until the young birds have fledged the nest. If a Schedule 1 bird is present mitigation for the loss of habitat should be devised and implemented.
As well as nesting birds being present in areas where vegetation is to be cleared, developers should be aware of the potential of nesting birds on buildings to be demolished. Species of note are Swifts, Swallows, House Martins and Barn Owls.
The RSPB produce a document Wild Birds and the Law which provides more information on this topic.