My favourite birdwatching Uganda stories
Similar in size to Great Britain, Uganda's unique geographical positioning in the Great Rift Valley makes the country home for an astonishing 50% of Africa's birds. Diverse habitats such as open savannah, montane and Equatorial rainforests, rivers, marshlands, fresh water and crater lakes combine to give Uganda an enviable bird list of over 1,060 species!
Uganda boasts an incredible 34 Important Bird Areas (IBAs), sites of global conservation importance, not just for birds but for mammals, fish, reptiles and insects. 22 IBAs are within the national protected areas and all twelve of Uganda's Ramsar sites (internationally protected wetlands) are IBAs.
If you like birds – like I do! – then you will just LOVE Uganda! I've met many people who had never really noticed birds until they came here –  and returned to Europe 'birding converts' – (yes Neil, that includes you!)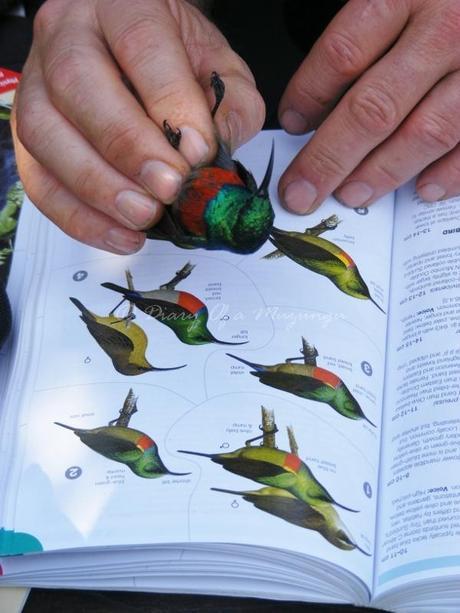 Birdwatching Uganda. Identifying a Sunbird – not always easy, even with the bird guide! Birdwatching Uganda
Here are a few of my favourite birding moments:
A day in the life … species by species Uganda may not have the same change of seasons as Europe but the insects don't know that!
A bird's eye view of Uganda – Big Birding Day 2010  Up before dawn to take part in the Big Birding Day, a 24 hour birding race covering 33 sites across Uganda. Together we recorded 606 species. And the best bit? Our team won!
In 2012 I was part of the volunteer team helping make Big Birding Day even Bigger! To tie in with this event and the country's 50 years of independence, Africa on the Blog published my article on how birding tourism can be used to help develop Uganda and support poor rural communities. "[email protected]" – Save Uganda's Beautiful Crested Crane.
Dillon eyes up a spectacular Klaas' Cuckoo, Kibale Forest bird ringing
A ticking off – bird ringing in Kibale Forest was a very cool way to spend two days.
Incredibly rich in animal life, Kibale Forest is a place of many firsts for me. Even after three years working in conservation, Mother Nature had still been holding back on me: this particular Kibale Forest trip I saw my first wild chimp, my first Red Colobus Monkey, my first Green Mamba! But these were all unexpected bonuses – we'd actually traveled to Kibale to ring birds with Malcolm Wilson of African Affinity …

Hooded Vulture soaring above Kampala. Image Achilles Byaruhanga, NatureUganda
Look up! Urban birding Kampala-style is the Muzungu's view from Long Crested Towers – my home in Bukasa. Kampala is a dusty, polluted city of 2 million inhabitants. Yet, with over 300 species, the city is still a birder's dream …
Populations of the 11 species of African vulture have declined considerably. In A disgusting day out I took part in NatureUganda's annual vulture count – and a gory tour of the very smelly outdoor Busega fish factory and the formidable Kalerwe Abattoir, on the look-out for Hooded Vultures, Pied Crows, Brown Kites and Marabou Storks.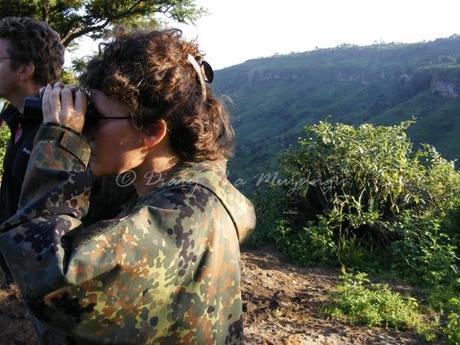 Birdwatching Uganda. A birding muzungu at Sipi Falls, eastern Uganda
Regular Diary of a Muzungu readers may remember my love-hate relationship with the Kingfisher that woke me up at 5.30 am PRECISELY every day for almost 4 years. I frequently curse him but I thought I'd lost him at one point – as I explain in the Kingfisher and I.
A birding Safari here in my backyard is one of my favourite birding walks, from Namuwongo down to Port Bell on Lake Victoria. Baldrick was so tired, we had to drag him home! It was a great day for my growing bird list though 

 so do check it out!
Do you like birds? If you're looking for Uganda birdwatching itineraries, please drop me a line.
Tags:
Big Birding Day, birding, birds, birdwatching, Conservation, NatureUganda, tourism experience, Uganda
« Save the Nile #saveadventuretourisminUganda – can you help?