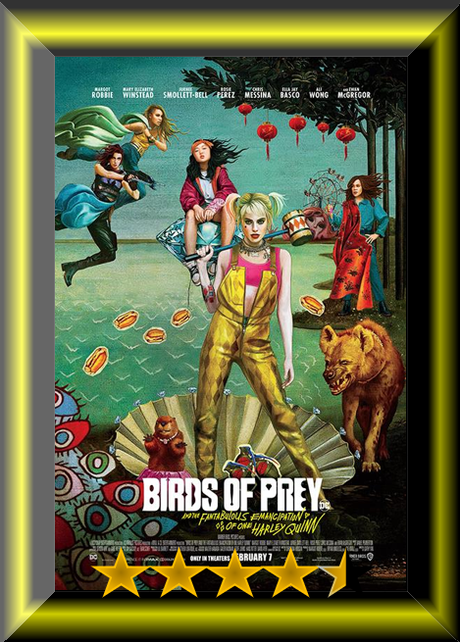 Director: Cathy Yan
Writer: Christina Hodson (Screenplay)
Starring: Margot Robbie, Mary Elizabeth Winstead, Ewan McGregor, Jurnee Smollett-Bell, Rosie Perez, Bojana Novakovic, Chris Messina, Ella Jay Basco, Ali Wong
Plot: After splitting with the Joker, Harley Quinn joins superheroes Black Canary, Huntress and Renee Montoya to save a young girl from an evil crime lord.

Tagline – Prey for Gotham! 
Runtime: 1 Hour 49 Minutes
There may be spoilers in the rest of the review
Verdict: Wonderful Blast
Story: Birds of Prey starts as Harley Quinn (Robbie) finally leaving Mr J or Joker to most people, people don't believe she will stay away for long because her relationship means she can get away with anything, only after she blows up his compound, her immunity is gone and everybody is after her, with Roman Sionis (McGregor) looking to cash in on the position left behind.
After teenage pickpocket Cassandra Cain (Basco) steals a diamond, she finds a bounty on her head, with the only person that will help her is Harley, who learns she has people willing to help from other people detective Renee Montoya (Perez), mysterious assassin Huntress (Winstead) and singer Dinah (Smollett-Bell), as they face the numbers in Gotham.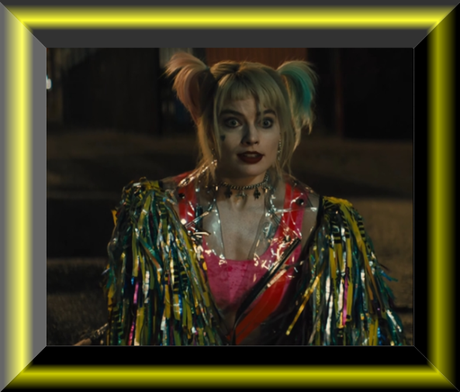 Thoughts on Birds of Prey
Characters – Harley Quinn is having a life crisis after her break up from the Joker, she wants to remain the wild character, only she needs to learn who to trust after learning everybody wants her dead, she gets a chance to save a teenager that Roman Sionis is hunting. Harley is pure enjoyment to watch, she makes everything fun in her life, always looking at the bright side no matter what comes her way. Renee Montoya is a detective that has never gotten the recognition she deserves, she is trying to track down Harley and has always been working with an inside source in Roman Sionis, she is always considered an 80's cop. The Huntress is the mysterious assassin that has appeared and started killing gang members, this is the character that does feel like the weakest, mostly because she is fully mysterious, until she isn't which makes her feel flatter than the rest of the characters. Dinah Lance is the singer in Roman's club whose voice can shatter glasses, she has always kept to herself, but will look at for people in life. Roman Sionis is the club owner gangster who lets people take the faces off his victims and after seeing what happens to the Joker's compound, he believes it will be his rise to power.
Performances – Margot Robbie is truly incredible in the leading role, she well and truly takes the movie and is a true delight to watch. Rosie Perez, Mary Elizabeth Winstead and Jurnee Smollett-Bell are excellent too, working with Robbie perfectly. Ewan McGregor works well as the villain, showing the eccentric side to his character with ease.
Story – The story here follows Harley Quinn as she finds herself alone, out of the Joker's shadow, needing to fight for herself, where she must help a teenager that is facing the hunt from the new gangster looking to take over Gotham, finding she has unlikely allies waiting in the shadows. This story can be cut down to a simple, protection based story, which is always an nice concept, we get the extras from the flamboyant nature of Harley and how she tells the story, which is the saving grace for the entertainment value. The story is carried by the strength of Harley and just how purely entertaining to she is to watch and see stand up for herself.
Action/Crime – The action gives us some unique and original fight scenes, with the funfair one being a true stand out and potentially being one of the best of the year already, all while being in the Gotham crime world.
Settings – The film still uses Gotham as the backdrop, which is fine, it all works, where the settings stand out more though are with the fight scenes, taking us to the unique locations we haven't seen before.

Scene of the Movie – Funfair fight.
That Moment That Annoyed Me – The drunk opening sequence.
Final Thoughts – This is Margot Robbie proving herself to be above and beyond with her talent, bringing to life Harley in a way that is filled with the entertainment we love to see in a comic book movie.
Overall: Entertaining Treat.