Birds of India ( and Pakistan, Nepal, Bangladesh, Bhutan, Sri Lanka, and the Maldives)  by Richard Grimmett, Carol Inskipp, and Tom Inskipp, is another great field guide put out by Princeton University Press. I found the plates to be accurate and clear although I think some of the smaller plates may lack detail but it most likely wouldn't hinder identification.
One thing I really liked about this guide was that the plates of birds in flight were paired with the birds in their typical pose. I think this really aids in identification due to not having to flip from the bird to the bird in flight between pages. Another feature I like is the family summaries at the beginning of the book. It gives the user a better idea of what they may have seen based on habitat, characteristics, and appearance. This feature would be especially useful for a birder visiting from another country. The compact size of this guide coupled with its accurate pictures and updated range maps really make this guide an ideal travel companion when birding the Indian subcontinent.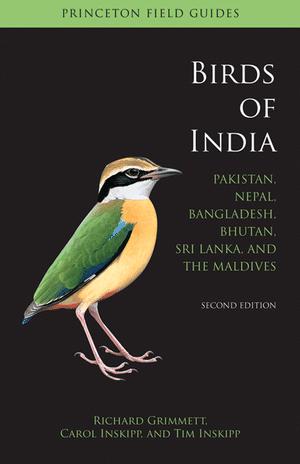 Disclaimer: Princeton University Press kindly supplied a review copy of Birds of India.