In modern day technology, some applications are very interesting !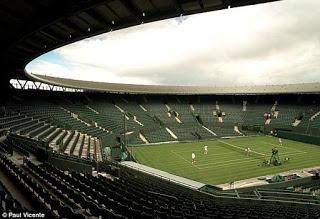 Wimbledon has just concluded – Djokovic and Serena Williams were crowned - Wimbledon, the premier most Tennis Championship would not need any elaboration – it is the oldest tournament and considered the most prestigious, being held at  All England Club in Wimbledon, London since 1877. It is one of the four Grand Slam tennis tournaments, the other three Majors being the Australian Open, French Open and US Open. Wimbledon is the only Major still played on grass, the game's original surface, which gave the game of lawn tennis its name. The tournament takes place over two weeks in late June and early July, culminating with the Ladies' and Gentlemen's Singles Final, scheduled respectively for the second Saturday and Sunday.
In July 2012 at Wimbledon – a theft left the people distressed.  Yes, theft of Rufus – a  well-known fixture at the south-west London club, with visitors often stopping to ask for photos.  Rufus even has his own Twitter account, its owner Imogen Daviswas  25 at that time.
Harris Hawk (Parabuteounicinctus) formerly known as the Bay-winged Hawk or Dusky Hawk, is a medium-largebird of prey which breeds from the southwestern United States south to Chile and central Argentina. They search for their mammal, bird, and reptilian prey from a perch or as they are flying.  Harris' Hawks are social birds. Some of the young will stay with the family unit up to 3 years and help raise subsequent broods and hunt cooperatively with the family. Harris' Hawks are popular birds used in the sport of falconry because of their group hunting style.

Rufus, the popular, is a Harris hawk, used for keeping pigeons at bay during Wimbledon fortnight.  It is  the bird  used to patrol the Court to deter pigeons. This is no post on Rufus or on the pigeons but on a technology apps….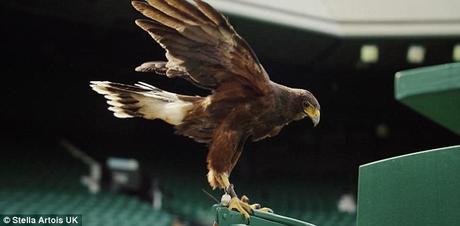 In the course of its avocation of  keeping pigeons at bay, Rufus of course will have a bird's eye view of the Wimbledon ~and would you like to have enjoy such a view ?
MailOnline reports of a drone that replicates flight path ofthe  hawk that is tasked with scaring away pigeons and ensuring the grass on Centre Court is always green. Rufus has been part of the Wimbledon team since he was four-months-old and his  job is to survey the skies above SW19 and keep courts safe from birds.  The new App  allows users to experience a unique 360 degree view of the courts. In an interesting innovation, Tennis fans wishing to experience an unparalleled view of Wimbledon can survey the skies through the eyes of the tournament's ultimate protector – Rufus the Harris hawk which is employed to keep all 42 acres of the competition courts safe from pigeons.
A drone has replicated the hawk's flight path and footage offering a unique 360 degree view of the famed grounds is included in a new app. So the user can take a  flight through the eyes of Rufus the Wimbledon Hawk.  The hawk's flight path was captured with cutting-edge drone technology and a subsequent Perfect Flight app has been developed.
Imogen Davis, who owns and handles the hawk, spoke to MailOnline about Rufus and discussed the role he plays at the famous lawn tennis competition.She said: 'Rufus is a very important member of the team at Wimbledon.'He works throughout the year to try and keep the eager pigeons away from eating the most perfect grass and roosting in the roof.'  The bird which is a natural hunter looks to its owner Imogen Davis for guidance and instruction on a daily basis. Rufus took over from previous hawk Hamish and embarked on an intensive training schedule called manning.
Imogen Davis  said Rufus is treated to a 'really tasty' diet and he exercises and enjoys a bath daily.  The hawk's training, which takes up to 10 months to complete, is based mainly on food motivation and trust.  Scaring birds is not something that Rufus finds to be particularly difficult as pigeons recognise him as a threat.  The Wimbledon guardian surveys all 42 acres of the Wimbledon grounds from its vantage point in the sky.  Based mainly on food motivation and trust, the training usually takes between seven and 10 months to complete, although every hawk is different. Ms Davis concluded: 'Rufus has a great life – a really tasty diet, exercises daily, enjoys a bath daily and works with a fun team. 'If he wanted to take off and do his own thing he could, but he enjoys working with us too much.'
The drone footage that replicates his flight path has been included in an app called The Perfect Flight. The Perfect Flight app allows people to experience the bird's unique 360 degree view of the Wimbledon grounds.
With regards – S. Sampathkumar
14th July 2015.