In this post, I have featured a review of Bionic Turtle. It is a training program designed to help FRM ( financial risk managers) to pass the certification exam of FRM.
Bionic Turtle Review 2019: Is It Worth Money??
What Is Bionic Turtle?
Bionic Turtle was originally founded by David Harper in 2004. It is a preparation website for students to help them pass the FRM exam. It was one of the first FRM preparation providers to teach their students with videos and e-learning tools. This is the most active FRM forum because they constantly add practice exam questions and provide new tests on a regular basis.
The main goal of this company is to provide quality based materials at an affordable price. Their study material and video lectures provide you the explanation on the complicated topics. This will help you in the long run when you work as a certified FRM. The examples given in the lectures are very easy to follow.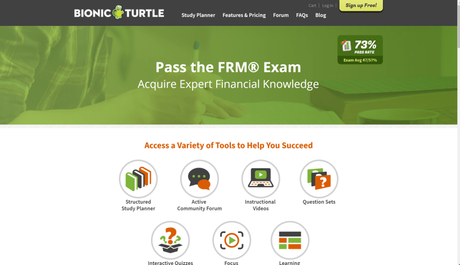 You can get solution to any practice problems along with that they will make you understand the concept of those problems which is really awesome. That makes those problems super easy to solve.
All the study materials are part of this course. They have the largest FRM test bank in this industry because the number of practice questions are over 4,400. You will learn the material, understand the concept, practice the questions all at the same time.
The best thing about this feature is that the CEO, David Harper, writes and adds questions on a daily basis throughout every week. Their database of questions is increasing day-by-day. The practice questions are easy to understand and solve. The constant addition of practice questions is the best thing about Bionic Turtle
If you are a paid member then you don't need to open the forum for questions because they provide thousands of questions in PDF bundles. In those PDF bundles, they also add links to the discussion forum for each one of them. The majority of the questions are linked to the topics and you will find them once you are studying that particular topic. They also have quizzes, global topic reviews and also mock test in PDF format.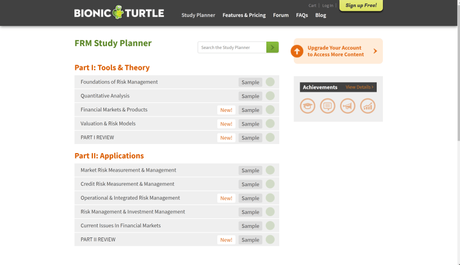 They have more than 4,000 practice questions available for their subscribers. The study planner makes sure that you follow every topic on a structural manner means without completing a topic you can not access the other one.
They have an organized and structured study planner for their subscribers. It is like a visual path for students.
They always have something planned for them. The core materials are an essential part in your preparations for financial risk manager exam. The structure of the study materials is very simple and easy to follow. You will be able to finish all the topics within few days before the final exam.
All the notes available on Bionic Turtle are downloadable and in unprotected PDF format. It is because they don't want any inconvenience to their customers.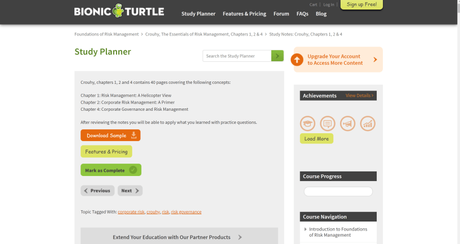 The notes are the fresh content in the market means that all the materials inside them is new for subscribers and you will learn for the first time with Bionic Turtle. Most of the material you find on the internet are most likely to be duplicate but here on Bionic Turtle you will get only fresh material to study.
These notes are focused on concepts. The notes are in the format of media like images, videos and more. They also provide you examples and helpful tips to you. They make you follow the FRM Learning Objectives.
Bionic Turtle offers its students difficult questions set and the difficulty level of those questions are a little bit higher than the actual exam. This is because if you can do more difficult questions than the real examination then it will be much easier for you to pass the examination. They also give interactive quizzes.
These quizzes are a realistic version of the actual examination. In quizzes the difficulty level of the questions are nearly the same as the actual exam and you can't see the answers to the quiz until you complete the quiz. The format of these quizzes is completely different than the practice set questions.
These quizzes are mostly shown on the website in your final week of preparations. These quizzes boost your reading skills before the exam.
Most of the lectures available on Bionic Turtle are on the format of videos. They provide instructional videos to their customers. These videos have been globally recognized as best-in-class. They are continuously developing videos to deliver the most difficult FRM concepts in an easy format.
Most of the instructional videos are in the format of reading text to you which is a passive form of knowledge transfer because reading yourself and someone else reads it for you are two different things and the other part is the most effective way of knowledge. These videos contain examples and images for more efficient review.
There are two different parts available on the website for FRM exam. This feature focuses are on both part1 and part2. It means you can flag any review video available on Bionic Turtle as a focus review video.
Sometimes it happens when you don't understand a difficult concept and then it will be hard for you to understand the following concept videos. So to avoid that you can just easily flag a video for focus review and then they will make you understand the concept in the easiest way possible. This feature does not replace the structured program.
They have a huge library of custom-built learning spreadsheets. They were the first in this industry to do that. These spreadsheets are in the format of excel and online format both. Basically advanced learners use these spreadsheets to learn quickly about FRM.
The quantitative concepts of the actual exam are in those spreadsheets. The concepts are in the way that even formulas and words can't express it. That's why only advanced learners use this. These are not for a beginner.
Who Should Consider It?
The course program offered by Bionic Turtle is good for FRM clients. If you already have some experience in this field then u think it will be best for you. But if you have a lot of experience then the only thing you will require is Bionic Turtle's review course.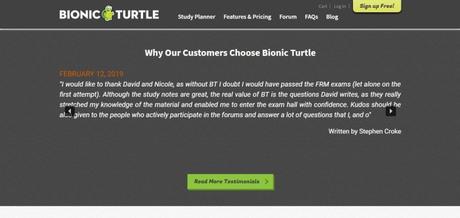 Aside from Bionic Turtle, you may also want to use the GARP core books for additional study material and the combination of both of them will definitely help you in passing the FRM exam. If you want to dive deep in the concepts then it is the best place for you to learn all these concepts in a very comprehensive way.
But if you are a beginner and not familiar with the topics of financial risk management then you will need the basic supplement of Bionic Turtle's review course.
The reviews available on the internet of Bionic Turtle is very great and most of the students got better results from enrolling in one of Bionic Turtle's review courses. The study notes and videos provided by them are great and easy to understand.
Customer Support
The customer support provided by Bionic Turtle is really good. You can ask your queries regarding study materials from the teachers. They have an option available of frequently asked questions which mostly solve your all the queries but if you do have kind of query you can send it through emails and within a few hours you will get answers to your queries and which is really good.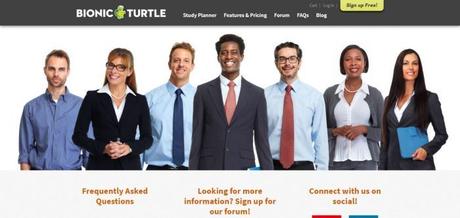 They also have a blog where they have posted answers to questions like why take FRM exam, why is it important and more.
These posts will help you clear any doubt regarding the exam or course. They have also provided a list of jobs you can get by passing the exam which definitely helps you out in the near future.
Benefits
The benefits of using Bionic Turtle's review courses is that with the study plan provided by them will save your time and money and increases your passing rate. As we all know that the FRM exam is really difficult exam to pass and also it must be passed to get an FRM certificate.
Bionic Turtle FRM course is a program which you can study all by yourself.
GARP provides core readings on the concepts of FRM and for a beginner they can be overwhelming. Because most of the readings are over 100 pages long and the content on those pages is very difficult to learn but Bionic Turtle offers study notes which includes only the important points of those GARP readings. This means that you don't have to read the full GARP readings. You will have to go through with that material which is important for the final exam.
They also offers many other FRM course material aside from GARP readings. They have daily practice questions written by the owner David himself and they come twice per week.
Every practice question set is different from one another and they contain questions on GARP readings. All these things will lead you in getting the full knowledge of FRM course and it will be really easy for you to pass the examination.
Pricing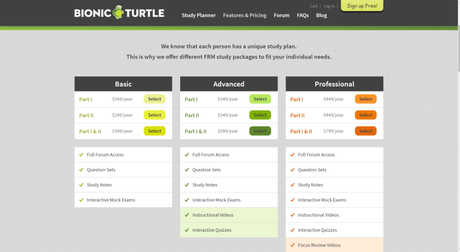 There are basically three pricing plans are available on Bionic Turtle. There is no free trial available but there are partial access available for free users on the website.
For Part 1 or Part 2 it cost around $299/year and for both it cost $399/year. The features you will get from this plan
Advanced
For Part 1 or Part 2 it cost $349/year and for both it cost $599/year. The features you will get from this plan
Professional
For Part 1 or Part it cost $449/year and for both it cost $799/year. The features you will get from this plan
These are the pricing plan. They are expensive but for FRM exam and also the materials they provide is one of the best and the price will be worth it.
Pros and Cons
Quick Links:
Conclusion: Bionic Turtle Review 2019 | Is Bionic Turtle Worth The Hype??
The exam of Financial Risk Management is one of the toughest exams in the industry. So it becomes necessary for you to find the best course material to prepare for it. There are many FRM course preparations are available on the internet but they do not provide authentic material like Bionic Turtle.
Pros
As a student, you want to practice those questions which you have never seen before and Bionic Turtle provides new practice questions handwritten by the CEO David himself twice per week.
Instructional Videos to make you understand the most difficult concepts
Amazing Study Materials
Over 4,000 Practice Questions Available
Huge Community Forum where you can connect with other students
This is why it is one of the best FRM course preparations available on the market. The study material offered by them are in a structured way means you can not access a topic until you complete the previous one.
Cons
They provide quizzes and that is the main thing which differentiates them from others. As a course preparation platform, they are the best in the market. It doesn't hurt to try out the free partial access to get to know Bionic Turtle a little.
No Offline Material
It does not include all GARP Curriculum.
If you like this post on Bionic Turtle then don't forget to share your opinions in the comment section and don't forget to share it with your friends.