many years ago, I loved watching the TV show Bionic Woman with Lindsay Wagner… so when they asked me to review the Bionic dog toy, I was ready for a tough and tumble action toy… Cici enjoys playing with it and it truly does seem indestructible…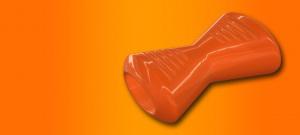 the bionic bone has some interesting features:
Ergonomically shaped to fit the curvature of a dog's mouth
Ridges provide a chewy feel
Perfect for aggressive chewers
Open center can be stuffed with treats
Floats
Careful attention was made to ensure it fits naturally in the curvature of the canine mouth. The ridges across the top give your dog the feeling that they are chewing through the toy. The "Bionic Rubber®" material ensures that your dog will enjoy playing with the Bionic Ball for a long time.  Bionic Rubber® can hold up to the most aggressive chewers.
Made from FDA Food Grade materials that are non-toxic, these toys are as smart as they are strong. The selection of innovative shapes and brightly colored designs make these toys easy to see while playing outside or in the water.
There is also a Bionic Ball, Stuffer, and Toss and Tug, for all size dogs…
Smaller dogs have sharper teeth which puncture toys easier, but have less overall bite force compared to larger dogs. Knowing this allowed the Bionic® engineers to adjust the geometry of their smaller toys for an increased resistance to punctures. They also slightly softened the new sizes, since smaller dogs don't need as much force resistance. Comparatively, the larger Bionic® toys exhibit increased force and puncture resistance to accommodate a larger dog's bite.
http://www.bionicplay.com/products.html
Bionic® Pet Products was launched after the Luhrs family dog, Duke, successfully destroyed another new toy with ease. By combining Bionic's knowledge of designing products for strength, their scientific expertise in materials that are durable and their world-class manufacturing capabilities, Bionic® Pet Products has been able to create toys that stand up to the most aggressive playmates, no matter their gnawing habits.