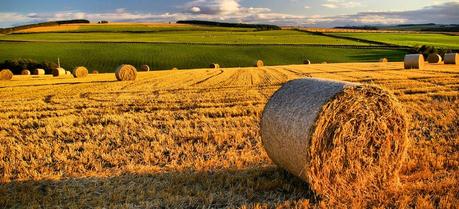 (Credit: Flickr @ Gordon Robertson http://www.flickr.com/photos/gordon_robertson/)
Biomass is a limited resource that can be used both in energy industry and in agriculture as fertilizer. A team of scientists at the Technical University of Denmark, Chemical Engineering Department is researching a way to use agricultural biomass as fertilizer and as a renewable energy source simultaneously.
The idea is to process the straw through a thermal gasification facility linked to a coal-fired power plant instead of spreading it directly onto the fields. Gasification is a process that converts organic or fossil based carbonaceous materials into carbon monoxide, hydrogen and carbon dioxide. Thermal gasification converts biomass into a combustible gas in an oxygen-poor environment, the by-product being bio-ash. The resulting gas can then be used to generate electricity and heat, as thermal gasification exploits 90-95% of biomass energy.
"The bio-ash derived from gasification isn't mixed with coal ash and can therefore be returned directly to the farmer's fields as a substitute for phosphate and potassium fertilizers—and as a stable carbon layer in the soil," explains Senior Scientist Jesper Ahrenfeldt.
In 2012, researchers began a series of practical thermal gasification and bio-ash tests together with Bregentved Gods estate and DONG Energy. Bregentved Gods estate is one of Denmark's biggest farms with 3,284 hectares (8140 acres) of agricultural land. The estate uses the straw for soil improvement and is therefore ideally suited for the alternative straw treatment.
DONG previously acquired a thermal gasification unit developed by DTU and has now installed a 6 MW demonstration facility in Kalundborg called Pyroneer. The plant currently produces large volumes of pure bio-ash from straw.
"We spread about 20 tons of bio-ash onto Bregentved's fields and set up simultaneous experiments in the lab to determine the effect of bio-ash on harvest yields, carbon levels, microorganisms and soil fertility in general. The initial results from the fields and the lab clearly indicate that bio-ash can be used to boost carbon levels and replace fertilizers," explains PhD student Veronika Hansen.
In 2012, Denmark produced 5.5 million tons of straw, 1.6 million tons of which is used for energy—leaving an estimated unexploited resource of 2.1 million tons. So it makes perfect sense to take a closer look at how best to exploit this resource.
"We're pleased that both thermal gasification and carbon return are highlighted in the Ministry of Climate and Energy's recently published catalog of ideas as a proposal for political negotiations on a future climate agreement," says Senior Scientist Henrik Hauggaard-Nielsen.