An affiliate marketer in today's world has access to numerous tools and services for handling various aspects like clicks, campaigns, costs, sales, report building, traffic distribution and more. One of the most important tools for an affiliate marketer to define results is a tracker.
An effective tracking software or platform helps in eliminating tracking errors. This aspect is very crucial as it may lead to slow redirects that may cause you to lose Return Over Investment (ROI).
In this post, I'm going to tell you about a popular tracking platform that has been designed for Affiliate marketers to manage their affiliate marketing paths more efficiently under one hood. This service is known as Binom.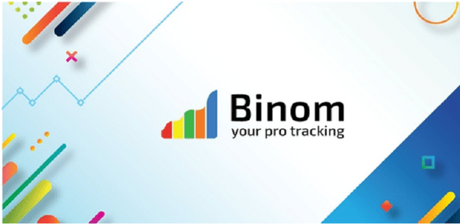 Binom Discount Coupon: Use code BLOGGERSIDEAS To Get First Month Free & 40% Off On Second Month!!
Binom Tracker Detailed Review August 2018: Is It the Right Tracking Tool? Special Discount 40% OFF
Binom: Brief introduction
Binom is a popular and effective self-hosted tracker that has been designed to help manage affiliate marketing paths like clicks, campaigns, costs, sales, report building, traffic distribution and more, all in one place. The software is the undisputed leader in click-processing and report-building speeds. Their primary goal is not only to save you valuable time since an inconvenient interface leads to time loss, but also provide you with a vast variety of features and functionality.
The platform has been specifically designed by affiliate marketers for affiliate marketers to earn more with advanced traffic distribution, smart filters system and a huge amount of handy features such as no-redirect tracking and many others. Binom functions on a state of the art algorithm that knows how to send a click to a landing page that a user has not seen yet and to which offer the user have not yet converted.
Binom allows users to become more profitable by increasing your frequency caps. Campaign analysis in Binom is a seamless experience as it is extremely flexible and takes optimization to the next level. It is further aided with rapid multi-level reports with line markings, search, filters and Drilldown function. These tools have been developed to help you quickly find profitable segments in your campaign.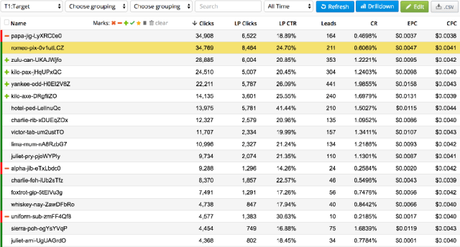 Binom features and functionalities
Binom has quickly emerged as one of the most powerful yet cost-effective tools to aid marketers with efficient click processing, campaign tracking, analytics and traffic distribution tools, including API and several organizational tools. Binom ensures
A license cost that does not depend on the amount of traffic you send
Handles up to 15 million clicks per day
Click processing time is 5 ms under any server load
The highest speed of report generating on the market
Group Campaign Reports
Large-scale automated updates every 2-3 months
The fastest and most convenient user interface
An optimized and user-friendly multi-user system with different access rights
Prompt and excellent support with an average response time of 2 minutes
Technical details and requirements
Binom is a powerful and flexible software designed to serve the needs of affiliate marketing campaigns running on almost all compatible software and servers. Here is a list of software and minimum server requirements recommended by the Binom developers.
Minimum server requirements:

You can always do manual installation if you feel like technical savvy user, but for most people, the best option will be to run auto installer, that was developed by Binom, which installs tracker and optimize all necessary software if you run it on a clean server. You don't need any technical skills in order to run it, or Binom support team even can do all the installation process for you. So even if you are far away from all technical stuff, this will not be an obstacle to install this tracker.
Since Binom is a self-hosted tracker, the amount of clicks which it can handle depends on your server hardware, if you want to run millions of clicks per day, then you need to get a more powerful server. Gladly their technical support will help you find and tune server for any volume.
Why should you try Binom tracker?
There are a bunch of reasons why I would recommend you to try Binom. Of course, you may think what makes Binom different from other similar platforms and services. But there is always a difference between the best and the rest. Have a look at the following points:
The Binom support team will install the tracker and all the necessary tools and settings on your server for free, which means you don't have to handle the hassle of installing and setting up the tracker according to your work environment. All you need to do is just write them and the rest is their job!

3+ years experience in tracker building and 5+ years' experience in affiliate marketing. Those guys know what they are doing. Sometimes they even share nice tips for AM's in their blog.
Ideal solution for teams: unlimited users with custom access rights.
Free SSL for all your domains. Yes, other solutions will charge you for SSL, but Binom will provide SSL for all your domains for free.
Domains check for Google ban, now you won't lose time and profit because Google has banned your domain - Binom interface will notify you about that.
The developers constantly keep working on new features and roll out new updates every few months so you won't fall behind in the race. Next Binom updates will be concentrated on automatization for your campaigns, which means more profit and less headache for you.
Their prompt and helpful customer support team are always open to any suggestions and ready to realize your ideas as quickly as possible. Their "In action" team is capable to help users with tracker-related issues and also solve simple third-party technical problems. They can also consult on media-buying questions. Users can get prompt connectivity and solutions via Skype and web-panel.
Binom is good if you run Pop-traffic because it can handle up to 600 million clicks per month, its super-fast redirects and reports speed and filters system.
Binom is good if you run Native ads because you can update cost by tokens so you could match with stats in the source, make marks for publishers and track landing's viewing depth and exit points.
Binom is good if you run Facebook because you can do no-redirect tracking with LP Pixel and integrated landings on PHP and complete URL customization.

And if you looking for some additional third-party feedback, Binom had recently started a thread at one of the biggest forums of affiliate marketing - STM. And the amount of positive feedback from users all over the world is really impressive.
Or you can check their live-demo.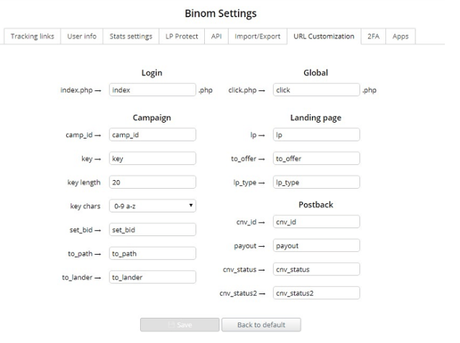 Plans and Pricing
Binom has developed only one paid package for the users that offers unlimited access to all the available tools and functionalities.
Binom License
One server
Unlimited clicks
Unlimited domains
Free SSL for all domains
Lifetime updates
Additional licenses - $49
Free 24/7Support
Skype, live-chat, email
Tracker installation
Server setup
Super-responsiveness
Answer within 2 minutes
Price: $99 per month or $69 per month (Billed annually)
Binom is also offering you special coupon BLOGGERSIDEAS. Just follow this link and you will be provided with the free first month and 40% discount on second. Give it a try, you won't regret it.
Final Words: Binom Tracker 2018 With Discount Coupon | Is It Worth?
Also Read:
Binom is one of the best tracking tools for the affiliate marketers as it has each of the parameters that are exactly required for the tracking a campaign. The easy setup and the customer support team are the big plus to this tracking tool. Also, the security isn't compromised here!!
I hope you have liked my review about Binom tracking tool!! Visit the Binom official website for more details regarding the plans, pricing, features, software compatibility and more. Dont forget to use Binon Tracker Discount Coupon 40% Off.
If you have used Binom Tracker tool earlier, please share with us in the comment box!!