Grab an ice cold beverage without leaving your couch.
Ever dream of having your choice of 12,000 different alcoholic beverages delivered to your doorstep? Sometimes dreams come true.
Binny's Beverage Depot, the biggest booze supplier in the Midwest, has partnered with Instacart, a grocery delivery service, to bring whatever barrel-aged, award-winning beverage your heart desires right to your doorstep.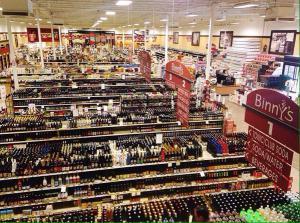 Instacart will charge their usual rates (between $5.99 and $9.99) depending on the order size and time of delivery. However, your first order will receive free delivery. The prices of Binny's items will all be consistent with what you'd find in stores, and sales will remain identical as well.

Alcohol delivery in Chicago is nothing new, though most businesses tend to provide only the more popular options. Binny's expansion into the industry effectively adds thousands of choices to the menu. The distribution chain actually offers over 30,000 items in stores, but it decided to cut its delivery catalog short to ensure availability.

"Over the past three years, one of our biggest customer requests about what they'd like to see in the marketplace was alcohol," said Instacart's head of business development, John Maslowski. "There's definitely demand there, and we really expect this to be pretty phenomenal."

For now, the service only covers the Chicago area, although the businesses will look to expand well beyond that after the trial run. Given that Binny's operates out of 31 locations in Illinois, their reach expands well beyond the delivery boundaries available now.

Binny's previously delivered only bulk orders for special events. Instacart previously distributed booze for other companies, but nothing compared to the size and stature of Binny's.
Current Binny's Locations That Deliver
  

213 W Grand Ave

  

1132 S Jefferson St.

  

3000 N Clark St
You can learn more at Instacart.com/Binnys.