The countdown has begun for Bertie and James, the courageous rowers of Facing the Atlantic. In exactly 6 months they will start their epic race across the Atlantic in order to raise money for Facing the World. On December 4th they will start from La Gomera, hoping to arrive in Barbados 60 days later…
In their honor we launch another charity auction today.
Stephen Moyer and Anna Paquin were both featured on Venice Magazine and they both signed their cover for us. Stephen and Anna are extremely busy at the moment wrapping up the last episodes of True Blood, but we are very happy that Bill and Sookie wanted to stand in for them and pose with the magazines. We send a special thank you to both of them.
The magazines feature Stephen and Anna extensively with a beautiful photoshoot and several pages of interview. Anna's magazine comes with a bonus: it contains also an interview and photoshoot with Sam Trammell.
So hurry over to eBay and place your bid! http://r.ebay.com/RSmPOJ
The auction ends on June 11.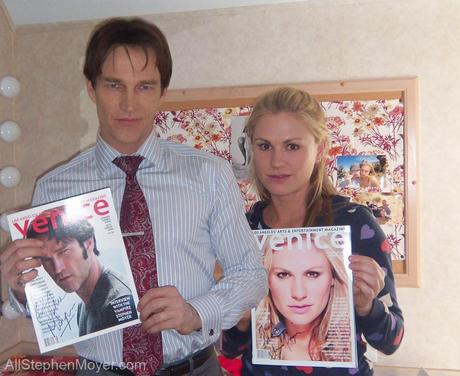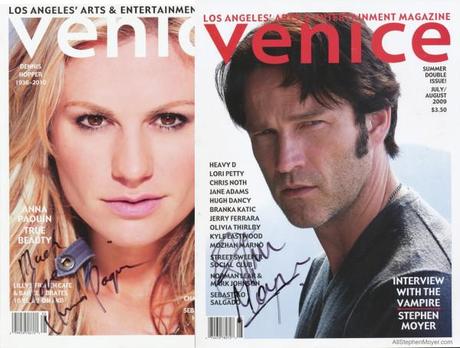 All proceeds minus fees of this auction are donated to Facing The Atlantic.
For more information visit http://www.allstephenmoyer.com/fta/
So far the combined efforts of The Vault, AllStephenMoyer.com and SimplyMoyer.com have raised over $5200 already for Facing the Atlantic.

Together we can give the children a face and a future.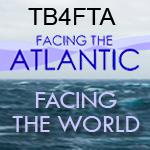 You too can give to Facing the Atlantic and support Stephen Moyer's charity by making a direct donation to Facing The Atlantic here http://www.justgiving.com/Facingtheatlantic
Please note: add the code TB4FTA (True Blood for Facing The Atlantic) to the note of your donation so we can keep track of how much was donated by True Blood / Stephen Moyer fans.