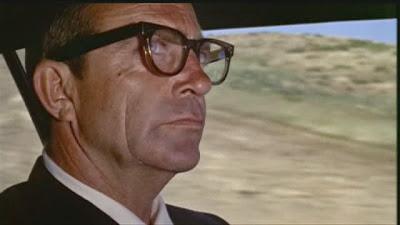 By
Alex Simon
Hollywood, like any place that is more about its lore than the actual sum of its parts, is full of unsung heroes who have given audiences some of their most cherished cinematic moments. Odds are if you're a movie buff, you'll remember the car chases in iconic films like Bullitt, The French Connection and The Seven-Ups. Stuntman, stunt driver and later, stunt coordinator Bill Hickman was one of those people who remained virtually anonymous during his lifetime, but is responsible for some of cinema's most iconic, and hair-raising moments.
The Los Angeles native was born in 1921 and had been working in Hollywood for ten years before landing his first (visible) role in Stanley Kramer's legendary The Wild One, the 1953 film that cemented star Marlon Brando's status as an icon of post-war teen rebellion. Hickman can be seen as one of Brando's motorcycle gang and was hired by producer Kramer as a stuntman, although he received credit for neither, as he injured himself in a motorcycle race during production and had to drop out. Hickman cemented his foothold in Hollywood upon meeting James Dean on the set of Rebel Without a Cause, where he again was doing stunts. The two men became fast friends, with Hickman becoming Dean's driving mentor. "In those final days, racing was what (Dean) cared about most," Hickman remembered. "I had been teaching him things like how to put a car in a four-wheel drift, but he had plenty of skill of his own. If he had lived he might have become a champion driver. We had a running joke, I'd call him Little Bastard and he'd call me Big Bastard. I never stop thinking of those memories."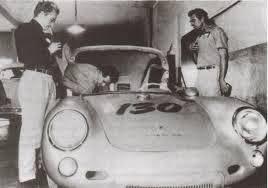 "Little Bastard" James Dean on the left and "Big Bastard" Bill Hickman, right, flank Dean's 1955 Porsche Spyder 550. Below, the fatal wreck that killed James Dean. Unconfirmed if that's Hickman on the left, in overalls.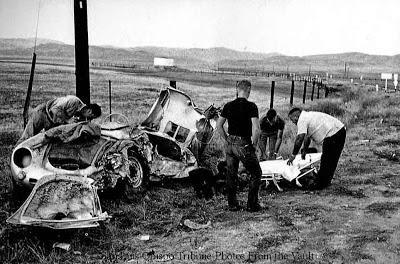 "Little Bastard" was also the nickname painted onto Dean's fateful 1955 Porsche 550 Spyder, the car he was driving September 30, 1955, en route to a race being held in Salinas, CA. Hickman was following directly behind Dean in a station wagon, pulling a trailer, when Dean collided with a Ford sedan. Hickman was the first person on the scene of the accident, and pulled Dean from the wreckage. Hickman recalled the day in an interview with Dean expert Warren Beath: "We were about two or three minutes behind him. I pulled him out of the car, and he was in my arms when he died, his head fell over. I heard the air coming out of his lungs the last time. Didn't sleep for five or six nights after that, just the sound of the air coming out of his lungs."

Hickman paid the bills for the next decade with bit parts in film and television, his imposing stature and rough-hewn face making him ideal as a heavy or a cop. However, he made his primary living as a stuntman and stunt driver. It was 1968's Bullitt, with Steve McQueen, that began Hickman's ride from journeyman to legend. Hickman and McQueen would drive for hours together during the film's production, trying to devise the ultimate car chase ever committed to celluloid. The final result, a ten minute sequence that still raises the hackles of audiences everywhere, was unprecedented in its time. Hickman, playing the bespectacled hit man in the Dodge Charger, dueling with McQueen's Ford Mustang GT 390, added a nice personal touch by buckling his seatbelt before stomping on the gas, belying his status as a pro. This not only wasn't the law in '68, but was virtually ignored by most civilian drivers.

1971's Best Picture winner The French Connection raised the stakes even higher. Hickman was hired by director William Friedkin not only as the film's stunt coordinator, but to play what would become Hickman's most significant acting role: Federal Agent Bill Mulderig, a thorn in NYPD detective Popeye Doyle (Gene Hackman)'s side, whom Popeye ends up (accidentally or not) killing in the film's surreal climax. The filming of the legendary chase scene underneath an elevated train in Brooklyn was as dangerous as it was foolhardy. Friedkin recalled the event in his 2013 memoir, The Friedkin Connection: "(Bill) was a skilled stunt driver, but his ideas were more sizzle than steak." Friedkin expressed disappointment to Hickman over drinks in a local bar. Fueled by booze and exhaustion, Hickman steamed "You want me to show you something? Put the car on Stillwell (Ave.) tomorrow morning, then I want you to get in it with me, if you've got the balls!"
The scene was performed in real traffic, with no permits, Hickman behind the wheel, Friedkin in the back seat behind him with a camera, flanked by real-life NYPD officer Randy Jurgensen, armed with his badge in case they ran into trouble from unsuspecting cops. Hickman accidentally clips another stunt driver's car during the sequence, which Friedkin kept in the final cut for realism.

Hickman's final legendary piece of driving, which many feel is his finest hour, was in The Seven-Ups, the 1973 follow-up to The French Connection, directed by the producer of both Bullitt and The French Connection, Philip D'Antoni. In it, Hickman's 1973 Pontiac Grand Ville is pursued at breakneck speeds by Roy Scheider's '73 Pontiac Ventura, climaxing in a white-knuckle crash Hickman said was inspired by the car accident that killed actress Jayne Mansfield in 1967.
Hickman continued to work as a stunt coordinator during the 1970s, with work in cult classics such as 1971's Vanishing Point and 1973's Electra Glide in Blue being standouts. 1978's Capricorn One was his swan song. Bill Hickman died of cancer in 1986, aged 65.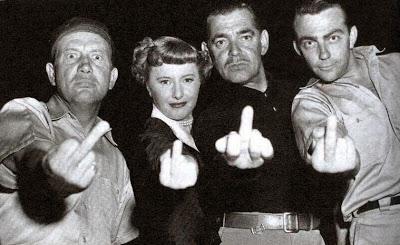 Left to right: Lew Smith, Barbara Stanwyck, Clark Gable and Bill Hickman clown on the set of 1950's racing drama,"To Please a Lady."