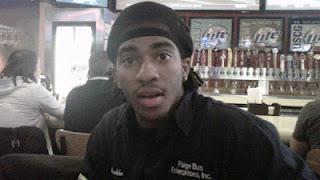 The Chicago Tribune reports
Two men were shot to death and two others wounded following a dispute that started in a Calumet City nightclub early Saturday and ended with gunfire outside, police said.
Family members said they believe the man shot to death is Archie Lee Chambers Jr., 20, who had been shooting in the air before being shot by police.
Friends told Chambers' sister, Arshanette Chambers, 21, that Chambers and other friends had been at a car club party at What's Up about 1:30 a.m., when a fight started inside the club and someone began shooting outside the club, killing Chambers' friend and bringing Chambers outside.
Police "did engage the shooter," but the chief did not say that Chambers was the one who had shot the others. White and Chambers were not shot by the police
What's your opinion? Is the solution to arm more of the good guys and let them carry guns in bars? That's the recommendation of the gun-rights crowd.
 For me the solution is obvious. Tight restrictions on guns, laws which would choke off the continual gun flow from legitimate gun owners to the young gangsters.
What's your opinion? Please leave a comment.