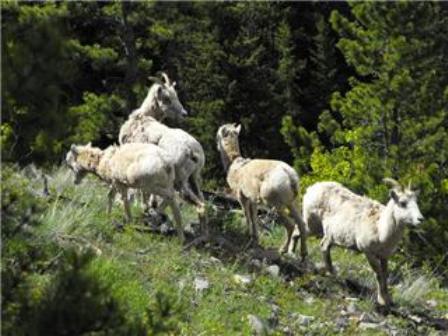 This photo was taken a few years in Kananaskis, a provincial park located near the much more famous Banff National Park, in Canada, while hiking.  I was thrilled to see a family of big horn sheep, especially since there were a couple of lambs.  I hung out with them for a while and as long as I didn't get to close, they weren't  too concerned with my presence.  I was also happy to see that they were in the process of shedding their warm white winter coats for cooler brown ones -  a sure sign of Spring that I warmly welcomed after another long Canadian winter.
Fun fact about big horn sheep:  many of the males are brain damaged from butting heads at speeds of 32km/hour (20 miles/hour) for up to 20 hours at a time and as a result, live up to 7 years shorter than females.  Why you may be asking? To establish mating rights – the most dominate male gets to mate with more females.   Aren't you glad we're an equal opportunity society?
This photo has been submitted as part Travel Photo Thursday, a weekly travel photography showcase organized by Nancie at Budget Travelers Sandbox where you can see more travel photos from around the world.