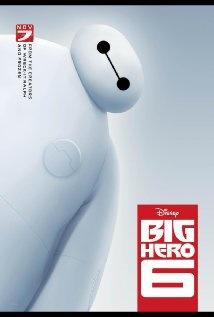 Director: Don Hall, Chris Williams
Writer: Joseph Roberts, Daniel Gerson, Robert L. Baird (Screenplay) Duncan Rouleau, Steven T. Seagle (Characters) Paul Briggs, Joseph Mateo (Head of Story)
Starring: (Voice Talents) Scott Adsit, Ryan Potter, Daniel Henney, T.J. Miller, Jamie Chung, Damon Wayans Jr, Genesis Rodriguez, James Cromwell, Alan Tudyk, Maya Rudolph
Plot: The special bond that develops between plus-sized inflatable robot Baymax, and prodigy Hiro Hamada, who team up with a group of friends to form a band of high-tech heroes.
There may be spoilers the rest of the review
Verdict: 6 of the Best
Story: Big Hero 6 starts by taking us to San Fransoyko where we watch human controlled robot battles. When young Hiro takes his robot into battle against the champion and beats him, he finds himself in trouble with the law because robot battles are illegal in the city. Tadashi Hiro's big brother takes him to his university lab to show Hiro the potential he could achieve if he puts his mind to it. Tadashi has being working on a project that involves a robot called Baymax that could provide healthcare for everyone in the future.
Hiro inspired by his brother wants to join the university and his way in is to create something truly original and impress the inventor of the robots Callaghan. Stunning the robotic world Hiro attracts the attention of business man he picks the university over money, but disaster strikes when Callaghan gets caught up in a fire and Tadashi tries to save him. With the death of his brother Hiro doesn't know what to do next but when Hiro accidently activates Baymax the two go searching for what Hiro's micro bot is attracted to. Hiro finds out that someone has stolen his technology and is producing more of them in secret. To catch the mystery person Hiro teams up with the rest of the students and they all get upgrade to turn themselves into heroes.
Big Hero 6 is one of the most delightfully stories in recent animation. The story enters into the idea of losing loved ones and dealing with the aftermath. It also looks at a world that we are close to unlocking with all the increases in technology that could one day be a reality. We see how Hiro learns that revenge is not the most important thing and that he does need his friends to deal with the loss. Even with all the emotional story lines we do get a superhero origin story that comes off very nicely. It would be hard not to say that Baymax stole every scene and even watching its development through the film does give it similarities to Iron Giant. This story will be enjoyed by all and can be easy to follow. (9/10)
Character Review
Baymax: Baymax is the created healthcare robot but after his creator is killed, he gets upgrades by the brother of the deceased one. Baymax plays out very naive as the story unfolds but gets all the laughs with his straight talking response to anything that happens. (9/10)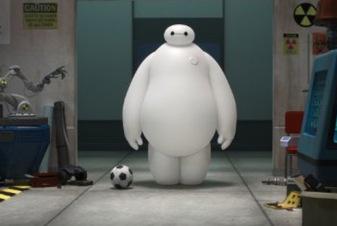 Hiro: Hiro is the teenager wasting his time with illegal robot fighting before he gets the motivation to take his skills to the next level. Hiro goes out to find the person responsible for his brother's death upgrades and all. Hiro does end up being a very familiar character that we have seen in these type of films before though. (7/10)
Tadashi: Tadashi is the brother who inspires his brother to develop his work in technology but his death motivates his brother to develop Baymax to the next level. Tadashi is a simple mentor character that we have seen in plenty of films before. (7/10)
Mystery Man: This is the masked man who is behind the murder of the brother but his identity his hidden until the end. (8/10)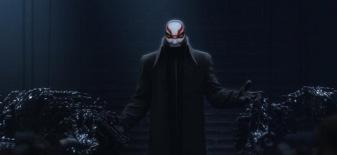 Support Cast: Big Hero 6 has a supporting cast that mainly comprises of potential suspects which are very generic. We do also have the rest of the students who also help give extra laughs as the film unfolds.
Director Review: Don Hall, Chris Williams – Don and Chris do a good job directing this film that is one of the best animated ones in recent years. (9/10)
Action: Big Hero 6 uses plenty of comic book style action with fights that will entertain. (8/10)
Adventure: Big Hero 6 does enter into the adventure style for a film with our heroes going out to find the person responsible for a personal death. (8/10)
Animation: Big Hero 6 uses great animation throughout the film to make this look very good. (9/10)
Comedy: Big Hero 6 has plenty of laughs especially from Baymax. (9/10)
Family: Big Hero 6 is one for the whole family to enjoy. (9/10)
Sci-Fi: Big Hero 6 looks at a very real potential future for us to be living in. (8/10)
Settings: Big Hero 6 uses San Francisco mixed with Tokyo to make a unique looking city. (9/10)
Suggestion: Big Hero 6 is one that will be enjoyed by all and I would recommend seeing it to all. (Watch)
Best Part: Baymax in general.
Worst Part: Not too original though.
Action Scene Of The Film: Final showdown.
Funniest Scene: Baymax and Hiro breaking into the factory.
Believability: No (0/10)
Chances of Tears: No (0/10)
Chances of Sequel: Could easily have one.
Similar Too: The Iron Giant and The Incredibles
Oscar Chances: Nominated for Oscar for Best Animated.
Box Office: $429 Million
Budget: $165 Million
Runtime: 1 Hour 42 Minutes
Trivia: According to Scott Watanabe, the movie is set in an alternate future where after the 1906 earthquake, San Francisco was rebuilt by Japanese immigrants using techniques that allow movement and flexibility in a seismic event. After the city was finished being rebuilt, it was renamed San Fransokyo due to it being a city with Japanese and American architecture combined.
Overall: Baymax will help with your health issues by making you laugh
Rating