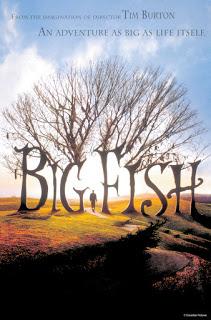 Released: December 10, 2003.
Big Fish
(2003) ranks among my all-time favorite films.
Yes, it contains themes related to aging.
However, many elements of the film are pertinent to people of all ages--parent-child relationships (particularly father-son conflicts), courage, family legacies, truth vs illusion, coping with illness--and more.
I rewatched this film on Father's Day weekend with one of my teens.
My viewing was informed by my decades of work in English Departments (as a student and then a teacher), by my role as midlife person--looking ahead at my parents and behind at my children, and by my newer role as a gerontologist.
The bottom line: WATCH THIS FILM!  Or rewatch it as an act of meditation about issues of universal concern.
(Young Edward from birth through childhood is played by a handful of character, but greater portion of the flashbacks are portrayed by Ewan McGregor--the teen to young adult Edward; Late life Edward is played by Albert Finny.  The adult son is portrayed by Billy Crudup.)
Big Fish
joins many other narratives about young men seeking to make their mark in the world. It's in part a
coming-of-age
 story.  But not strictly so.
The protagonist, Edward Boom is in late life, relaying snippets of his coming-of-age story to his adult son, Will.
Consequently, Edward's stories also function as a life review.
Life review
is a term used by gerontologists (and others) to describe the type of storytelling that older adults conduct as a way to create integrity and
meaning
for the whole of their life. A life review is often performed when a person senses their life is coming to a close.
Sometimes this act is called
Reminiscient therapy
, and a licensed professional sometimes helps guide people through the process. Most often a life review happens organically, but family members can help facilitate this by asking questions and listening sympathetically.
Edward has to overcome a series of conflicts throughout his life, and his stories relay how he encounters problems and then succeeds--or circumvents--these problems.
But the primary conflict occurs in the frame tale--the film's present--because his son Will wants his father to tell the truth instead of telling tall tales or "fish stories" about the past.
In scene after scene, these two men butt heads when discussing whether or not Edward is telling the truth, whether or not he's being his authentic self, or whether or not he's being a good father to Will.
As viewers, we sit in judgment as well.  Who is right? Who has integrity?  Who is reasonable?
Because the film is fictional and told through fantastical means, it's impossible for the viewers to take an objective stance.  This isn't a family therapy session: it's a work of art.
The methods of the film are metaphorical and the most powerful evidence in the film's argument are symbols, images, and the many tools of film making.   Nevertheless, fictional stories have practical applications.
The entire film is thought provoking, but I just sob during the last fifteen minutes of the film with every viewing.
Big Fish
invites me to see that each family member has their own version of reality, but does this mean that one person's view is "true" and every other family member's view is a lie? 
That's not an easy question for families to address.
Asking for the "real story" or the "whole story" can cause a lot of pain, particularly during a family member's final days when other family members are pressing for the ultimate truth.  I don't have a handy answer for how to negotiate through this challenging time and space of life.
But I can attest that reading books and watching films that depict universal concerns help me think more deeply, empathize more broadly with others' perspectives, and consider a wider range of actions than my knee-jerk reactions might dictate.
So the most heavy-handed advice I will offer is this: watch this film and others on aging issues and use them as spaces for meditation.
(In the interest of focus and readability, I didn't discuss the powerful performances by the supporting women in the film: Alison Lohman / Jessica Lang as Edward's wife;  Marion Cotillard as Will's wife, Josephine; and Hailey Anne Nelson / Helena Bonham Carter as Jenny Hill.  This pains me.) 
Related: 
Talking to Older Adults: Serving as a Witness
Put Down the Book and Go Visiting
Late Adulthood: A Time to Bless