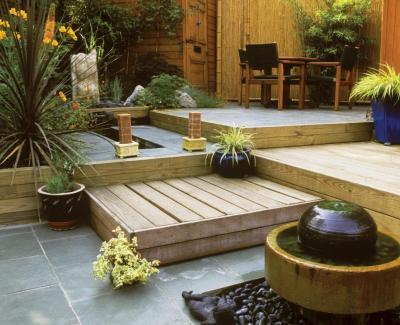 One of the many benefits of owning a house is the yard that comes with it. A place where you can unleash your creativity, work out your landscaping muscles and spend endless joyful afternoons is a privilege on its own. But, it seems that not every yard is spacious enough for their owners to fully appreciate them and use all the perks they provide. It only seems like that, though. With just a little bit of smart landscaping and creative thinking every surface can be turned into little paradise and big ideas are much more important than big yards. So, let's see what we can contribute to make your life easier.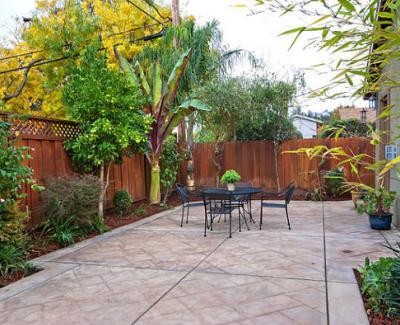 Create a Front-Yard Garden
Lack of space in the backyard doesn't mean that the area in front of your house has to be wasted. Instead, use it to make up for all the things you can't do in the back. If there is not too much room between your house and the street, you should try putting a low fence, or even better small hedge. This way, the house will look farther from the street than it actually is. Hedges and bushes are also better, friendlier and more cost-efficient fencing options than masonry walls, so you shouldn't think twice about this. Adding some flowers in the mix will make whole entrance more welcoming and assorted perennials and annuals will provide your front-yard with color and liveliness whole year long.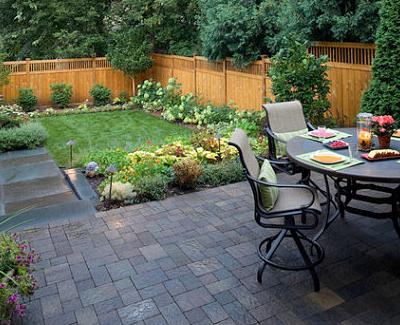 Include some Sitting Area
Pergolas and arbors look beautiful and they provide certain feel of grandeur even in small spaces. Aside from providing you with shade where you can spend long hot days, you can always use them to add some hanging flower baskets or cover them with green to have more plants around you. Pergolas are not that hard to make so you should strongly consider this option. If they, however, are not your cup of tea, you should at least include some sort of sitting area in the backyard. Surrounding it with flower containers will serve you in numerous ways. You will be provided with additional surface for planting flowers, you will get some privacy there and finally, by making several smaller zones you will create an illusion of larger space.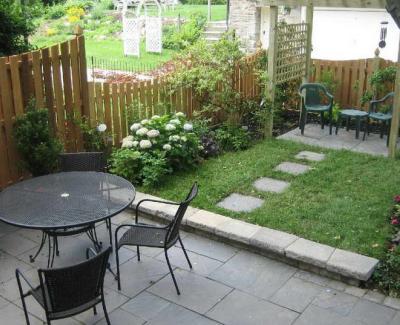 Utilize Vertical Space
Follow the same philosophy as you would while redesigning indoors. If there is not too much room on the ground, create it by using vertical space. One way to do it is to include elevated planters along the pathways. You will create lush look full of colors and plants will enjoy aeration and good drainage raised planters provide. Hanging planters will help you to use the walls of backyard structures, such as sheds and garages, or even better completely hide them behind plant life and create a look of a very modern garden. They are usually not the most attractive things to look at so using them as a display plant life is not a bad idea. Try to add a wooden plank and some brackets to create a shelf above the entrance or a window and then set the lightweight planters atop the structure.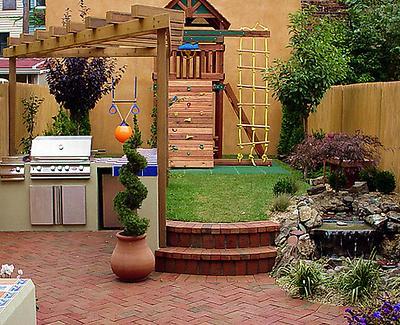 Reclaim as Much Space as You Can
Do this even if you have to cheat by borrowing neighbor's space. We don't mean literally, of course, more by blurring the boundaries between your properties. There is no need to make some artificial fences and if your neighbor has some trees, plant similar ones alongside to create one coherent, expansive picture. Side yards are usually seen as utilitarian space used either as a passage from one side of a house to another, or as a convenient place to leave stuff you don't want to look at. It goes without a saying that all this space could be used to further your landscaping efforts and carve out nice path, plant some flowers along the way, train a vine up the walls and, why not, add some small ornamental gate. Keep in mind, though, that you should never maximize space at the expense of walkways. If they are undersized, when the plants grow up, they will look drastically out of scale and ruin the whole look.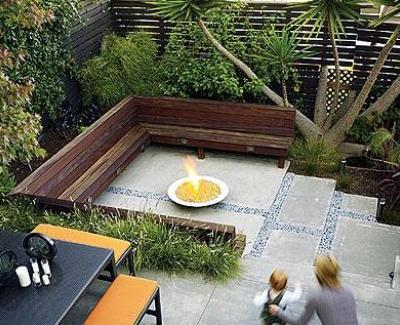 You see, no matter how some yards may seem small they always give you something to work with and an opportunity to be creative with landscaping. Not every rule applies to every yard, but use the advices we gave you as a starting point, add your own ideas into the mix and we are sure that you will come up with something magnificent.
==========
Author Bio:
Diana Smith is a full time mom of two beautiful girls interested in DIY projects, home improvement and gardening related topics.
==========