Last weekend we took the girls for a little pre-Christmas getaway in Toronto. The highlights:
We stayed at the Marriott Renaissance Toronto Downtown Hotel (attached to the Rogers Centre) simply because we were looking for accommodations that were reasonably priced and reasonably close to the Sony Centre. We booked online and got an amazing deal. Our room was $139, and upon arrival we were told we had a $40 restaurant credit (which almost covered the Sunday morning buffet for the four of us). The room was huge: two double beds, and a separate area with a pullout couch and a second flatscreen TV. (This is where we put the girls. And where we were reminded that there is a reason they don't share a bed, or even a room, at home.) The bathroom was also spacious, with an unusually ample countertop perfect for beauty products. (Yes, it does take some help for me to achieve this look. Shocking, I know.)
The pool, shown below, was fantastic, and you can see the hot tub to the right. This is where I spent most of my time "supervising" as Daddy and the girls swam. Plus, it was unbelievably quiet. Except for a set of grandparents with a little girl whose visit overlapped a bit with ours, we were the only swimmers (using that term loosely for myself, of course) for over an hour.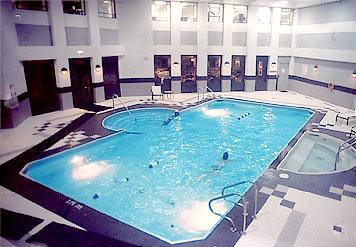 Later in the afternoon we hit the Eaton Centre for a little bit of last-minute browsing. We even allowed the girls in the Disney Store, with very strict warnings that we would not be making any purchases, and any such requests would be met with removal from the premises. Of course Frannie found countless more items to add to her list, which is always oh-so-helpful when Mommy and Santa finished gift selections a month ago. We keep reminding her that Santa is so amazing, because he remembers things that kids ask for all year long, and has so many of his own great ideas too!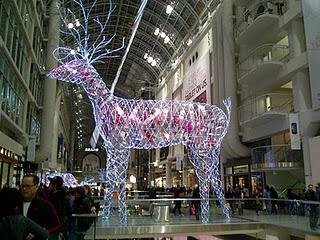 Decorations at the Eaton Centre


The girls took their first ever cab rides while downtown, and managed to entertain the drivers with their conversation.
Frannie (

à

 propos of nothing): Do you have to be married to have a baby?
Cabbie chuckles.
Me: Um...usually people get married first, and then have a baby.
Frannie (yes, the five year old): Well, I want to have kids someday but I don't want to get married. Can I do that?
Cabbie laughs.
Me: Um...well, it is possible to do it that way, but...well, we believe...sometimes people...oh, let's talk about this when the time comes.
Maggie: Why is this man driving us? Where is our car? Why? Is this his car? Why are we in his car? Where is he taking us? Why? Is he going to wait for us? Why? Where does he live? Where are his kids?Why did you give him money??? (Thankfully the girls are now cultured enough that questions about skin color and accents are far less common than they used to be.)
Then it was off to The Sony Centre for the Leahy Family Christmas. Yes, I grew up just country blocks away from the Leahy family (and shared their last name for the first 24 years of my life, which wasn't at all annoying. "Leahy, you say? Are you one of the ---?" "No. No, I'm not",) however we went all the way to the big city to catch their Christmas performance.
This band of 8 siblings (there are 11 in all, but 8 in this performance) is as good as it gets when it comes to their style of music, but I especially enjoyed all of the vocals and stepdancing to break up all of the instrumental (which appeals way more to my musician husband than to me). The highlight for me (and for our daughters) was when the grandchildren (as young as four years old) took to the stage to perform.
Frannie was particularly interested in comparing her own stepdancing skills to those of the six year old daughter of Donnell Leahy and Natalie MacMaster (catch my Momterview with her here), who is older than she is by three months. (Oh, who am I kidding, "comparing" was more what her mother was doing.)
I must admit that I made the mistake of telling the kids in advance that I had Smarties for later, which caused a few distractions throughout the first act, but generally speaking they were both captivated by the show until their bodies finally gave in to sleep near the end. (Frannie's snores added what I hope was a little 'je ne sais quoi' to a particular a capella number. She did manage to wake up for the fantastic two-generation finale.)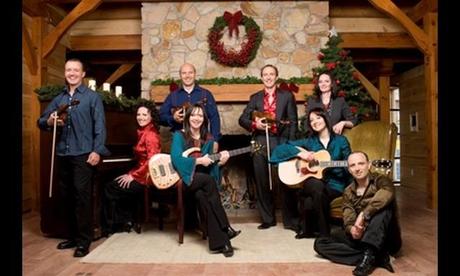 Leahy


Now, if this had been a girls' getaway instead of a family adventure, I would have made two other stops:
The Grace Kelly Exhibit ("From Movie Star To Princess: An Exhibition") at the TIFF Bell Lightbox
and
The Bata Shoe Museum, which I have wanted to visit for years. Perhaps I'll hit both during the holidays. (But not with my poor husband.)
(New readers, please note: despite what you may assume, I do not get paid by the parenthesis.)