I've had several people ask me where I get some of the knitwear that I've posed in on the site, and to be honest, I can't usually find exactly what I want, so I end up making it a lot of the time. I knit and crochet and I find them both to be extremely therapeutic and calming. I learned to knit from my grandmother and to (properly) crochet from my aunt. I mostly make accessories, because I don't really have the attention span for a sweater, (sorry Nana). So here's the first in a series of patterns I'll be posting this season. Enjoy!
Big Chunky Knitted Cowl Pattern by Savvy Brown
Skill Level: Easy
Wool: Brown Sheep Lamb's Pride Bulky
(or any super chunky wool you want to try)
Colors: – 2 skein Chianti, 2 skeins Brown Heather
Gauge: – 3 sts = 1" on US 10.5 circular needle
(told ya it was bulky)
Pattern:
Starting with the Chianti yarn:
Cast on 70 sts. Carefully join the row without twisting the stitches K1,p1 for 3 rows. Then Stockinette stitch for 28 rows.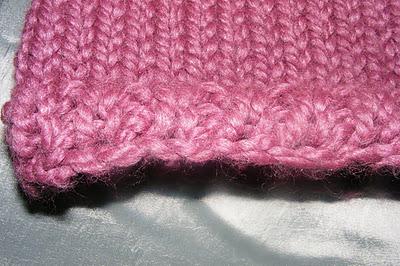 On row 29, start knitting with the Brown yarn, leaving a bit of a tail that you can weave in later. P across the full length of row. Then Reverse Stockinette Stitch for 18 rows.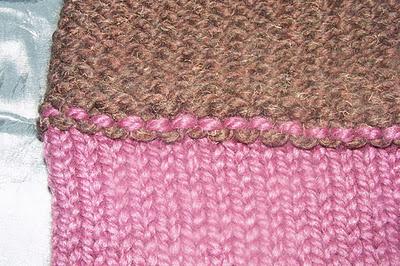 Stockinette Stitch for 3 rows. Reverse Stockinette 2 rows. Stockinette Stitch for 3 rows. Cast off. Weave in ends.
The finished product looks like this!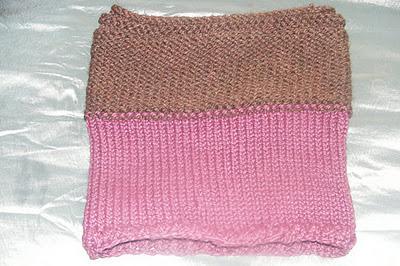 When you wear it, you fold one side down, so all the stitches match! It's also big enough to wear as a hood if you want, and it's nice an wide so it won't mess up your 'do! Tada!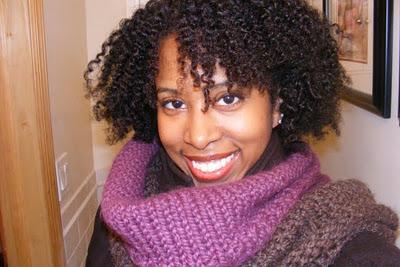 Notes: I'm a "loose" knitter, so I tend to use needles one size smaller than what is suggested on the yarn package for the proper gauge. Also, if you're not comforatble using a circular needle, then use straight ones, and work the pattern back and forth. You'll just need to whipstitch the end together when you're finished.
Hope this all makes sense! (It's the first time I've actually written out a pattern). Please let me know if I missed something!