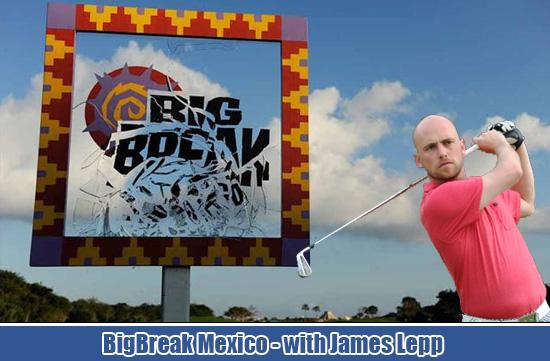 We're three episodes into the new Big Break - Mexico series which has been a lot of fun to watch and has also been a lot of fun working on some of the promotions.  I've really enjoyed this seasons 'team format' which is a unique scenario within the golf realm, which is predominantly played as an individual sport.  Now that we've had the opportunity to get to know all the Big Break teams and contestants, I thought this would be the perfect time to reflect on what's happened so far, to discuss the pressure on the contestants and to talk about which ones are looking the most promising.
I mentioned in an earlier article that I was leaning towards Team Olmec as the favorite, and now that we're three episodes in, I stand by that choice.  They've played well as a team so far, which is obviously a big factor in this season.  If I had to narrow it down to favorite individuals in the competition, which is tough as they've all demonstrated that they deserve to be on the show... for the males I'd go with #1 - Jay Woodson and #2 - Brent Long.  For females I'd go with #1 - Stefanie Kenoyer and #2 - Liebelei Lawrence.
Rather than do this all on my own, I figured I should talk to someone who's a lot more familiar with the Big Break competition, so who better to consult with than the founder of Kikkor Golf and Big Break Greenbrier finalist, Mr. James Lepp.  I caught up with James and fired a few questions his way about his experience on the Big Break as well as his thoughts on this season.  Here's how it went...
How have things been for you since appearing on the Big Break? Has anything changed for you as a result of being on the show?
I have this new uncontrollable urge to break square pieces of glass. It's odd. In all honesty, not too much has changed. It's pretty wild when it's actually airing, but once the dust settles, so too does the commotion.
What was the best thing you took away from your experience on the Big Break?
It was just a lot of fun really. I was fortunate enough to make it to the final, which probably made it more fun, but it really is a wicked time regardless. I met some great people too, creating friendships that will last at least another couple weeks. Maybe a lifetime. We'll see.
Was there anything specific that you feel helped separate you from you fellow competitors, ultimately helping you reach the finals?
I'm really strategic, so that helped me in quite a few challenges I believe. A lot of the Big Break is your strategy, but you still have to hit great shots. I hit great shots, but when I wasn't perfect, my strategy really helped me out.
What advice would you have for future competitors on the Big Break?
You have to be ok with getting knocked out. If you put too much pressure on yourself then you're going to put too much importance on each shot. Be ok with losing, or hitting a bad shot. It'll loosen you up and you'll probably fair better.
This season of Big Break Mexico, contestants have been separated into teams, do you like that format? Does it add additional pressure for players to perform?
I think it's fun to watch, but don't think it's the best for determining who is the best golfer. And hell yeah, it would add pressure.
Through the episodes we've seen so far, which team to you think is looking the best? (Olmec, Aztec or Maya)
I actually like Team Aztec. Strikes we'll even out eventually, and I like the fact that they have been down early; it'll help them later on.
If you had to pick one male and one female who you think have the best shot this season, who would it be?
I like Brent; he seems confident, which is always a bonus. On the ladies' side, I really could go anywhere with that one. It's really too close to call.
Thanks again to James Lepp for taking the time to chat with us; only time will tell whether our predictions will turn into a reality.  Best of luck to all the competitors throughout the remainder of the Big Break series and beyond!
- - - - - - - -
This article was written by Scott Stevens as part of Eat Sleep Golf's 'Golf Channel' series where our focus is on keeping you informed on the latest and greatest solutions, programs and campaigns available through the Golf Channel. The photo's and videos in this post are the property of NBC Sports Group. Be sure to connect with Eat Sleep Golf (@EatSleepGolf) the Golf Channel (@GolfChannel) and Kikkor Golf (@kikkorgolf) on Twitter and keep the conversation going. Be sure to us #BigBreak as well as#TeamOlmec #TeamAztec and #TeamMaya to cheer on your favorite team.