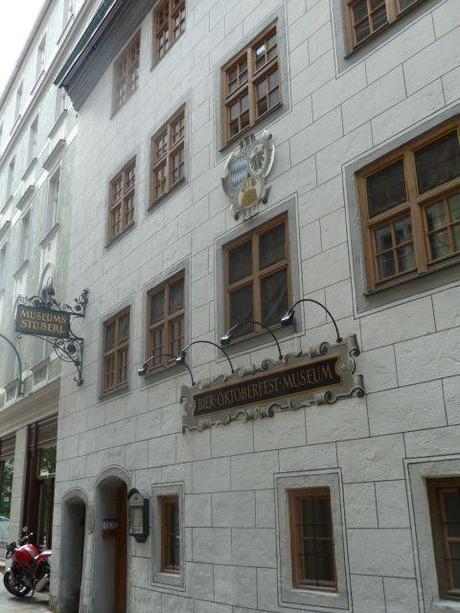 Oktoberfest is not only the world's largest beer festival, but the largest festival in the world attracting more than 5 million people each year from all over the world.  Having recently moved to Munich (just in time for Oktoberfest) I was curious to learn more about the history of Oktoberfest and headed straight to the Bier and Oktoberfest Museum.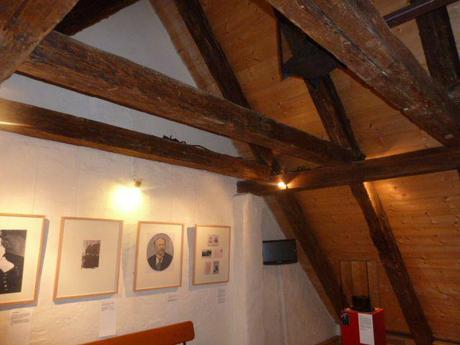 Photos show the history of Oktoberfest and people that have played an important role in Oktoberfest.
The Bier and Oktoberfest Museum is housed in Munich's oldest residential building dating back to 1327.  It is a multi-story hodge-podge of a building with low ceilings, rickety stairs and wooden beams, in other words a fascinating building, but not one where I would want to live.  I think the character building itself was the highlight of the Bier and Oktoberfest Museum for me.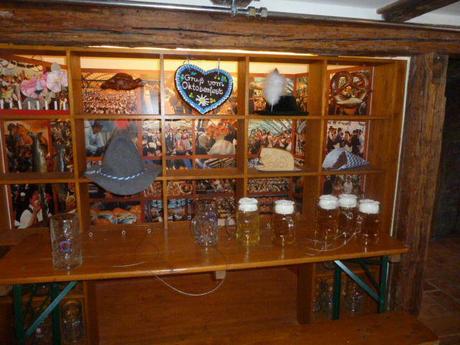 A re-created typical scene at Oktoberfest.
At the Bier and Oktoberfest Museum visitors will learn that the history of beer, dating back to  its origins in Egypt through to the present monastery breweries (yep that's right, monks who brew beer!).  Tours to monasteries that brew beer can easily be reached through Germany Car Hire.  Unfortunately many of the signs are in German and not being patient enough to take the time to read each sign, I only got the high level information.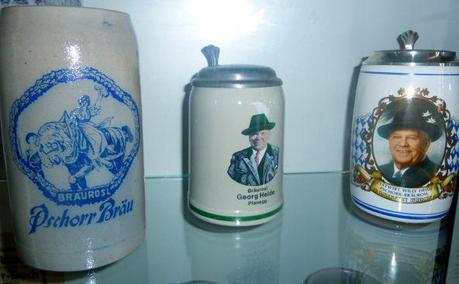 Beer steins on display at the Bier and Oktoberfest Museum.
Visitors to the Bier and Oktoberfest Museum will also learn about the history of Oktoberfest and how it all got started 201 years ago.  On October 12, 1810 the citizens of Munich were invited to attend the wedding festivities of the Bavarian Crown Prince Louis (who later became King Louis I of Bavaria) to Princess Therese von Sachsen-Hildburghuasen.  The festivities took place in a field in front of the city gates and were called " Theresienwiese (Therese's field in English) in the princesses' honor.  Today the field is simply referred as the "Wies'n" (the field in English), so when someone says "Welcome to the Wies'n" they're simply welcoming you to Oktoberfest.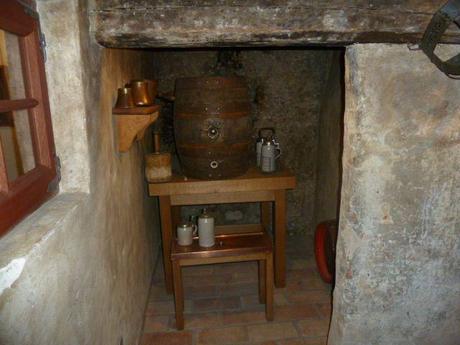 It must have been some party, since it was decided to host the event on an annual basis.  Each year the festival grew.  The next year an agricultural festival was added and which is still held once every four years at Oktoberfest.  Six years later a carnival was added, which remains a key element of Oktoberfest today and are one of the reasons that there's More Than Just Beer at German Beer Festivals.  Over the course of the years the length of Oktoberfest was extended and now runs from late September all the way through to October 3rd, which is German Unity Day.   Over its 201 year history Oktoberfest has been canceled 24 times due to war, disease or other reasons.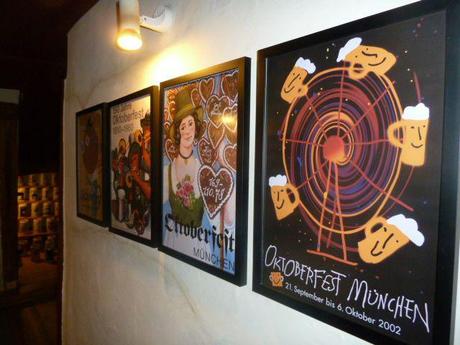 Display of past Oktoberfest posters.
The Bier and Oktoberfest Museum features many photos, pictures and relics from Oktoberfest's history showing visitors the transformation of what started off as a wedding celebration into an annual event still going over 200 years later.  I enjoyed looking at the photos, but with most of the signs only in German, I think think I would have gotten more out of it had I signed up for one the tours which can be organized if you have 8+ people.  Visitors on TripAdvisor have rated the Bier and Oktoberfest Museum 41/2 stars, but I would probably give it a 3, although I'm  glad I visited it and felt it was worth my time.   Having said that the €4 admission fee was reasonable and had I done the beer sampling that was available (unfortunately I'm allergic to beer) I'm sure that would have easily brought up my rating.  Would you go to the Bier and Oktoberfest Museum?
The Bier and Oktoberfest Museum is open Tue – Sat (closed on holidays) from 1:00 – 6:00pm and is located on Sterneckerstr. 2, just a 10 minute walk from Marienplatz.