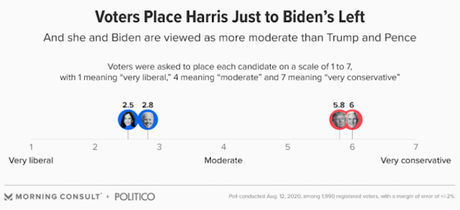 Donald Trump and the Republicans are doing their best to paint the Biden/Harris ticket as left-wing extremists. But the public is not buying it. They actually view the Trump/Pence ticket as more extremist than the Biden/Harris ticket.
The chart above is from the Morning Consult Poll -- done on August 12th of a national sample of 1,990 registered voters, with a 2 point margin of error.
Respondents were asked to place each candidate on a political scale where 1 is very liberal and 7 is very conservative. The average for Kamala Harris was was 2.5 and for Joe Biden was 2.8. That placed Harris 1.5 points away from the moderate middle and Biden 1.2 points from the middle.
Donald Trump had an average of 5.8 and Pence had an average of 6.0. That placed Trump 1.8 points from the moderate middle and Pence as 2 points from the middle.
In other words, Biden and Harris are viewed as more moderate than Trump and Pence.
That's a good thing, because the voting public tends to favor more moderate candidates.
The chart below, from the same poll, also has some good news for Democrats. It shows that since being chosen as the Democratic candidate for vice-president, Kamala Harris' popularity has substantially increased. Among all voters, her favorable rating has jumped up by 12 points.