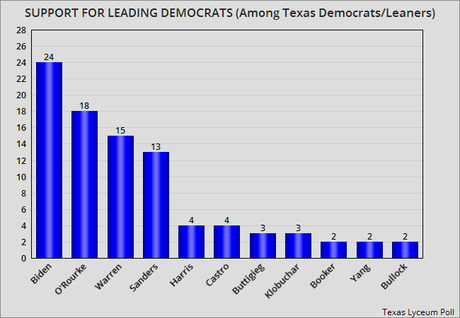 The charts in this post are from the results of the newest Texas Lyceum Poll. They questioned 1,200 adults in Texas between August 16th and 25th, and the survey has a margin of error of 2.83 points.
For the chart above, 358 Democrats and Independents saying they would vote in the Texas Democratic primary were questioned, and the margin of error is 5.18 points.
Right now, Texas primary voters favor four leading candidates -- Joe Biden (24%), Beto O'Rourke (18%), Elizabeth Warren (15%), and Bernie Sanders (13%). Far behind the leaders are Kamala Harris and Julian Castro with 4% each, Pete Buttigieg and Amy Klobuchar with 3% each. Cory Booker, Andrew Yang, and Steve Bullock all have 2%. I didn't include the candidate with less than 2% support on the chart.
For the charts below, the full sample of 1,200 adults was used.


For each of the following, is it very important, somewhat important, not very important, or not at all important for the country that...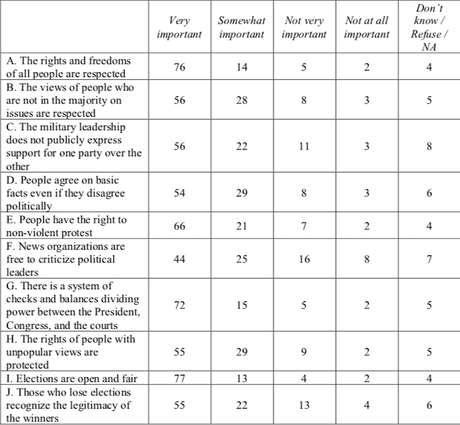 Now thinking about how things actually are in the U.S. today...Does each of the following describe the country very well, somewhat well, not very well, or not at all?