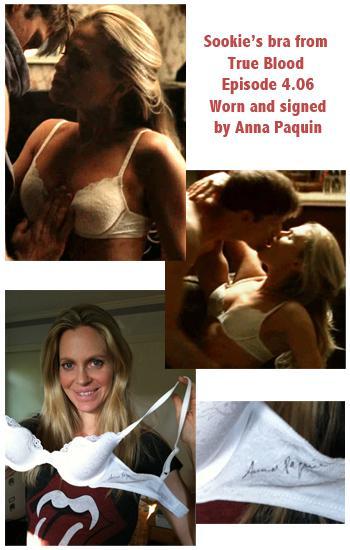 Ever wanted to own a piece of True Blood memorabilia? If so, here is your chance to do so for a very good cause! Kristin Bauer van Straten (Pamela Sywnford de Beaufort) is in the second phase of fundraising for her documentary Out for Africa. It centers on the impact of ivory poaching in Kenya and how it is drastically affecting the populations of elephants and rhinos. To help fund the cost of the shoot, Kristin is auctioning off rare pieces of True Blood memorabilia.
This time she is auctioning off the white bra as seen on Sookie (Anna Paquin) when she was making out with/about to have sex with Eric (Alexander Skarsgård) in season 4. But this costume piece also happens to be signed by Anna herself and like the Pam sweatsuit top we posted about a few weeks ago, donated by the True Blood costume department in support of Out for Africa.
Kristin will also include a signed photo of her as Pam.
The bidding is up to $610 at the time of this post and will close on September 12. So go place your bids here!
Also up for auction is a first edition hardcover of  Southern Vampire Mysteries #6, Definately Dead signed by Charlaine Harris herself. This also includes a signed photo from Kristin. See that here! Ends September 8!
And Charlaine also donated a first edition Sookie companion called A Touch of Dead, which is also hardcover, signed by Charlaine and includes a signed photo from Kristin. Bid here. Ends September 9!
All items will be shipped sometime in October.
Go bid for a very good cause!
Source: eBay.com- "TRUE BLOOD Authentic Sookie Bra worn and signed by ANNA PAQUIN"
eBay.com- "FIRST EDITION hardcover 'Definitely Dead' SIGNED by Charlaine Harris"
eBay.com- "FIRST EDITION hardcover 'A Touch Of Dead' SIGNED by Charlaine Harris"
Image Credit: Out for Africa