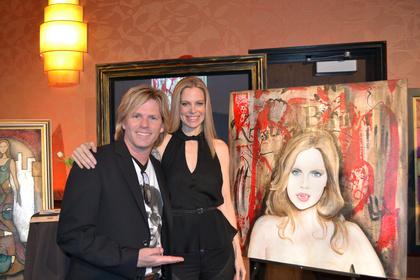 Renowned artist Eric Waugh recently did a portrait of Kristin Bauer van Straten (Pamela de Beaufort) for charity and now may be your chance to win it! Waugh is a completely self-taught artist who has done amazing things for charity. He created the Guiness Book of World Record's largest painting ever measuring 41, 400 square feet for the Children's Starlight Foundation.
Eric's painting of Kristin was shown off  during the Grand Slam Charity Jam Kristin attended last month. She in turn signed the back of the painting and it is currently on the auction block at Charity Buzz. She signed it, "This is an honor. Much Love, Kristin Bauer". The announcement came via a posting on Kristin's Facebook page late Tuesday evening.
Charitybuzz estimates the painting to be worth $10,0000. It is one of several auctions part of CharityBuzz's Dad and Grad series and will be open until June 15. The proceeds from the sale will benefit Wisconsin-based charity Hometown Heroes whose goal it is to provide things such as housing for people who are less fortunate and who are considered heros in their communities.
Overall it sounds like a very worthy cause! And the painting looks stunning! To see a video of how Eric Waugh made the painting, check it out below:
To place a bid click here. If you would like to learn more about Hometown Heroes click here.
Sources: Facebook.com- "The van Stratens"
CharityBuzz.com-"True Blood – An Original Painting of Kristin Bauer by International Artist Eric Waugh"
Ericwaugh.com- "Eric Waugh Biography"
HometownHeroes.org- "Mission Statement"
Image Credit: CharityBuzz.com
Video Credit: YouTube.com