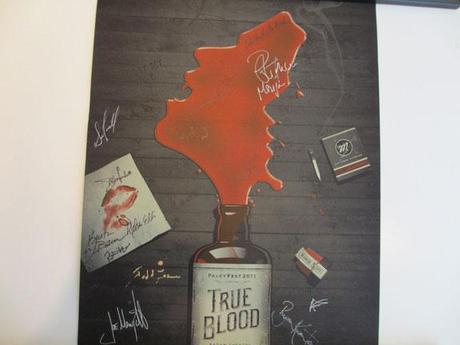 Even if you missed PaleyFest's True Blood panel last year, you can still own a piece of it in the form of a signed poster. This year, for the first time ever, PaleyFest has set up a site where fans who missed panels for their favorite shows can bid on various memorabilia that was available only to those who attended said panels.
For True Blood, fans can bid on an exclusive screenprint poster that was created by Gallery 88 and Phantom City Creative. The poster is a limited edition, 18″ x 24," and is signed by Alan Ball, Alexander Skarsgard, Anna Paquin, Stephen Moyer, Ryan Kwanten, Nelsan Ellis, Sam Trammel, Rutina Wesley, Deborah Ann Woll, Chris Bauer, Todd Lowe, Carrie Preston, Joe Manganiello, Marshall Allman, Kristin Bauer, Jim Parrack, and Kevin Alejandro.
If you're interested in owning this beautiful piece of True Blood, you have until March 15, 2012 to bid. Bidding closes at 11:59 pm PDT. Good luck to everyone who enters!
Source: Bidding For Good – "True Blood Autographed Poster"
Image Credit: Paley Center for Media