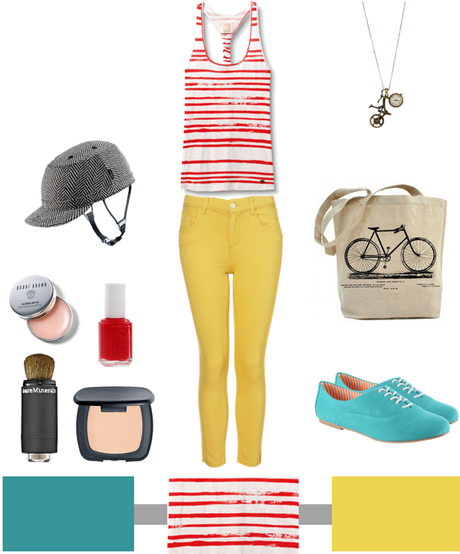 In case you missed my memo, I recently picked up biking. I've pedaled almost 150 miles since buying my bike 6 weeks ago and to me that's pretty awesome (avid cyclists can stop laughing now). Anyways, one of our favorite new Saturday activities is to bike from our house in the 'burbs to downtown Madison. Generally I bust out my best Nike attire but lately I've been trying to think of stylish items that could make the 20-mile trek. I also toss my Bare Escentuals Refillable Brush and pressed Mineral Powder (SPF 15)  into our bag to absorb shine upon arrival.

Quicksilver Sail Stripe Tank ($29.50), TOPSHOP Moto Mustard Jeans ($60.00), ModCloth Timed Race Necklace ($27.99), Vintage Bicycle Tote Bag by Paisley Magic on Etsy ($20.00), ALDO Uptona Flats ($40.00),  Yakkay Bike Helmet ($140.00),  Bare Escentuals Refillable Brush ($29.50), Bare Escentuals READY SPF 15 Pressed Mineral Veil ($22.00), Bobbie Brown SPF 15 Lip Balm ($22.00),
Essie Polish in First Dance
($8.00).