Giveaway open to Canadians.


Yes, yes, we all love technology, but there are times that only a handwritten message will do. Family members were making fun of me just recently for still using an old-fashioned date book (how can you go wrong looking at gorgeous images of New York City every day?) but I'm just not ready to make that leap. I also still do lesson plans and most notes to parents with good old paper and pen, despite the fact that using the computer may seem more convenient.
They may be a little biased, but BIC wants to remind us all that there's nothing more personal than handwritten notes...and 2012 can be the year for you to stay better connected with family and friends.



"The simple act of handwriting is more than the sum of its words; it's extremely personal and very powerful," says Michael Salfi, Brand Manager, Stationery, BIC Inc. "Even in this digital age, leading research reveals that handwriting information enhances retention better than typing on a keyboard. The process of putting our personal pledges in writing helps retain the ideas more firmly in our minds, leading to greater recall, ownership and dedication throughout the year."
Get a fresh start to the New Year with BIC's Top Ten Tips to help make 2012 better than ever!
1. Rewrite your New Year's Resolutions by hand. This personal touch will motivate and give ownership to your commitment. How are those going by the way?
2. Reduce emails and connect with family and friends by sending them handwritten notes and birthday cards throughout the year.
3. Create a handwritten "Bucket List" to keep track of all the exciting stuff you want to accomplish in life!
4. Handwrite a letter together as a family, describing where you hope to be in five years. It's a great keepsake to look back at your children's handwriting and how it has progressed.
5. Encourage parents and grandparents to handwrite their children/grandchildren's favorite story in a journal as a keepsake for when the children get older.
6. Include a handwritten note in your husband's suitcase before a business trip and your child's lunchbox or overnight bag for their first sleepover.
7. Why wait until Valentine's Day? Write a love note to your loved one – a personal way to show how much you care.
8. Stay connected during family vacations and send postcards to loved ones so they know you were thinking of them and sharing your vacation memories.
9. Start a diary or journal to record memorable occasions. Try and write daily about little anecdotes about your day.
10. Keep a pen and pad of paper by your bed at night. Write down any ideas you have through the night so you can clear your mind and have restful, worry-free sleep.
Just to help you out, BIC is offering one lucky This Mom Loves reader a goody pack of assorted BIC stationery products valued at $75!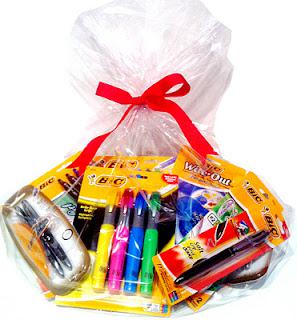 All you have to do to enter is fill out the form below and click submit! Extra entries for subscribing to This Mom Loves through e-mail, GFC, Twitter or follow me (Kate Winn) on Pinterest (NEW!) See sidebar buttons to sign up for any and all.
 
The contest will run until February 16th at 11:59 p.m., after which time a winner will be chosen through random number generation.
 
Good luck, and get writing!