We might be startled to read these words (promises) from Jesus in today's
Bible Plan reading
:
But the children of the kingdom shall be cast out into outer darkness: there shall be weeping and gnashing of teeth.
(Matthew 8:12).
Aren't the children of the kingdom of Jesus assured of entry into it? Yes. And no. It all comes down to,
which
children of the kingdom did He mean?
Barnes' Notes explains:
The children of the kingdom - That is, the children, or the people, who "expected the kingdom," or to whom it properly belonged; or, in other words, the Jews. they supposed themselves to be the special favorites of heaven. They thought that the Messiah would enlarge their nation and spread the triumphs of their kingdom. They called themselves, therefore, the children or the members of the kingdom of God, to the exclusion of the Gentiles. Our Saviour used the manner of speech to which they were accustomed, and said that "many of the pagans would be saved, and many Jews lost."
Jews by ethnicity were not assured of entry to the Kingdom of Jesus. Jews by works of keeping the ceremonial law were not assured of entry into it. Only by faith in the Messiah, on the graceful foundation and simple childlike faith after repentance assures one of entry to it. Mary knew this. Simeon knew this. Anna knew this. In the Matthew verse, Jesus is warning the self-satisfied not to rely on ethnicity, but upon faith in the One who created them.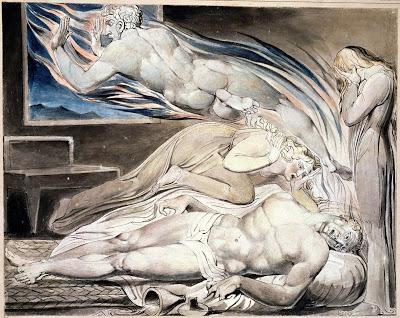 William Blake illustration for Robert Blair's poem "The Grave".