Antonio Di Natale was the talk of Udinese's bouts with Arsenal last month, and his two performances certainly made onlookers sit up and notice. In Italy the 33 year old striker guided a beautiful header past the Gunners and was a constant thorn in the shaky North Londoners side.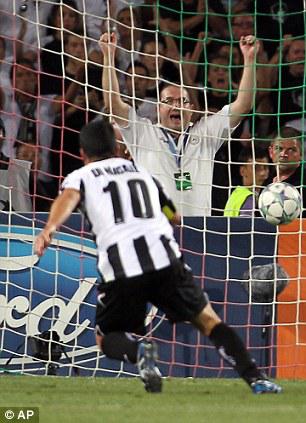 The Udinese forward strikes again
Many thought that Udinese were possibly the best team in the qualifiers not to make the champions League and they certainly made a good case for this standing. Their constant attacking at home to Arsenal had many viewers feasting over their forward play and scratching their heads as to how only one goal was scored in Udine. They currently sit third & unbeaten in Serie A and drew with Milan giants AC last weekend. Di Natale has scored three of their five goals in the domestic campaign as well as the opener in their win over Rennes on Europa League match day one.
Celtic came back from their league defeat at Ibrox with a win which wasn't fully convincing but was workman like at Paradise today. The alarm bells were ringing early doors though as the reshuffled back four was at sixes and sevens against a very poor Inverness side. Foran and Tade almost breaking through the paper-thin resolve. A problem which was identified by supporters last week was high balls not being attacked in the final third,  and this is pretty appalling stuff when for many youngsters this is one of the first commandments of defending. Two goals before the interval calmed the nerves and Caley Thistle lost some early confidence which helped the pressure on Majstorovic and Loovens.
In the second half I noticed a difference to the way Celtic defended – the two center backs did attack the high balls and also made timely and quicker interventions with balls into feet. This I think must have been drummed into them in the dressing room and hopefully Johan Mjallby was the coach dishing out the lessons. Who better to learn from?? This will again have to be the tactic early on on Thursday night or the veteran Italian international striker and friends can have a field day. The whole team can also take a leaf out of man of the match Joe Ledley's attitude and work rate – as I pointed out last week his energy and harrying would have, I'm sure ensured Celtic took a better result home from Greyskull.
As we all know, Celtic were handed a great opportunity to play in this tournament and hopefully they can pay back the fans and head honchos at UEFA who sided with us, with an inspired and spirited performance. As my boys club mantra at East Kilbride was – 'right from the start b(h)oys!'
55.804029
-4.191947