Who doesn't like bhature but then most of us end up worrying about the calories…Anu Maheshwary tried this recipe using wholewheat flour to take some of the guilt away.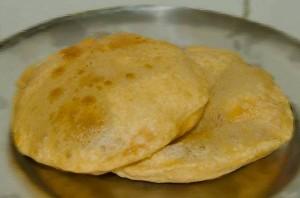 According to Anu "they fermented well, puffed up real good, were crispy on the outside and soft on the inside too"
Recipe: 
Main Ingredients:
2 1/2 cups atta or whole wheat flour
1 tsp salt or as required
1 tbsp oil or ghee or butter
½ or ⅓ cup warm water
vegetable oil for deep frying
For Overnight Fermentation:
¾ cup (150 ml) plain curd/yogurt or cashew curd
½ tbsp sugar or brown sugar
½ tsp baking powder
¾ cup all purpose flour/maida
¼ cup water (optional)
Method:
You will have to start the night before.
In a bowl take the yoghurt, sugar, baking powder and all purpose flour.Mix well all the above 4 ingredients mentioned for overnight fermentation.If the yogurt has whey in it, then don't need to add the ¼ cup water mentioned above.If the yogurt is thick, then to thin the batter, add ¼ cup water.
Cover the bowl with a cloth and set it aside in a warm place overnight or for 8 hours to allow natural fermentation to take place. (I kept it inside my microwave oven).The next day you will see tiny bubbles on the surface of the mixture. The mixture is ready for the next step when tiny bubbles appear on the surface.
In another bowl, mix together the wheat flour with salt and rub the ghee or butter into it with your fingertips. Into this bowl, add the fermenting mixture and the warm water.
Form a dough with these two mixtures.
Keep kneading the dough for 5 to 10 minutes or until it is silky smooth. Add a little flour if it is too wet. Gather the dough into a compact ball and cover it with a damp cloth. Again set it aside in a warm place for 2 hrs.
After 2 hours, knead the dough again.Form it in balls and roll them into 5-6 inch discs. Heat oil or ghee and deep fry the bhaturas in the same way as you would fry pooris.
- Courtesy Anu Maheshwary