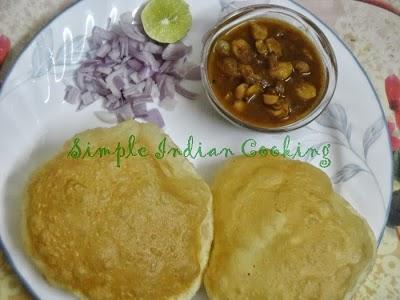 Bhature Recipe
Chole Bhature is one of the most mouth watering dish from punjab.  Chole and bhatura both compliment each other. Bhature is deep fried Indian style bread made from all purpose flour. The bhature have more calories than any other Indian style bread.If you are calorie conscious then this recipe might not be for you. I occasionally makes them with chole as my whole family droll over this delicacy. Let us see how it is made.
Preparation time: 1-2 hour
Cooking time: 20 minutes
Serves: 3-4
Ingredients:
3-4 cup Maida/All purpose flour
1/2 cup Curd
1/2 tsp Baking Powder
A pinch Soda BiCarb
1/2 tsp Salt
Oil
Method:
Take maida, baking powder, soda bicarb and pass it through sieve.
Add curd, salt, oil and mix well.
Start kneading the dough and add luckwrm water to knead smooth and soft dough.
Cover with a damp cloth for about an hour. In winter keep it for more time.
This resting time will ferment the dough and will make it more soft and airy.
Punch the dough and divide it in 20 equal balls.
Take some dry flour and roll it a slightly thick roti.
Heat oil in a deep fry pan or kadai.
Drop the bhaturas in hot oil and deep fry them one by one.
After dropping in the hot oil the bhaturas will puff up like a puri, and fry it till it turns golden.
Remove from oil and keep the bhaturas on a kitchen towel to remove excess oil.
Enjoy it with chole a punjabi delicacy.
Please try this recipe and let me know how you find it.