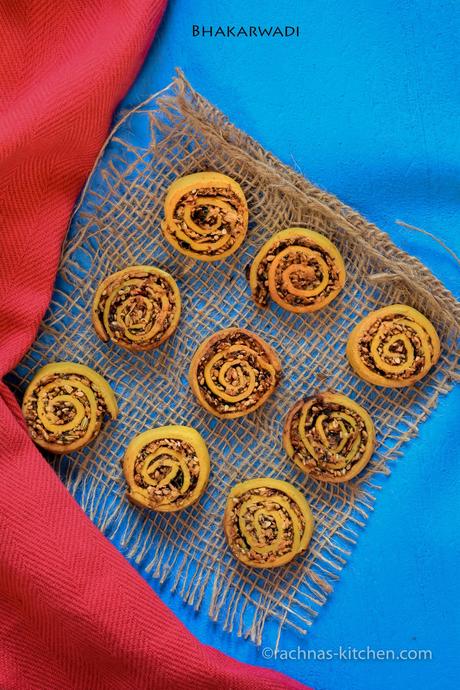 Bhakarwadi is a famous Maharastrian tea time snacks. It is made up of thin chickpea sheet stuffed with spicy and tangy spice mixture. It is usually deep fried in oil but today I am sharing the baked version. As most of Indian food is at bit higher node of calories so baking instead of deep frying can reduce some calorie content.
I do have tried them in their original form that is deep fried version. They were so full of flavours. I had faced only one problem while frying was that stuffing filled in bhakarwadi spreads in oil. That's another reason I prefer to bake these.
I love to make Maharastrian snacks like pav bhaji recipe, poha or sabundana vada . This bhakarwadi is another gem of Maharashtrian cuisine. It has long shelf life so you can prepare in bulk to munch upon it. Let's see the recipe now.
Ingredients
For dough
1 cup gram flour / Chickpea flour/Besan
1/2 cup all purpose flour /Maida
2 small pinch baking soda
2 tablespoon oil
½ teaspoon turmeric
½ teaspoon red chilli powder
Salt to taste
Water as required
For the filling
2 tablespoon sesame seeds
1 tablespoon poppy seeds
1 teaspoon fennel seeds, crushed
2 tablespoon dry coconut
1 teaspoon ginger, grated
1 green chilli, chopped
1/2 teaspoon red chilli flakes/powder
1/2 teaspoon roasted cumin powder
1/2 teaspoon garam masala powder
3 tablespoon honey or sugar
1 tablespoon lemon juice
Salt to taste
1 tablespoon tamarind paste
1 tablespoon oil for baking
Step by step bhakarwadi recipe
Step 1. Sieve chickpea flour, all purpose flour and baking soda together in large mixing bowl.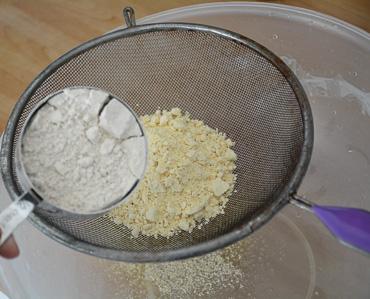 Step 2. Add turmeric powder, red chilli powder and salt to taste. Mix it.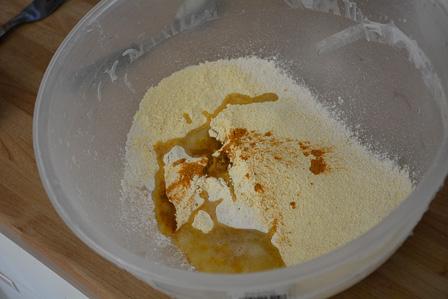 Step 3. Add water by a tablespoon little by little until you make firm dough.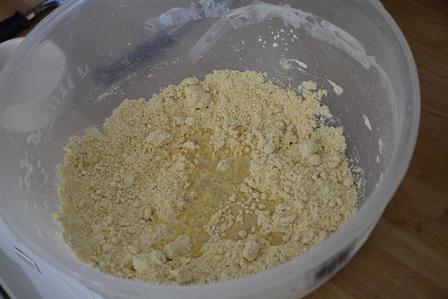 Step 4. Keep the dough covered for 20-25 minutes till then let's prepare stuffing.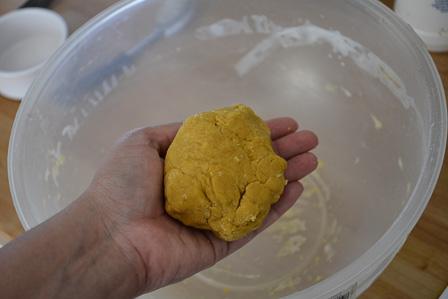 Step 5. Heat a saute pan over medium heat. Fry roast sesame seeds, poppy seeds and dry coconut until they change colour to golden.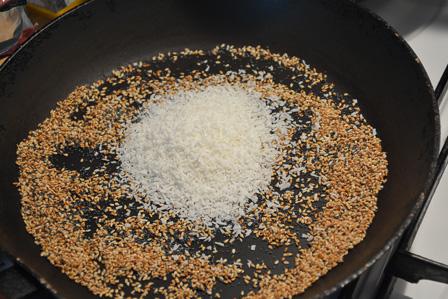 Step 6. Add ginger, green chilli, chopped, red chilli flakes, roasted cumin powder, garam masala powder. Switch off the gas.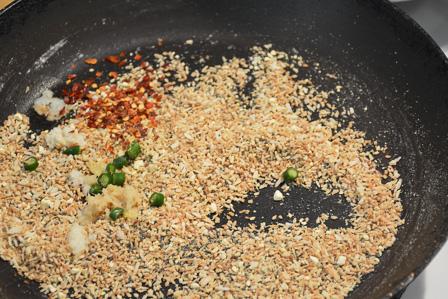 Step 7. If you need to grind it, grind at this point (I didn't do it). Add honey and mix.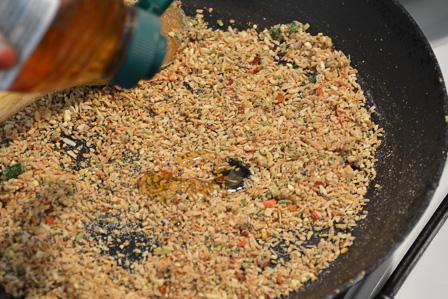 Step 8. Add lemon juice. Both lemon and honey will make stuffing moist and easy to stuff.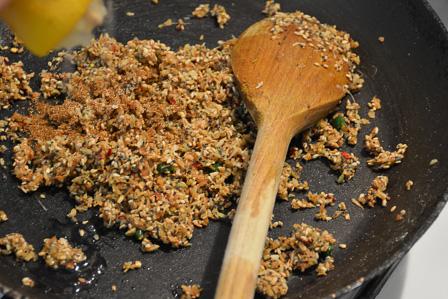 Step 9. Divide the dough into 3 or 4 equal parts. With the help of dusting roll each part to make a thin disc, approximately 8 inch in diameter. Don't worry about the cracked edges, they will cover inside.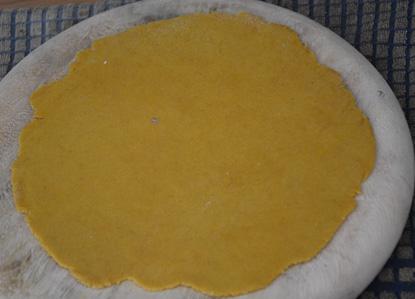 Step 10. Smear tamarind paste all over the disc.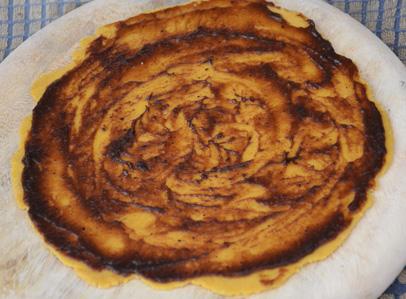 Step 11. Put 2 tablespoon of stuffing mixture and spread evenly.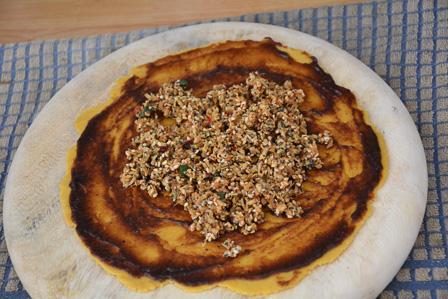 Step 12. Fold the 3 edges from sides. From the fourth side roll in until the end.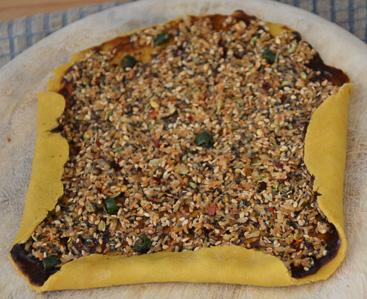 Step 13. Seal the edge with water. Once it is done, it will look like log. Now cut into 1″ bite size pieces.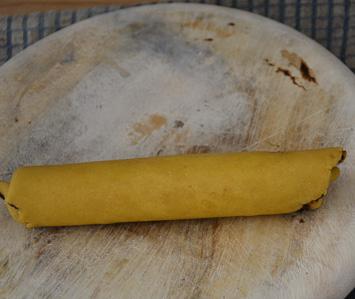 Step 14. Now line a aluminium foil in a baking tray. Grease it with oil. Place the bhakarwadi at the difference of 1 " each other. Smear the oil all over them. Bake for 20 minutes on 200 degree Celsius. Then turn them to other side and bake for 10 -12 minutes.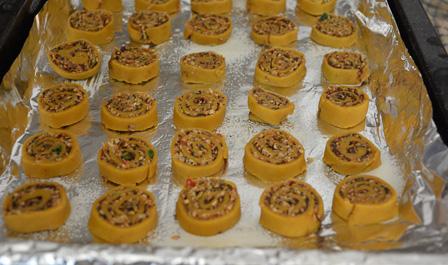 Bhakarwadi should become golden brown in colour. Let them cool on rack. They are ready to serve with a cup of tea. They can be store and consume for 3 to 4 weeks.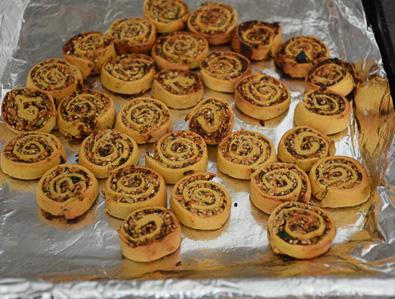 Recipe card - Bhakarwadi recipe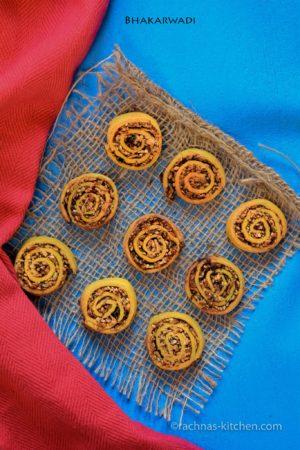 Some more Indian snacks recipes available on blog.
1. Samosa recipe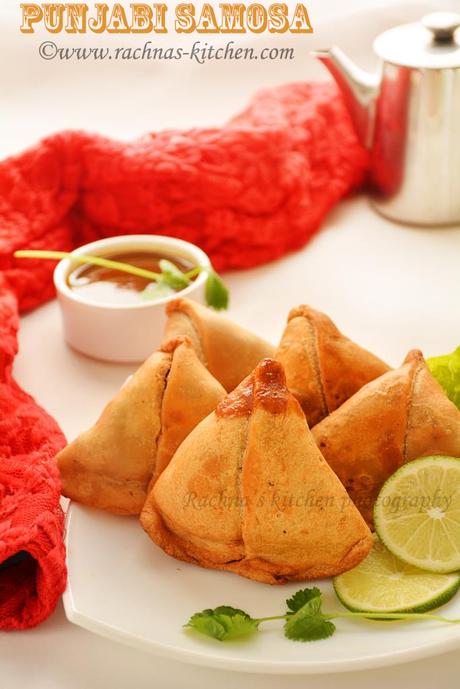 2. Pav bhaji recipe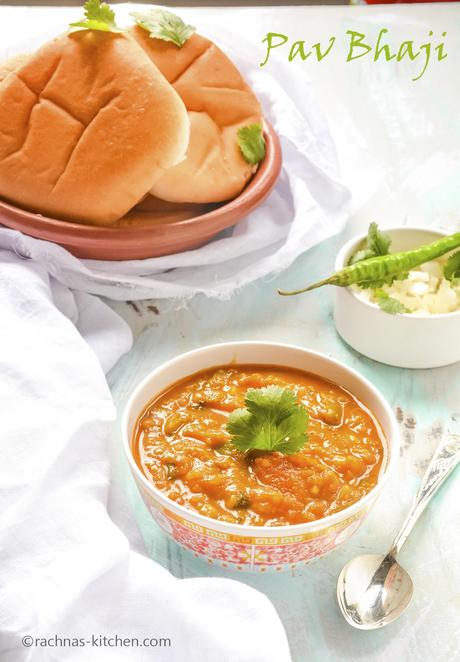 3. Mc aloo tikki burger