Bhaja Muger Dal/ Bengali Roasted Mung (Moong) Lentils
…
I have never been able to say no to the call of 'more dal?'
...
ever
…
this roasted nutty dal is no exception
…
Two bowls and my lunch was done
J 
( you of course can have it with dal/rice, veggies, salad and fried fish or chicken fry)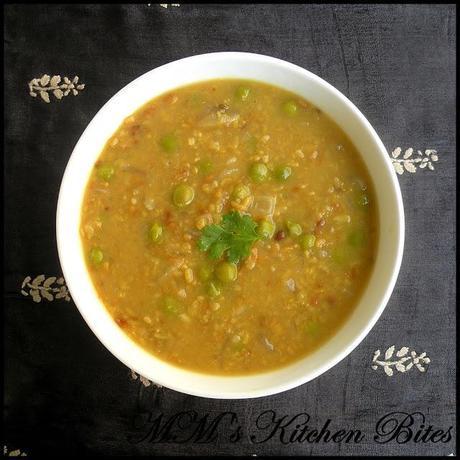 Bhaja Muger Dal/ Bengali Roasted Mung (Moong) Lentils
Ingredients:
Mung Dhuli Dal/ Split yellow skinless Mung, 1 cup

Water, 2 ½ cups (more or less according to the consistency you want)

Salt, to taste

Turmeric, ½ tsp

Bayleaf, 1

Sugar, abt ¼ to ½ tsp (optional, I normally skip)
For tadka/tempering:
Desi ghee (clarified butter) or Oil, 1 tbsp

Bayleaf, 1

Cumin seeds, ½ tsp

Garlic, finely chopped, 2 cloves

Onion, finely chopped, 1 medium

Fresh (or Frozen) Green peas, ¾ cup or to taste or you can skip this completely

Bengali Garam Masala, about ¼ tsp (equal amount of green cardamoms, cloves and cinnamon)

Green chilies, stems removed and slit, 2

Fresh green Coriander, for garnishing
Instructions:
Dry roast the dal in a pan over medium heat, stirring continuously till it changes color to golden to medium of the brown – some of the mung will be darker than the others and that is ok as long as they don't burn
!!
The roasted dal will smell nutty and you know what burnt food smells like
J
One suggestion – don't try and multitask while roasting the dal
...
it can go from that perfect golden to burnt in the blink of an eye (yes, talking from experience
!!
)
Switch off the heat and spread the dal out on a plate or a bowl. Let it cool down completely and then wash the dal till water runs clear.
Drain the water completely. Use fresh water for cooking and cook the dal with bayleaf, salt and turmeric till tender but still whole (should not turn mushy). If using sugar, add sugar to the dal once it is tender and you have switched off the heat.
In a pan, heat ghee. Add bayleaf, cumin, garlic and onions.
Fry till onions go soft and then toss in the green peas. Mix well and cook for 2-3 minutes.
Add in the cooked dal and let it cook till peas are done.
Add in the green chilies and sprinkle garam masala. Stir and serve topped with some more ghee if you want.
Options:
Replace garlic with ginger

Add both garlic and ginger

Add in some tomatoes

Replace chopped onions with whole pearl onions – cooked till they start breaking up

Add in some grated coconut while boiling the dal and just before serving top with some grated and fried coconut

Use mustard oil for tempering and then use ghee just for topping

Make a paste with bayleaf and water and use that in tempering

Instead of garam masala powder, sprinkle with roasted and powdered cumin seeds.
From my notes section of  Mung Dhuli Dal:
Not a class on dals/pulses/lentils but just wanted to ensure you know which dal I was talking about – it is the first one (yellow in colour).